First, let me say, "I love Romania!"
I would go back there at any time – but that's for another post…
Yesterday morning I left beautiful Romania and since my flight was at 07:15, I arrived at the airport at 04:30 – thinking that would be plenty of time…
Hmmmmmm……………
This (below) is a photo of Bucharest airport at 04:30…
This photo (below) was taken at 06:00… and one of the people in front of me mentioned that today was a relatively good day…  Apparently the last time he was there, it took over three hours to just get this far…  I guess Romania is quite popular!
See the yellow lettering in the faaaaaaaaaar off distance (below)?  That is the border patrol through which one needs to pass before one even gets to the beginning of the trek to the gates…
This photo below was taken just before 07:00 (bearing in mind my flight is due to leave at 07:15)…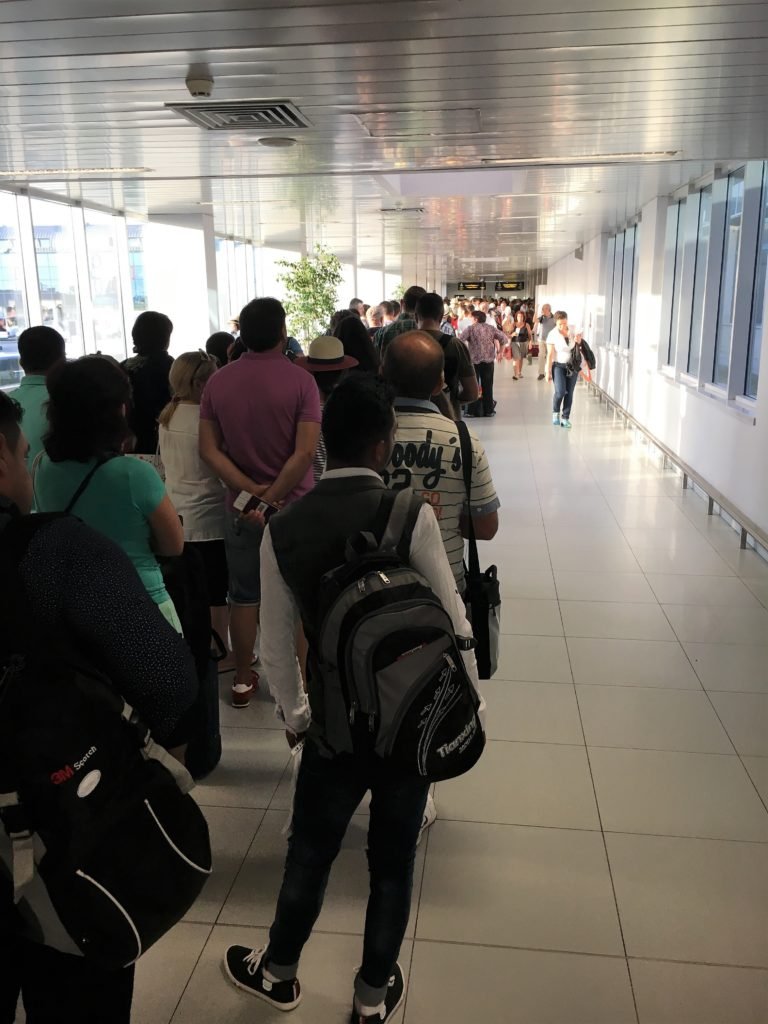 Standing in line, I saw this gizmo…  There isn't a red button large enough………..
I finally board the plane (that is scheduled to depart at 07:15) at 07:13 (after arriving at 04:30) and what was mildly disturbing was that while I was in line, there was a drip-feed of other people joining the line…  Ever so slowly…  Not like normal where, where the flight is called, everyone crowds into the line…
…and then when we took off, there was only around 30-40 people on the plane…
Me thinks many of the intended passengers were still standing in line at Bucharest airport!!!
Then, I arrive in beautiful Ireland!!!
What was also exceptionally lovely was that I was speaking with a client who is also a very dear friend and I mentioned that I was arriving in Dublin on July 1st – and he said that he was also arriving that day – and when we cross-referenced, we discovered we were arriving within less than an hour of each other…
So, we met at the airport and journeyed in my lovely rental car (his name (the car's name) is Boswell and he is taking excellent care of me!) to my hotel in Malahide where I stayed the first two nights before heading to Sligo…
Not only that, but another of my very dear friends who is originally from Ireland but now lives in England is over here visiting family, so we caught up yesterday and today…
I feel ever so blessed!
I am staying two nights at the Grand Hotel in Malahide, built in 1835… just about 5-10 years before my time…  🙂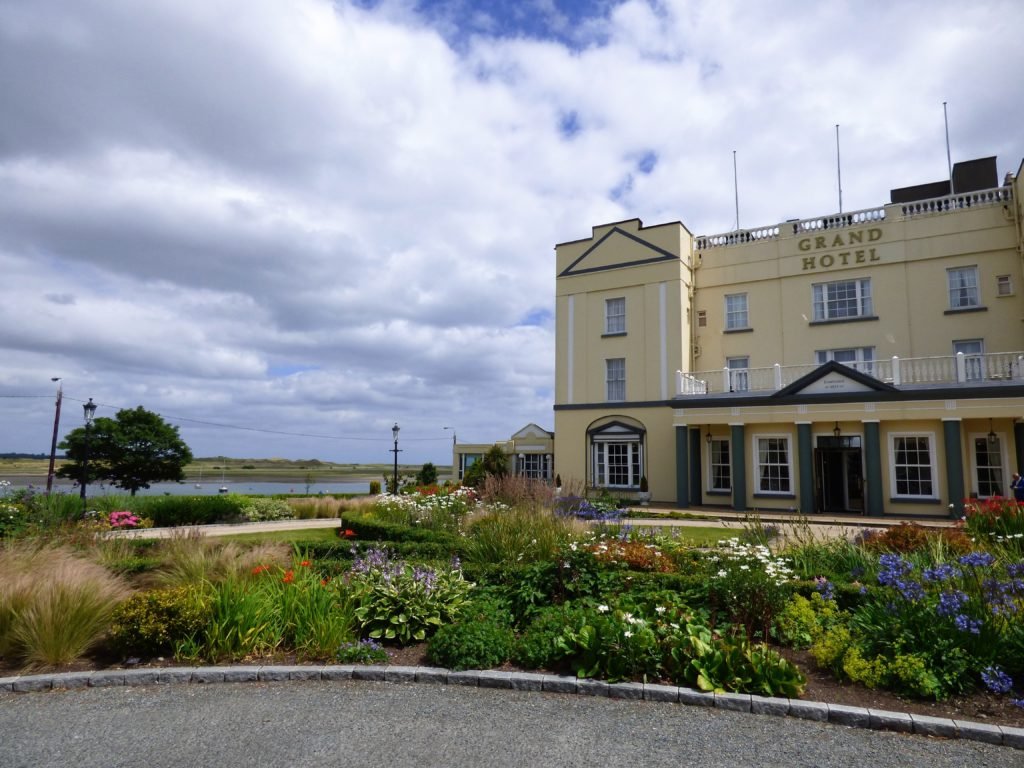 Here is where we curled up and drank and ate and drank at the Matt Ryan Bar…
…and I said to the waiter that I wanted a double of the best Irish Whiskey they had… and it was luverly!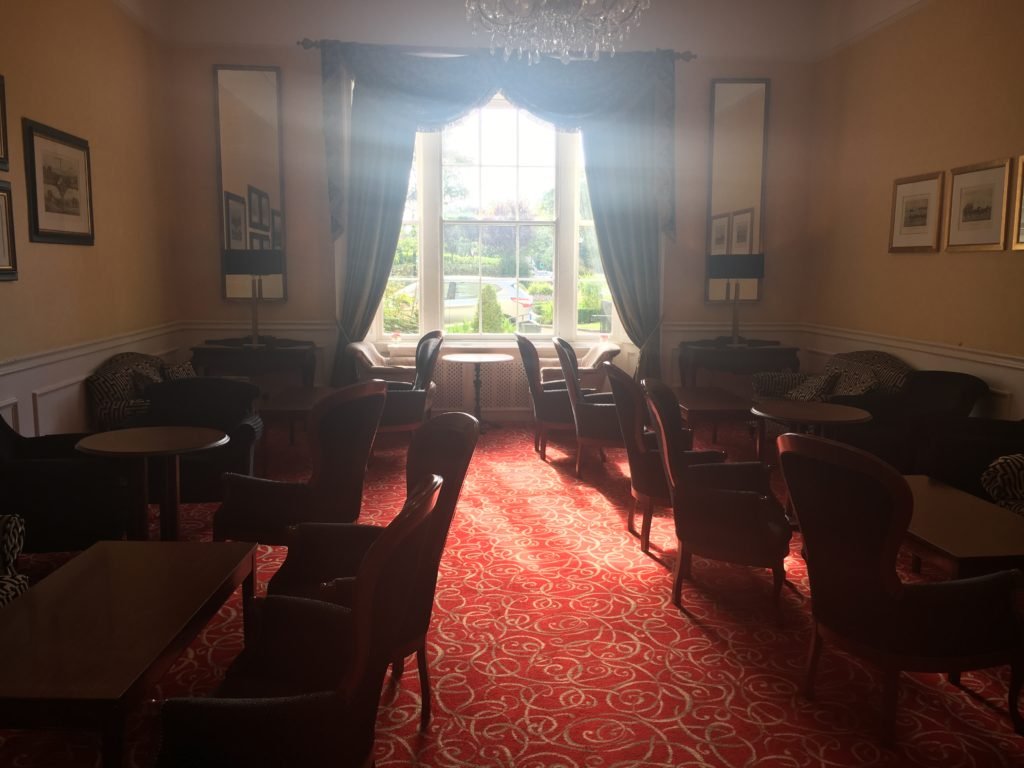 Then, we went for dinner…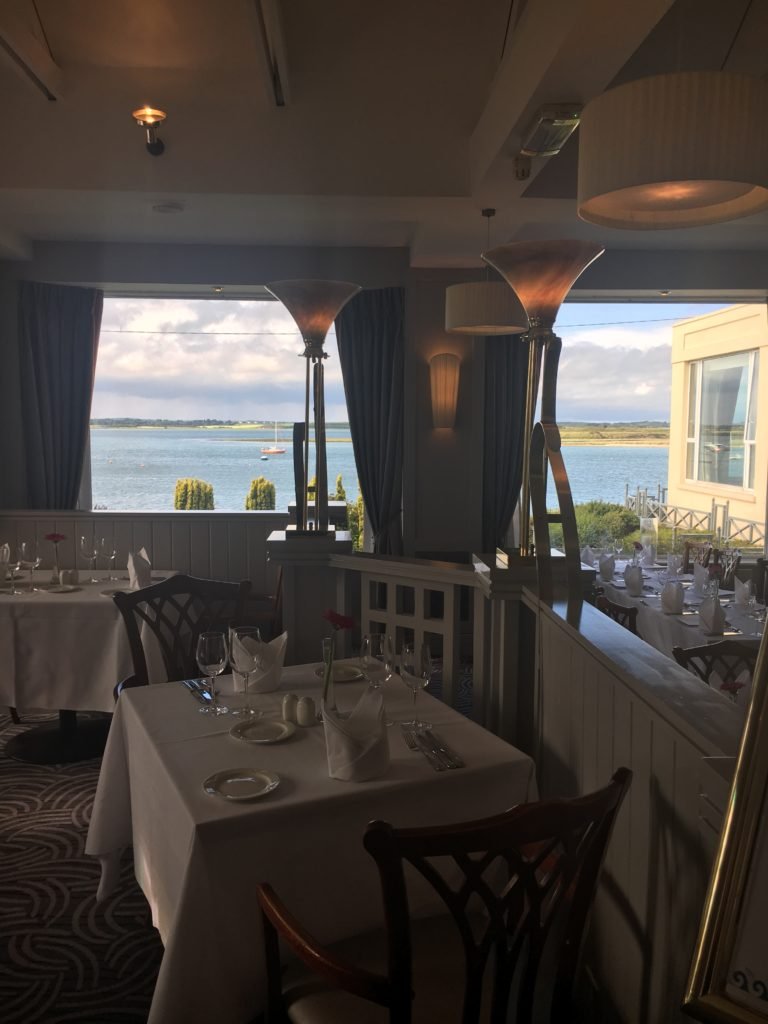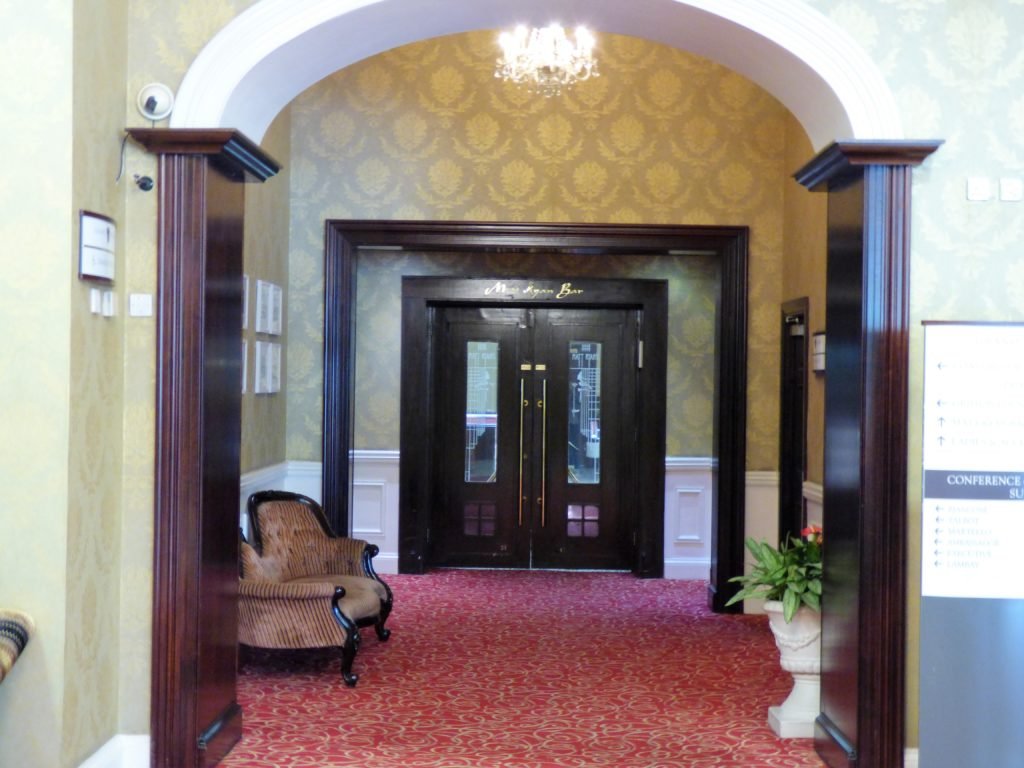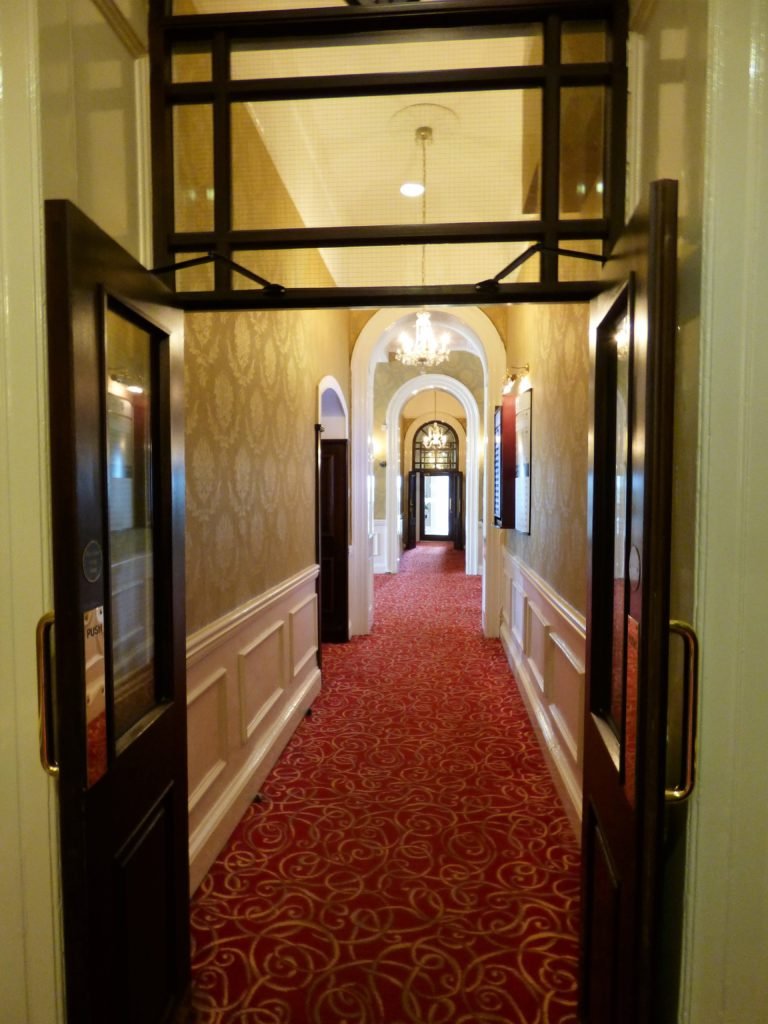 …and the following morning, went for a stroll along the beach road…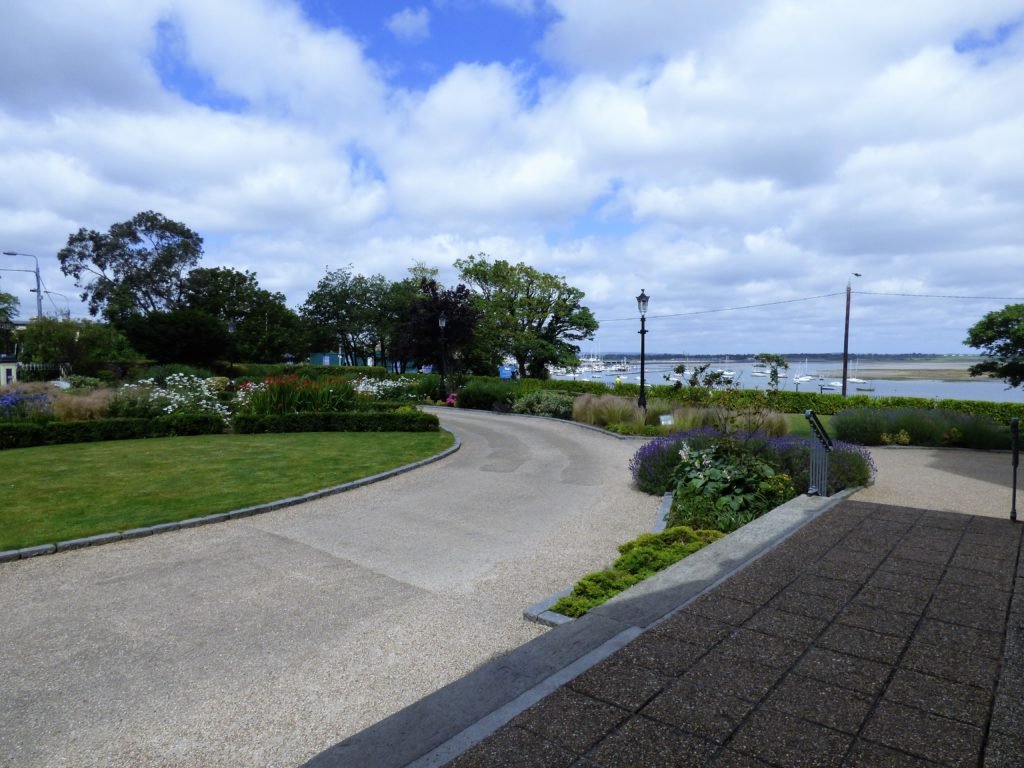 …and had a SCRUMPTIOUSLY DELICIOUS brunch!!!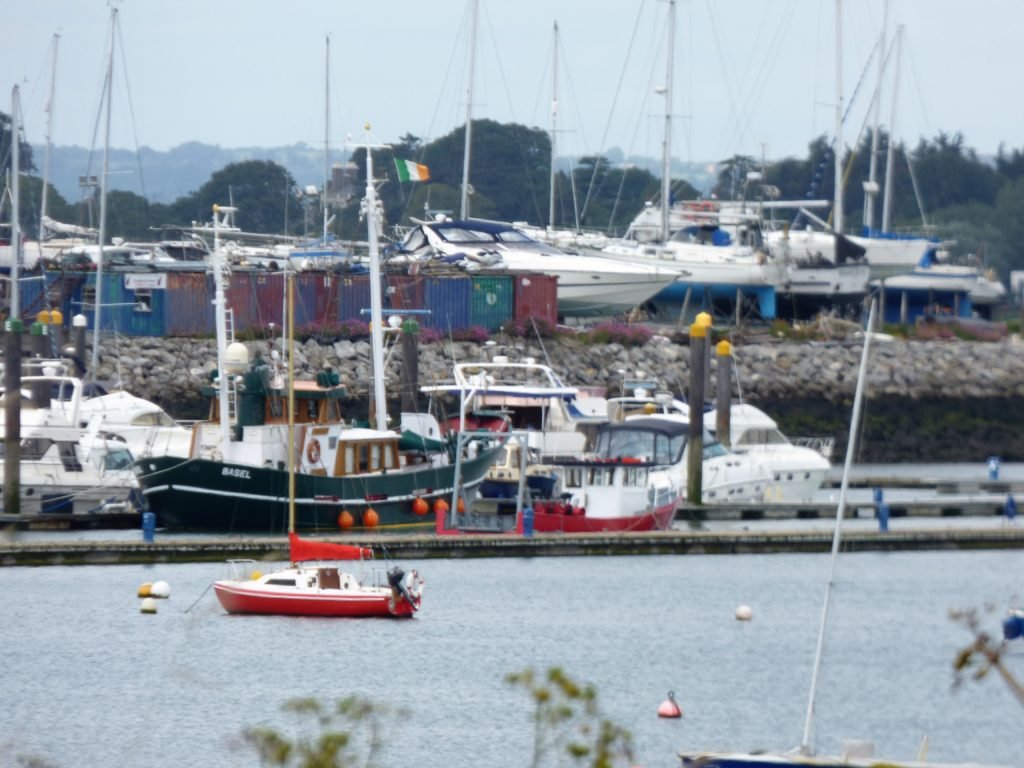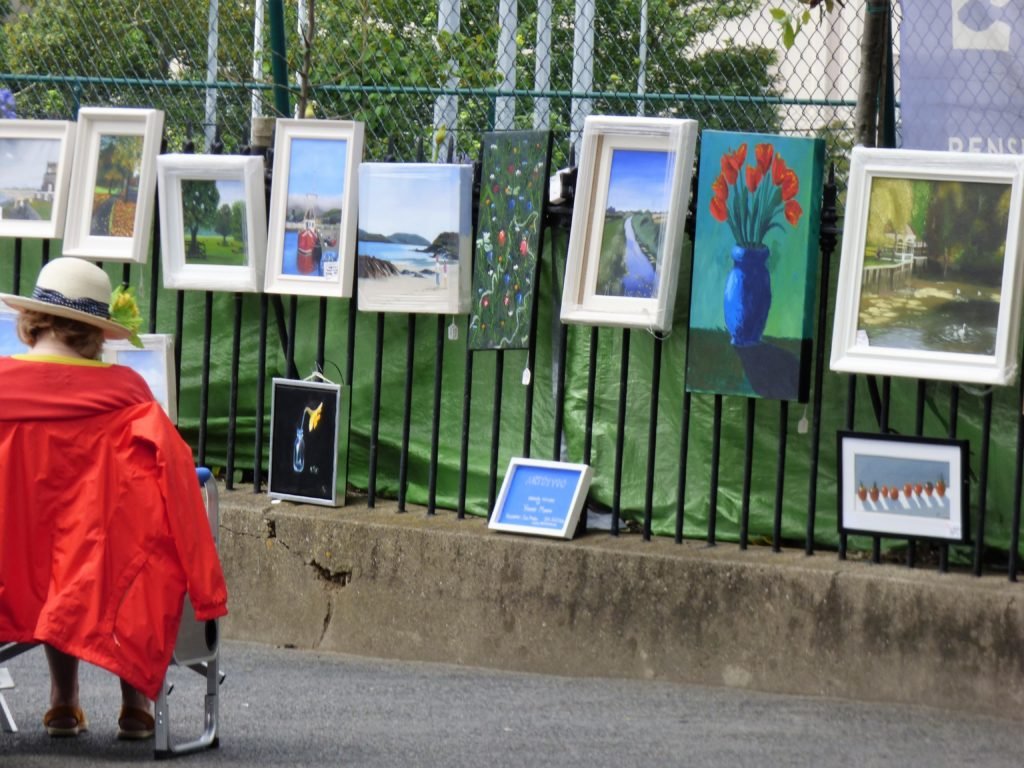 Snoozed for awhile – soaked in the hot-tub (and found the first place anywhere in the world I have encountered that says you must wear a swim cap to go into the pool..!)
…and then enjoyed a delicious steak dinner (of which I could barely get through half, but it was sooooooooo good!)…
…and now about to head up to my room – btw, the bed and pillows are SOOOOOO comfortable here that I will find out what they are!  Seriously!  I think this is the most comfortable bed and pillows I have ever experienced in my entire 172 years on the planted!
Goodnight dear Friends!
~ Bella