As I begin this post, it is Monday here in Ostia (after arriving on Saturday and sleeping much of Sunday!).
I went for a walk with the intention of getting some lunch, some wine and some groceries.  As the song says, two out of three ain't bad.  Groceries can wait…  One has wine and pizza – all is well with the world…
My impressions of Ostia thus far (and perhaps could be extended to any metropolis in Italy, I do not yet know) are that the people are mostly friendly, behind a very self-important exterior.
I have made a decision to become as fluent as I can in Italian while I am here and as I find places where the staff are friendly and help me learn the words, they are the shops I will frequent.
Such as for lunch, I found a pizzeria about a block away where I had lunch (photo below) and in addition, I purchased a couple of different slices to bring home.
The man serving asked me in English if I wanted them hot or cold and I said cold but could he please help me learn how to ask for that in Italian?  He not only obliged, he had me repeat the words a couple of times until I pronounced them correctly and even put them into a sentence.  I will DEFINITELY be going back to that shop!
Hot = Caldo and Cold = Freddo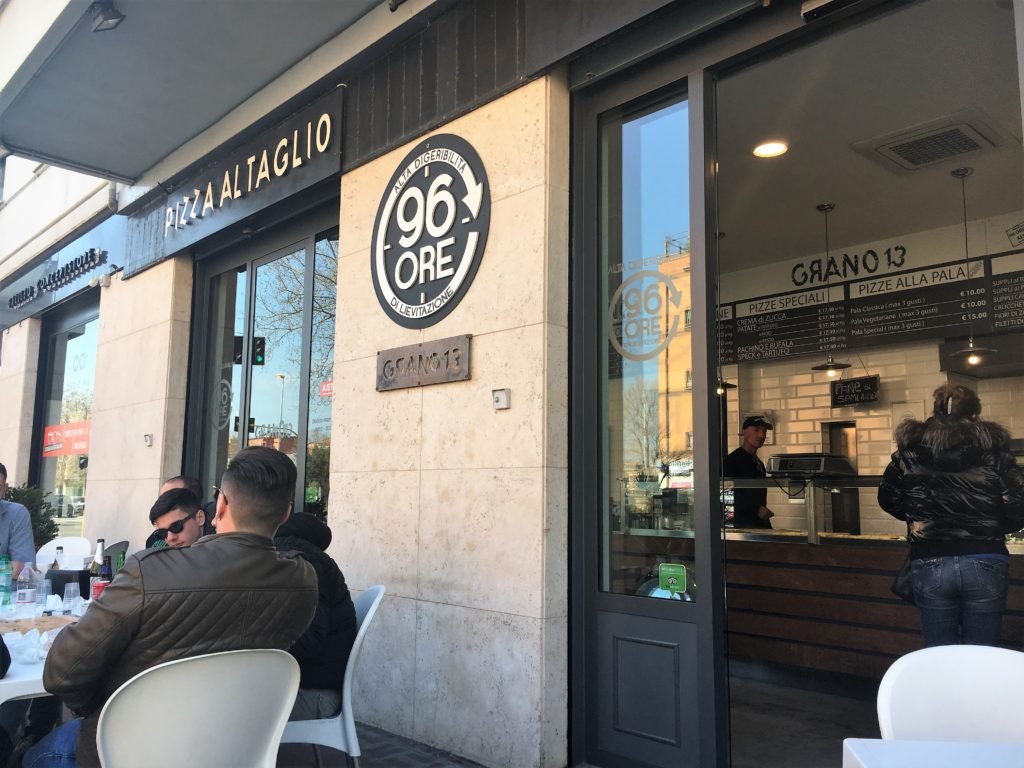 While I was sitting outside on this magical day – sun shining, not a cloud in the sky and 15oC / 59oF – I was amused by the traffic.
As soon as the lights change, people about four or five cars back beep their horn…  Cars are parked in the turning lane…
…and speaking of parking…  If you look at this photo below…  It looks like the silver car only has a couple of inches front and back, yes?  Well, you are correct.  That's all they had – until they reversed INTO the car behind them and INTO the car in front of them and did about a seven-point turn to get out of the parking space…
Also while sitting having lunch, this car decided since there were no parks on the street, the sidewalk would do just fine.  It is certainly never boring here!
Typical building here taken with my phone while on my walk…

This is the post office…
Then, I called into the bar beside home and bought a bottle of wine.  Between them not speaking very much English and me not yet speaking very much Italian, we managed to get by – thankfully most wines have the same varietal name in any language…
As I went to pay for the wine, the woman asked me a question in Italian.  I asked if she spoke English and she said, "no a little," followed by pointing to the wine and saying, "gift yes?"
I said that it was a gift for me, but asked her (in Italian – Qual e la parola italiana per) what is the word 'gift'?  She replied, "regalo" and, like the man before, helped me to make sure my pronunciation was correct.  I am especially happy with this, since this place is literally next door – and the closest place to buy wine!  🙂
OK, back to work…  Andrea (the man who owns my apartment) is coming by this evening to reinstall the table, chairs, umbrella etc…  I cannot begin to express how much I am looking forward to that.  There is such a fabulous energy out on the balcony!
…and Bridgit is still stuck in the English Channel awaiting my finishing the next book!
Ciao!
~ Bella