Welcome to Vienna!
Although I do not tend to have rigid ideas of what a place will be like before I visit, I must admit I wasn't expecting such contrast here in Vienna between the old and the new – not just buildings but also philosophies and …  well, read on and you will see what I mean.
The photos and commentary below are a little jumbled in order thanks to a minor technological hiccup…  🙂
So, let's start with the view from my hotel bedroom window that greeted me upon arrival…
…and here begins the contrasts…  This is the church of St Joseph and it is home to musical performances from Mozart to Electronica!  …and it is lovely to hear the bells peel at noon each day.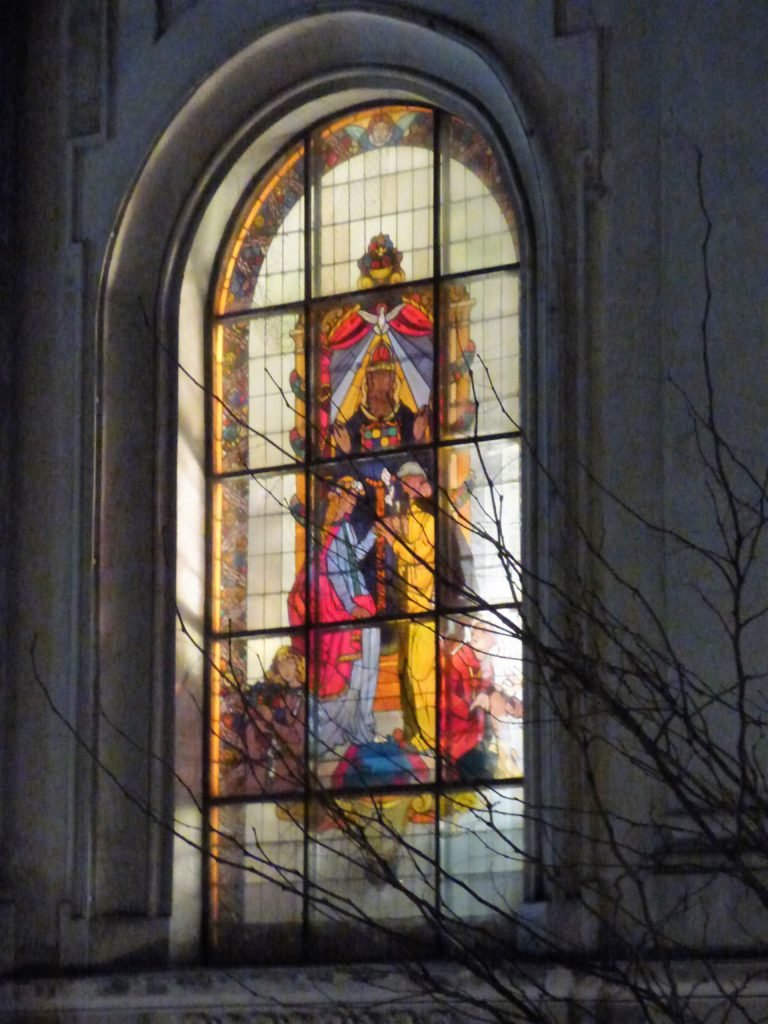 …and in the morning, this is what it looks like…
Breakfast in the hotel to start a wonderful day of sightseeing…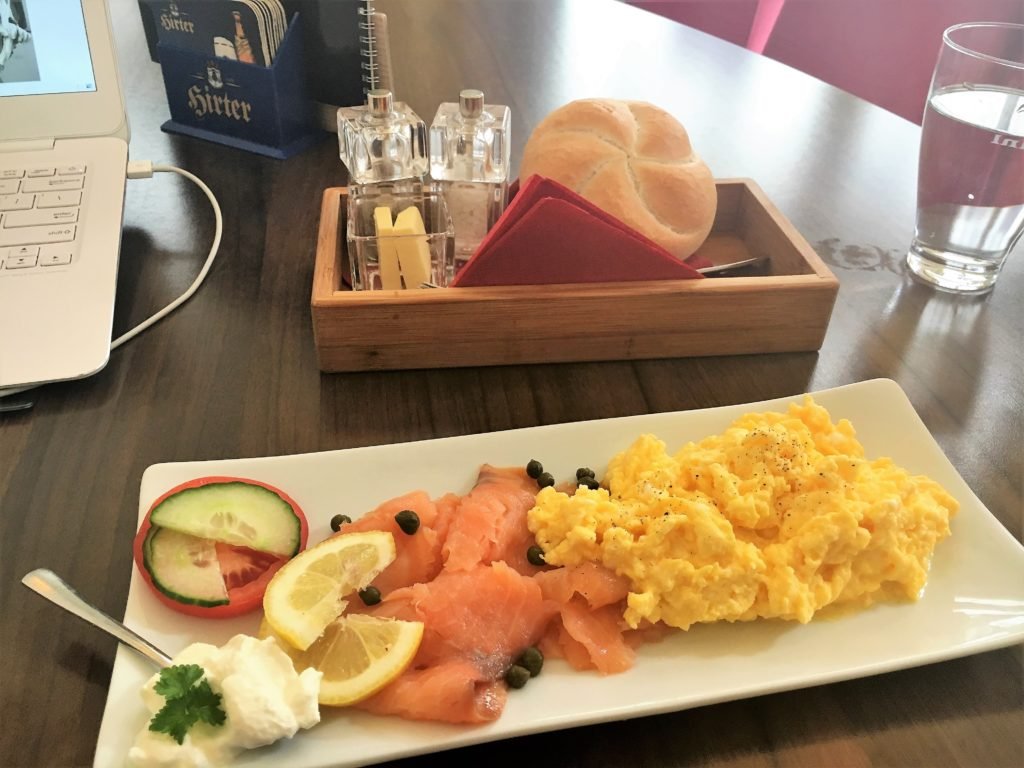 So, then I headed out for the day with my intention to explore and also to catch the hop on hop off bus to get an overview of the city.
No sooner do I leave the hotel than I have my first blonde moment…  I had plugged in to my GPS where I needed to go however as I walked it would say "60ft" then "150ft" and I kept wondering why..???  Hmmmmmm – note to self:  when you keep getting further away from where you want to go, it is because you are WALKING IN THE WRONG DIRECTION!  LOL!  I realized my error at "286ft".  🙂
This statue is of Empress Maria Theresia, the only female ruler of the Habsburg Empire.  Maria had 16 children in all, one of the being the famed Marie Antoinette of France (I didn't know Marie Antoinette came from Austria!).
Also, she was a woman ahead of her time instituting reforms especially in finance, education, healthcare, and civil rights.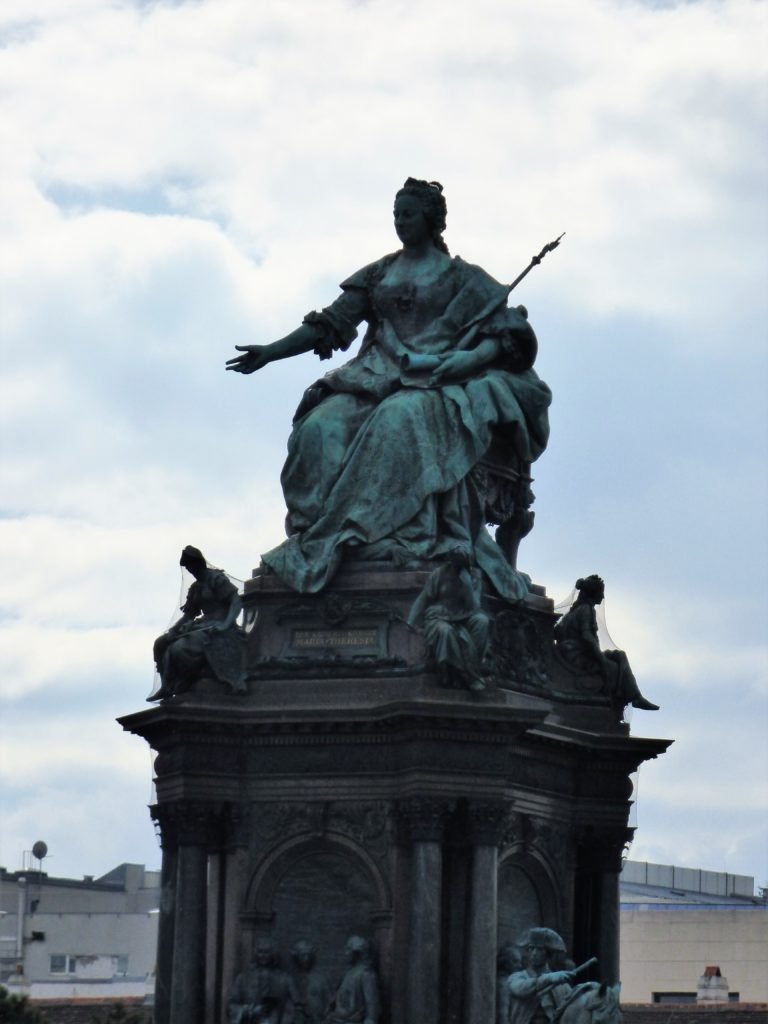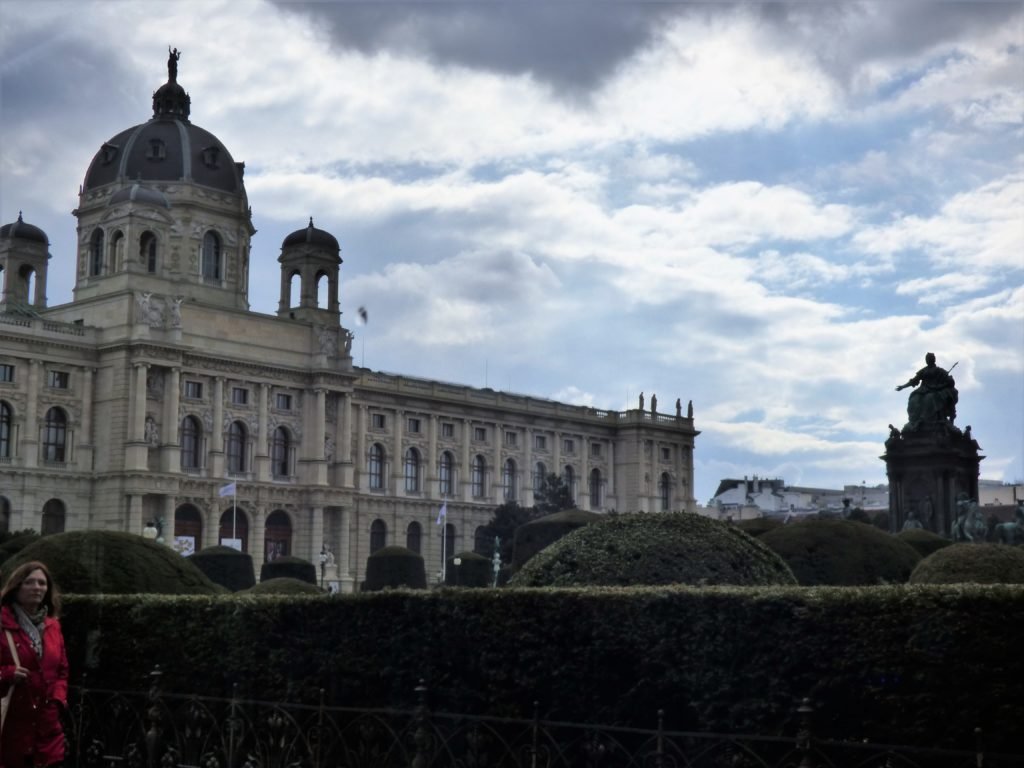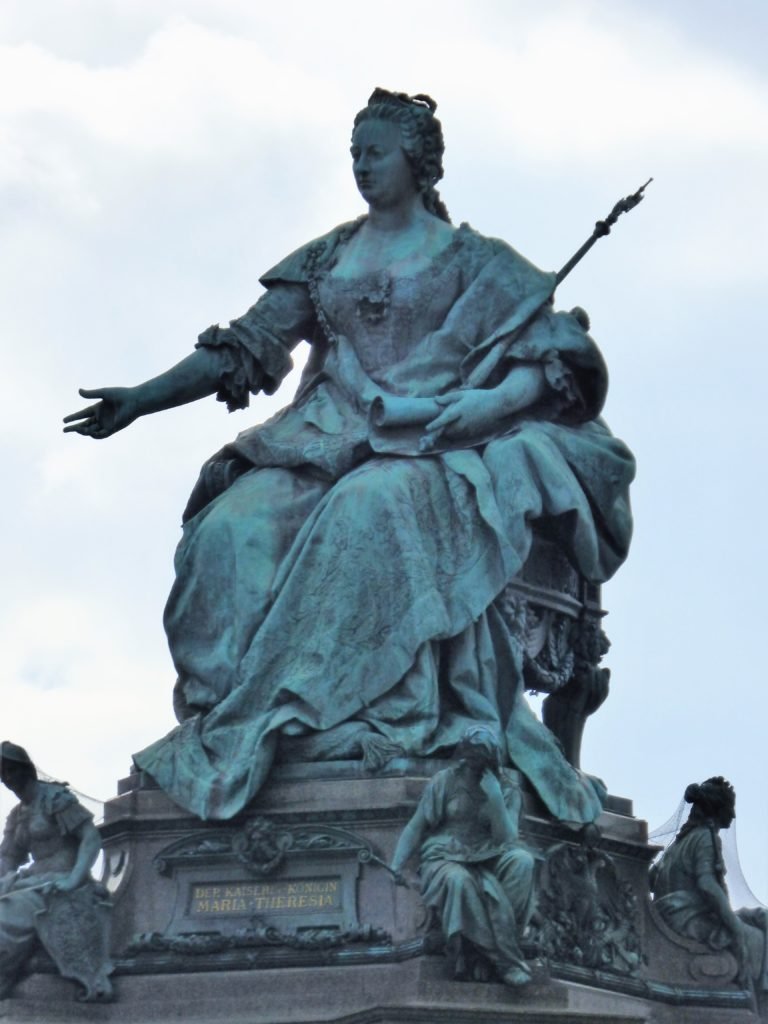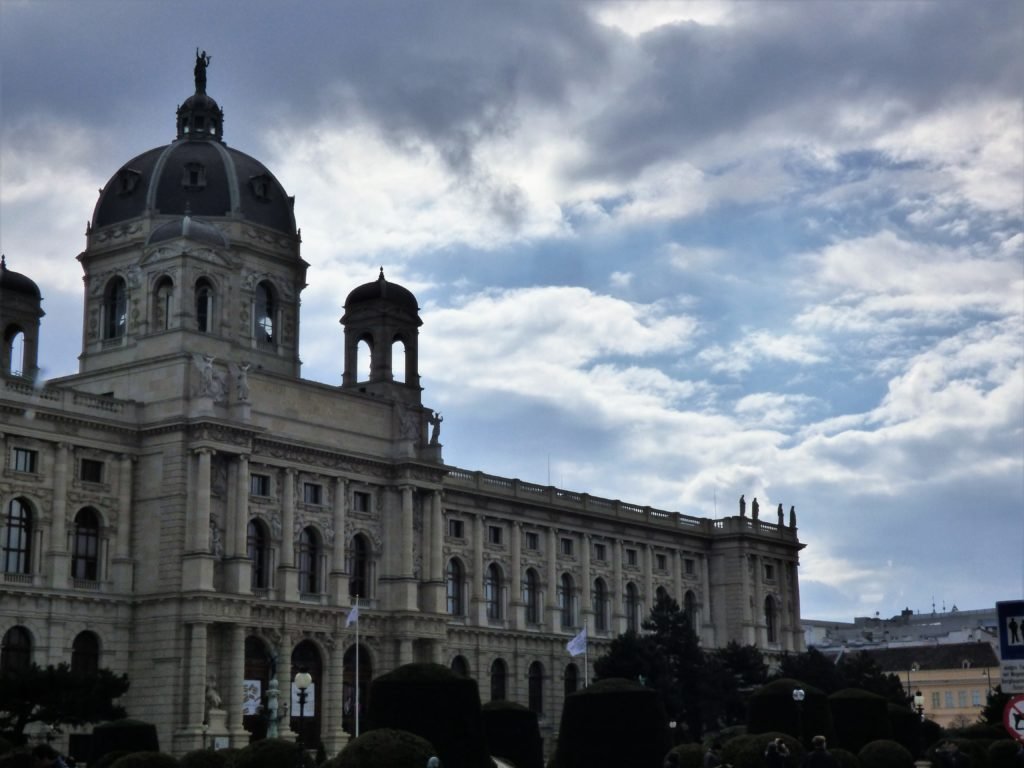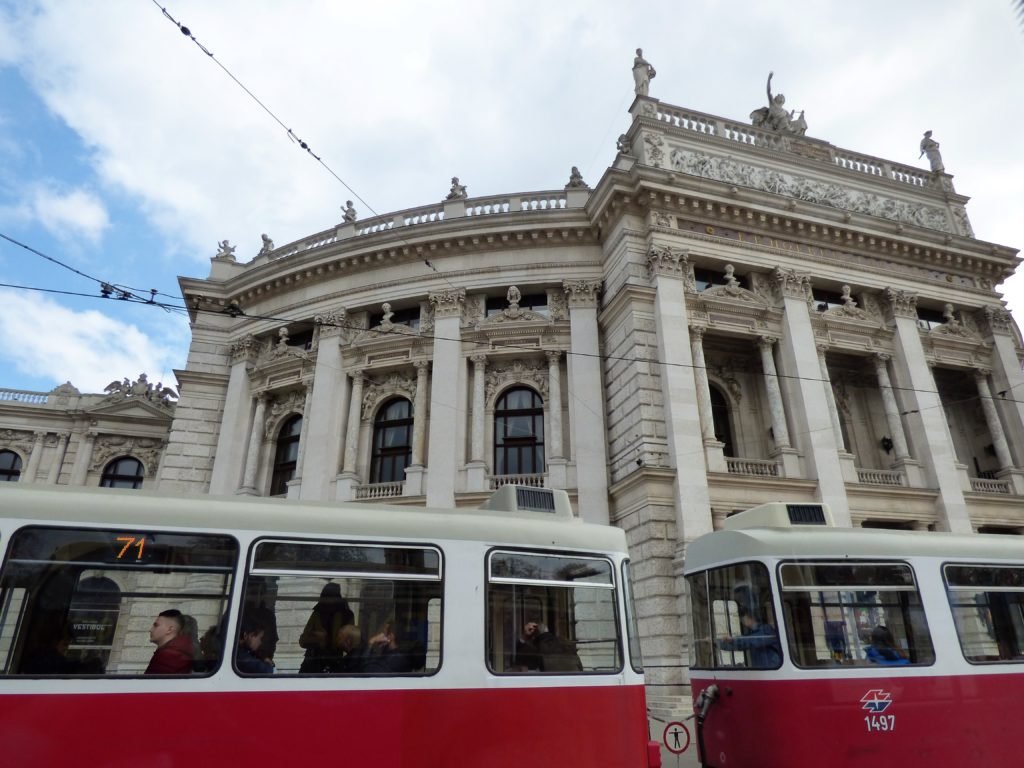 I love that many buildings retain their gilt trimmings…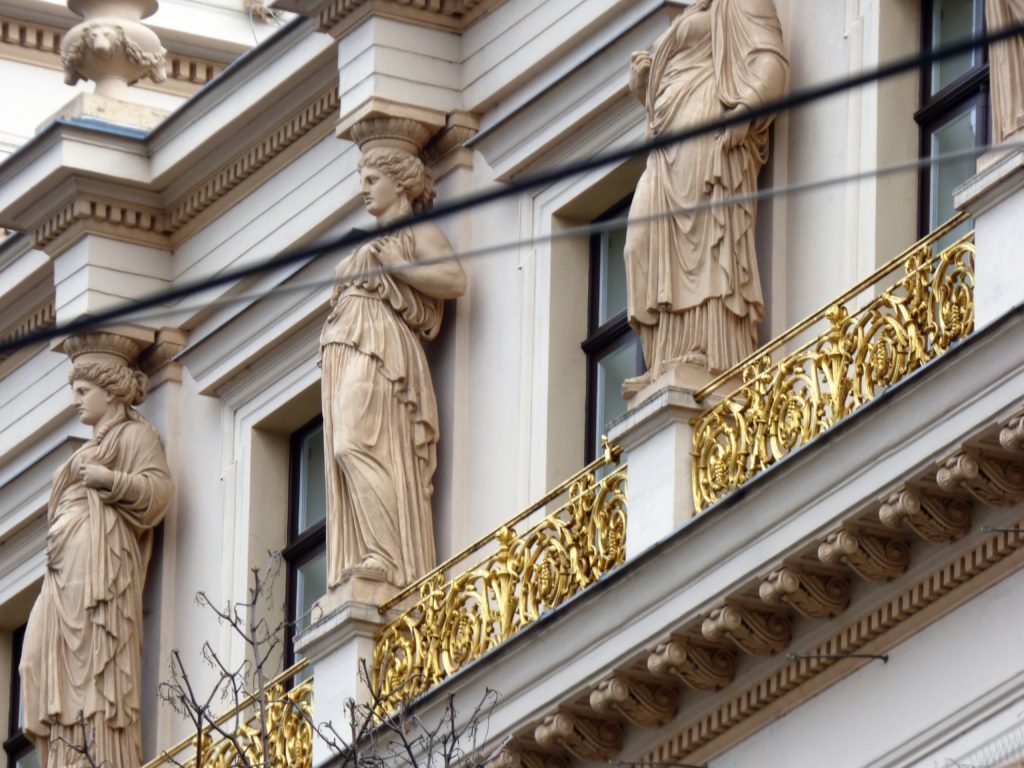 If you look carefully at the Hotel Regina below, the facade is actually a picture.  It seems quite common here that when a building is being renovated, they do their best to disguise the scaffolding and preserve the vista of the building by putting a lightweight image of the building on the outside of the scaffolding.
This wedding cake looking building is the Votive Church.  It was built between 1856 and 1879 but since the city walls still existed at that point, the church had no parishioners!
This was one of the absolute highlights of my trip – riding the oldest surviving Ferris wheel in the world at das Prater!
I have created a separate post for that here:  http://luxuriousnomad.com/worlds-oldest-surviving-ferris-wheel/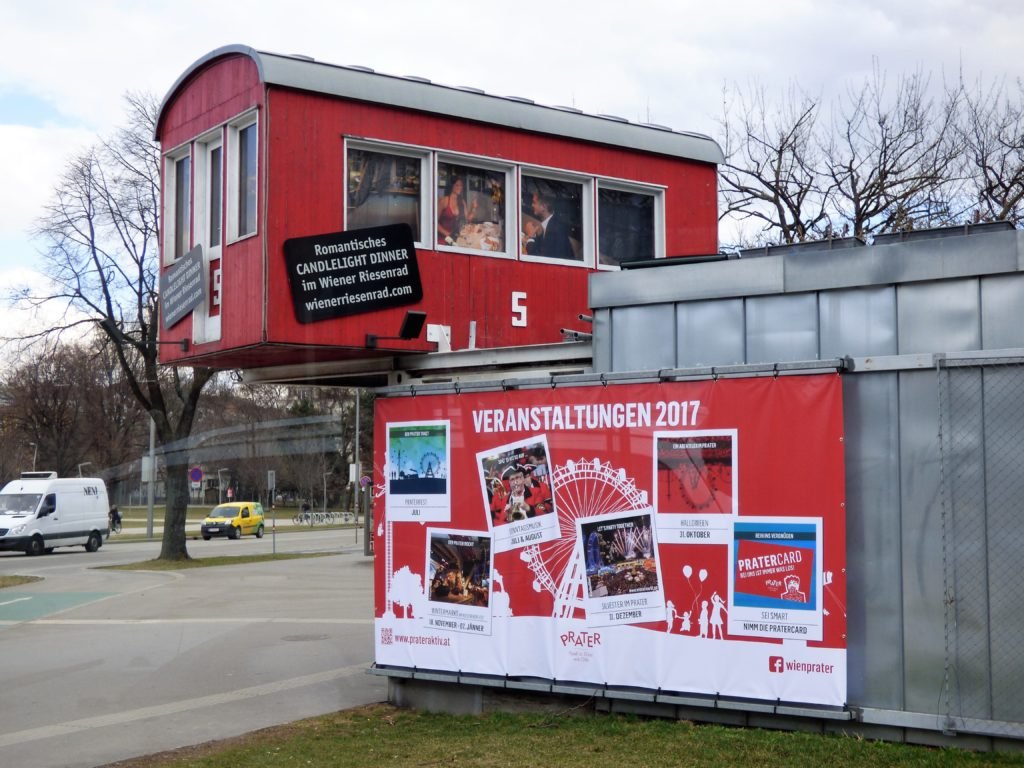 Set aside in 1873 for the World Exhibition, the Prater is a lovely public park – free to enter and wander around (the rides all vary in price).
…and no, it is not your imagination – this column is crooked.
Seeing signs like this one realizes just how small Europe really is…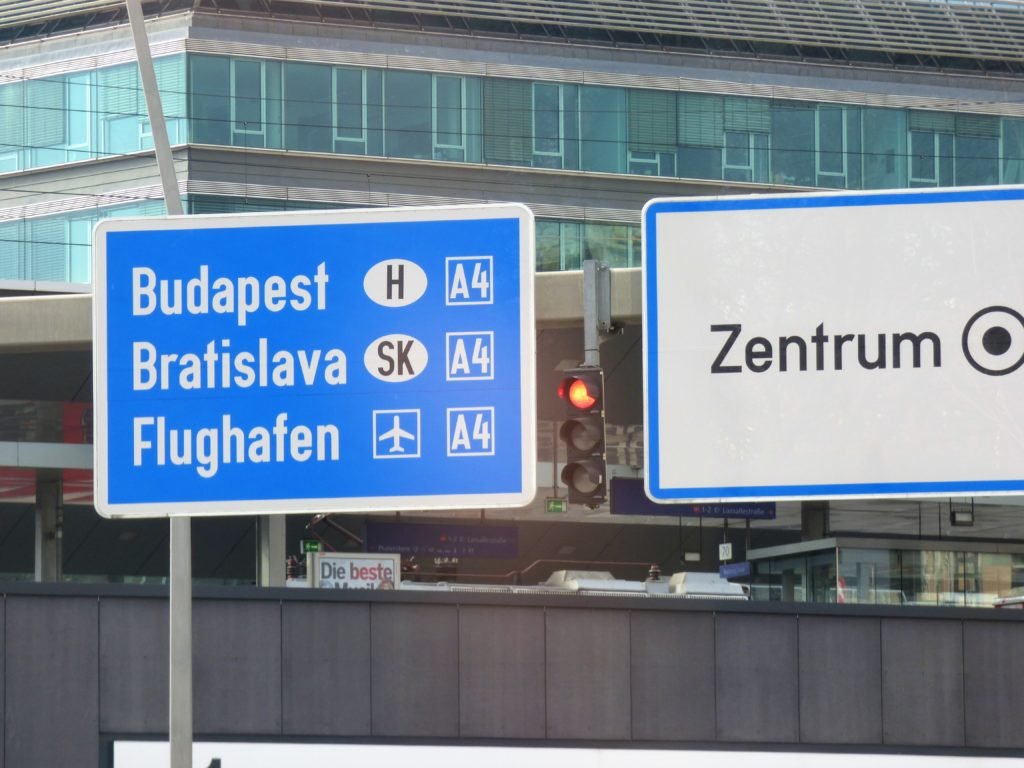 This is a railway station – and if you look to the left, you can see the building extends and actually looks like a train…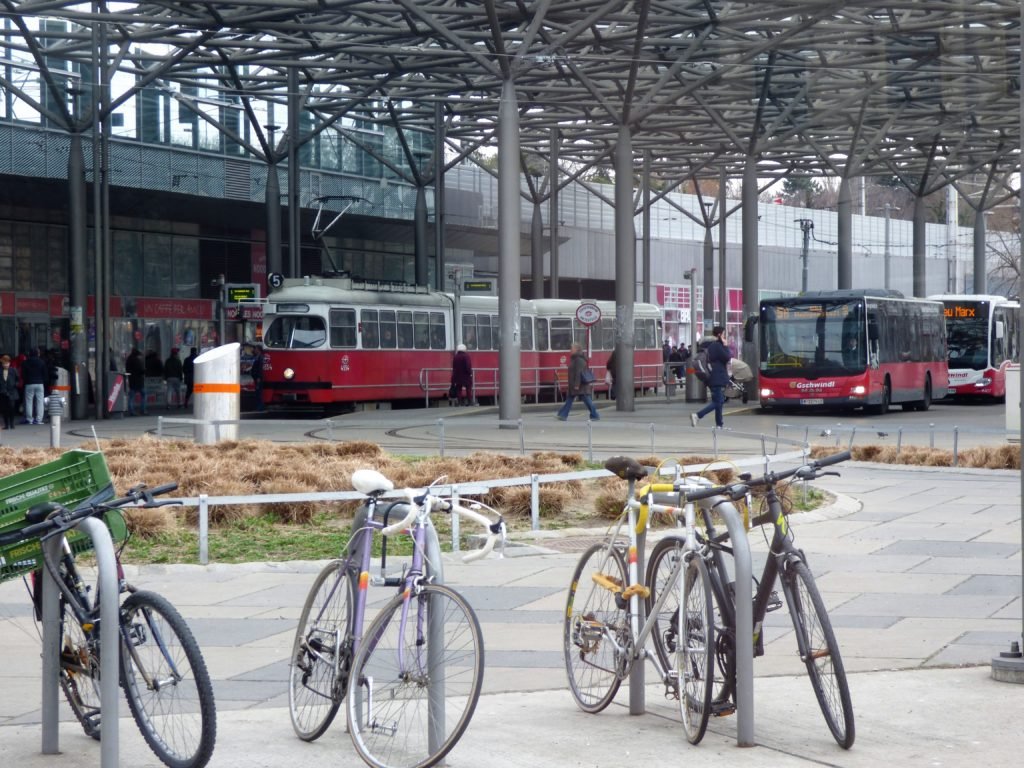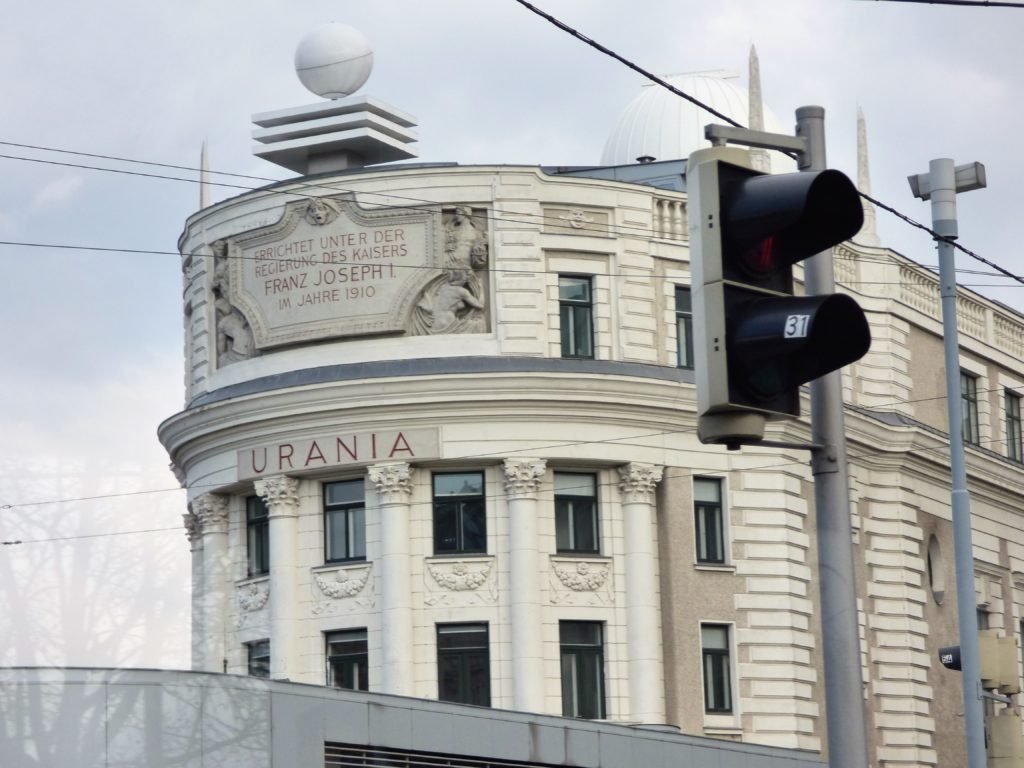 Yes, this is as close as it looks – and it was that close on BOTH sides of the bus!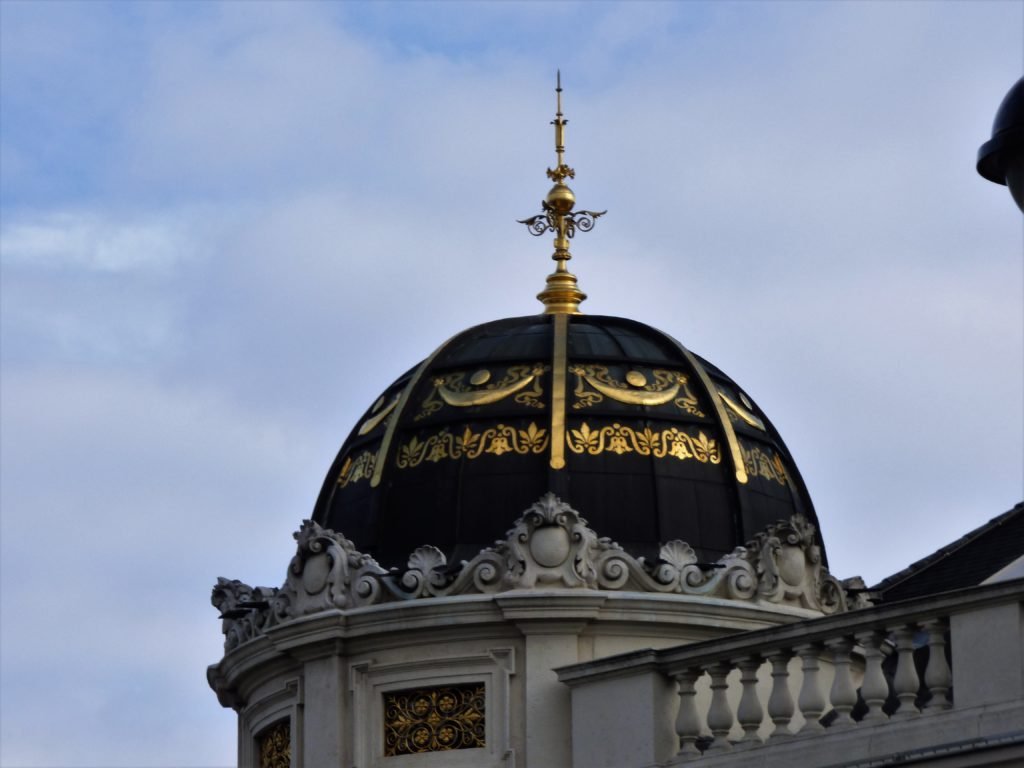 …is this the Austrian support for 'Free Willy'?  🙂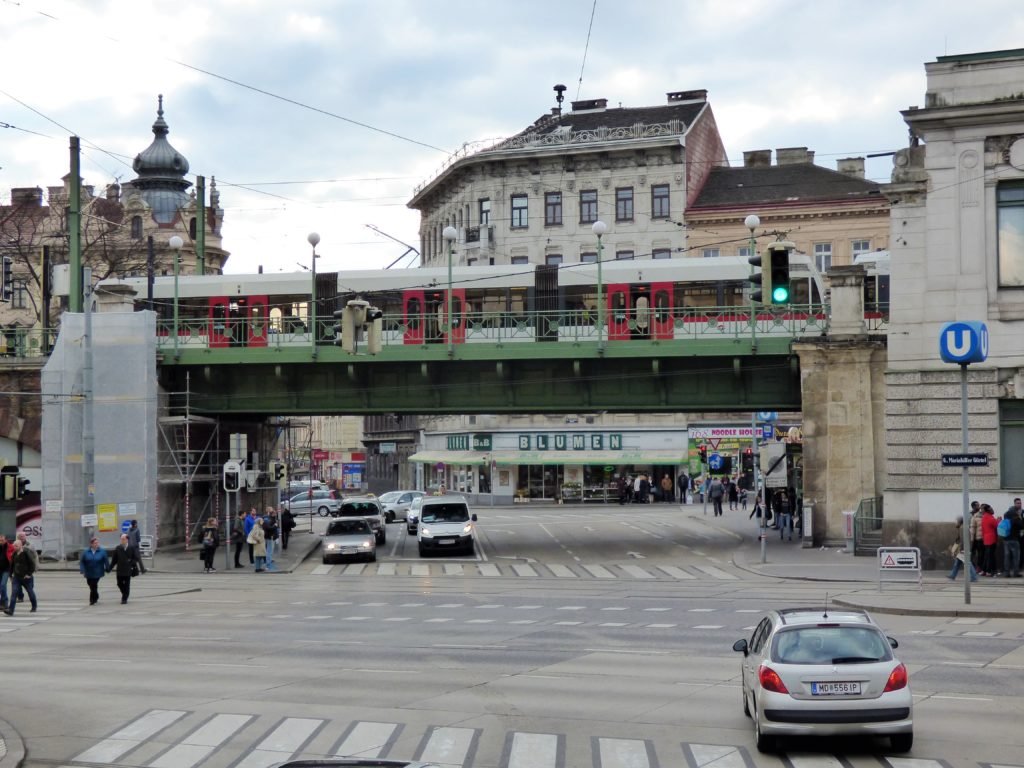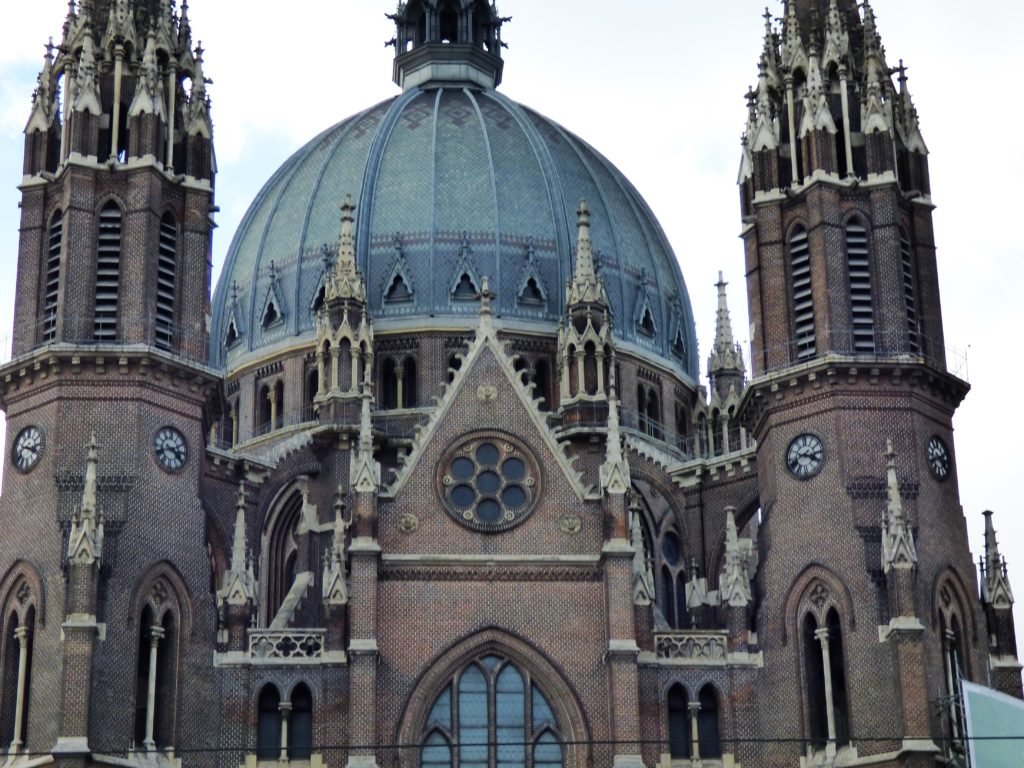 A little later in this post you will read more about graffiti – and this photo below shows just how committed they are to their "craft"…
The modern buildings here are largely works of modern art…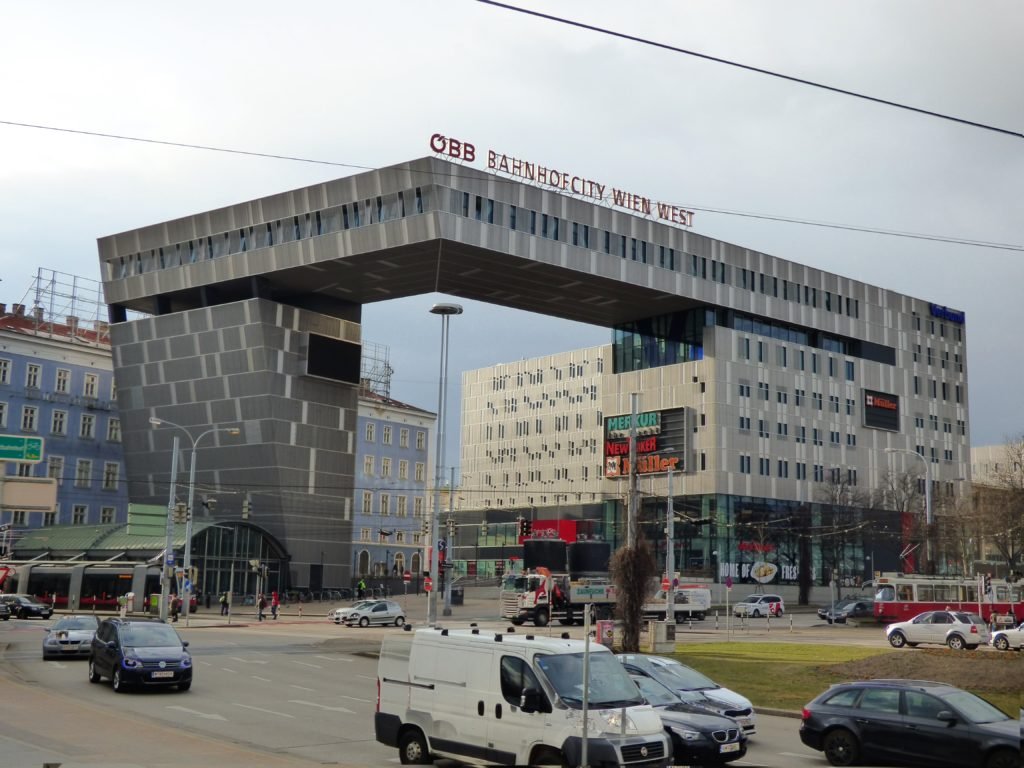 …on the bus, there is a commentary provided in a variety of languages…
…it may be fuzzy, but this is one of my favourite moments – seeing a neon "FREEDOM" sign…  Being a girl who values freedom more than anything in my world, I loved this!
Vienna's weather is extremely changeable – very much like Torquay…  One minute sun, the next a shower, then the sun shines through again…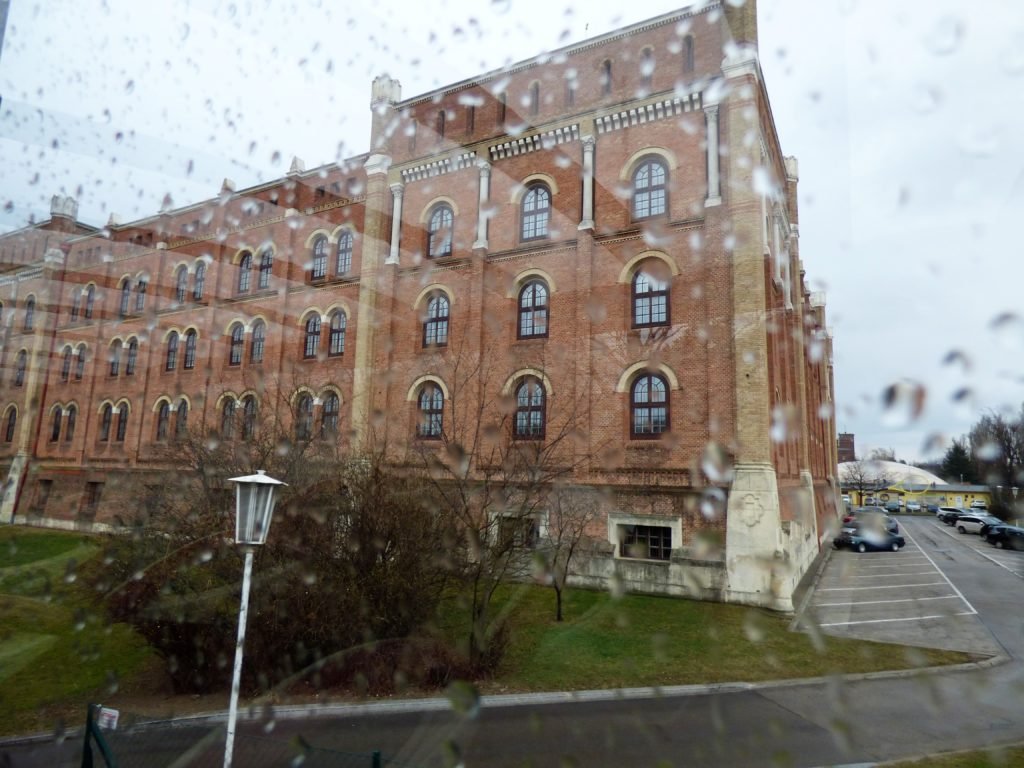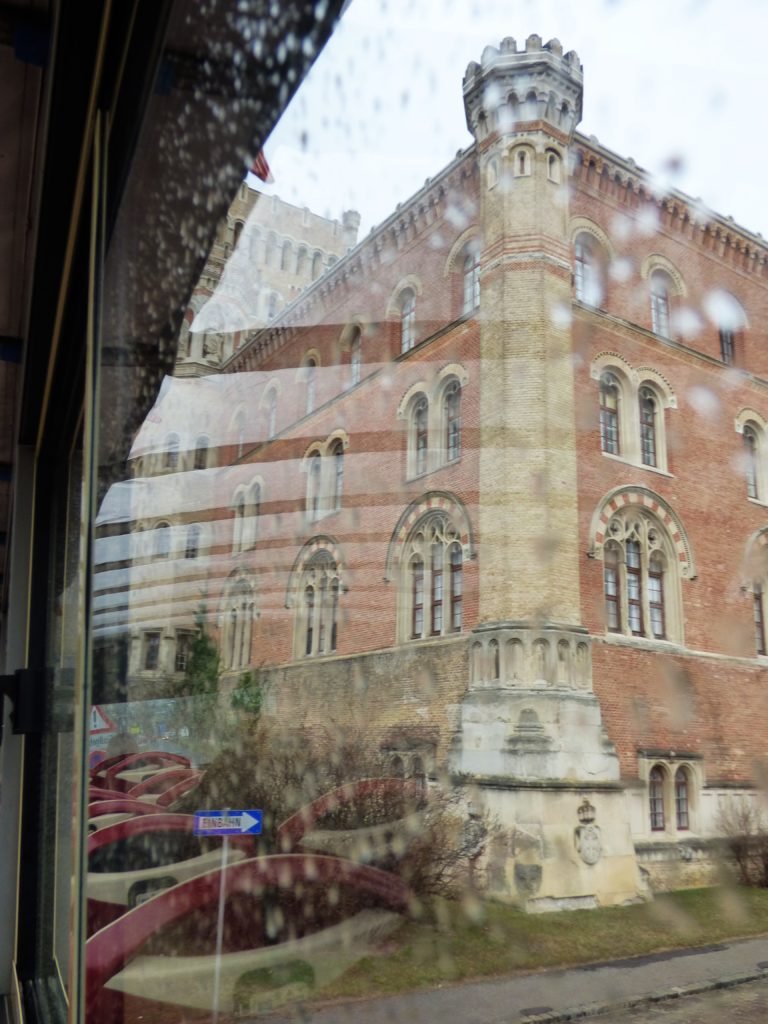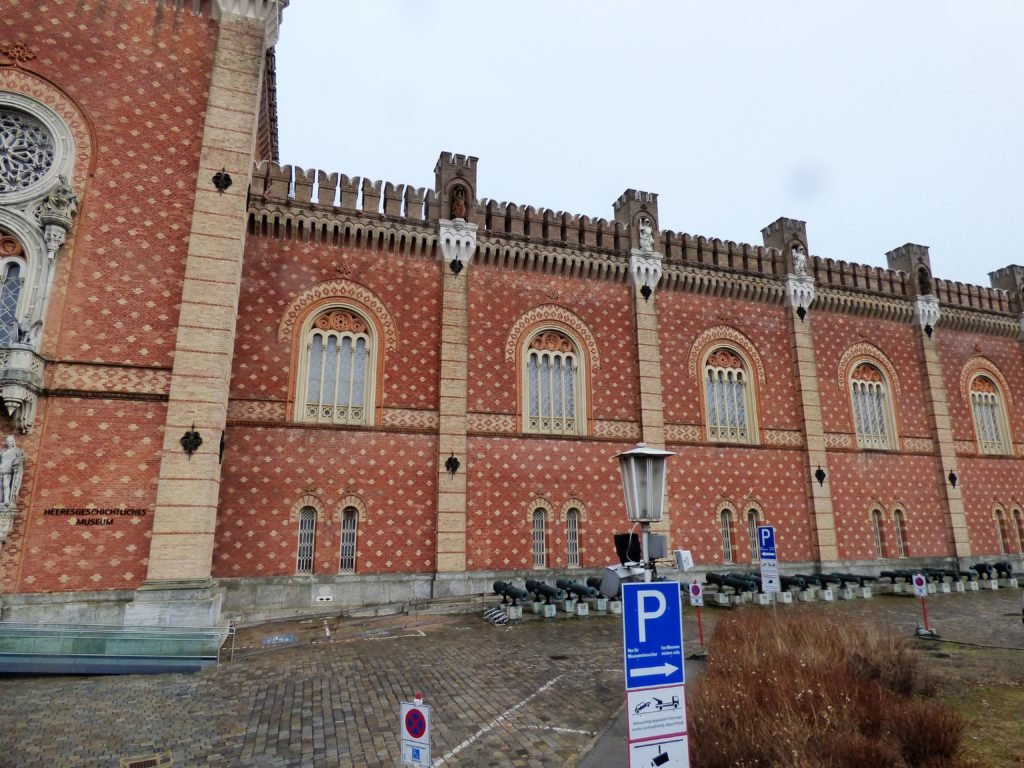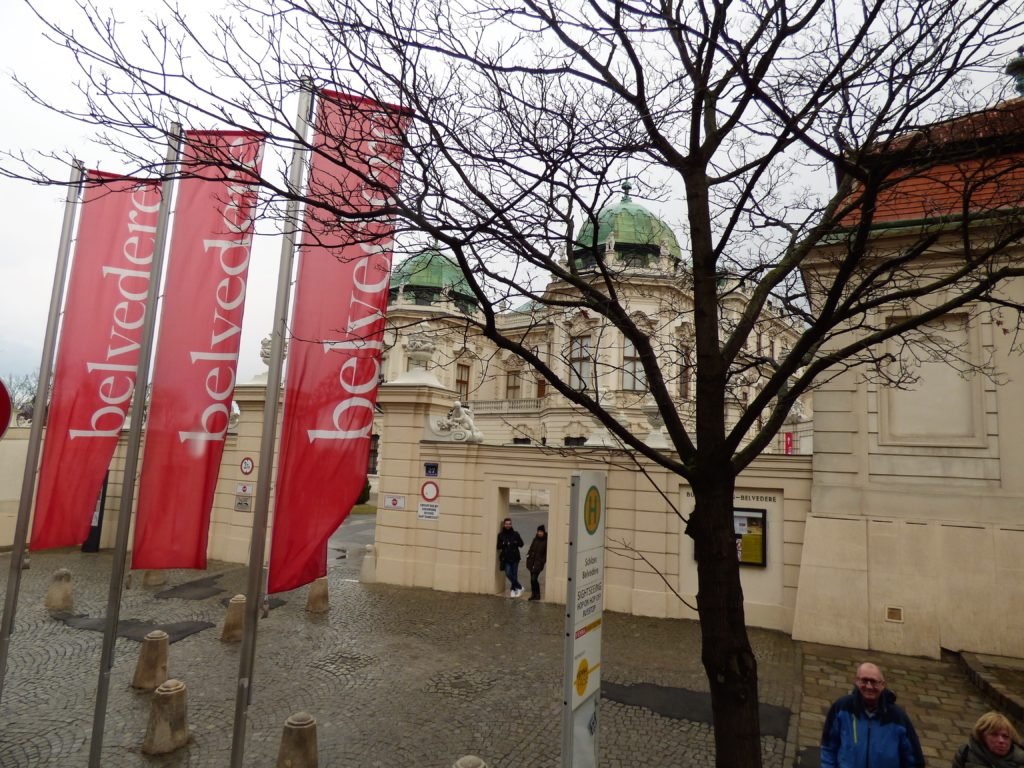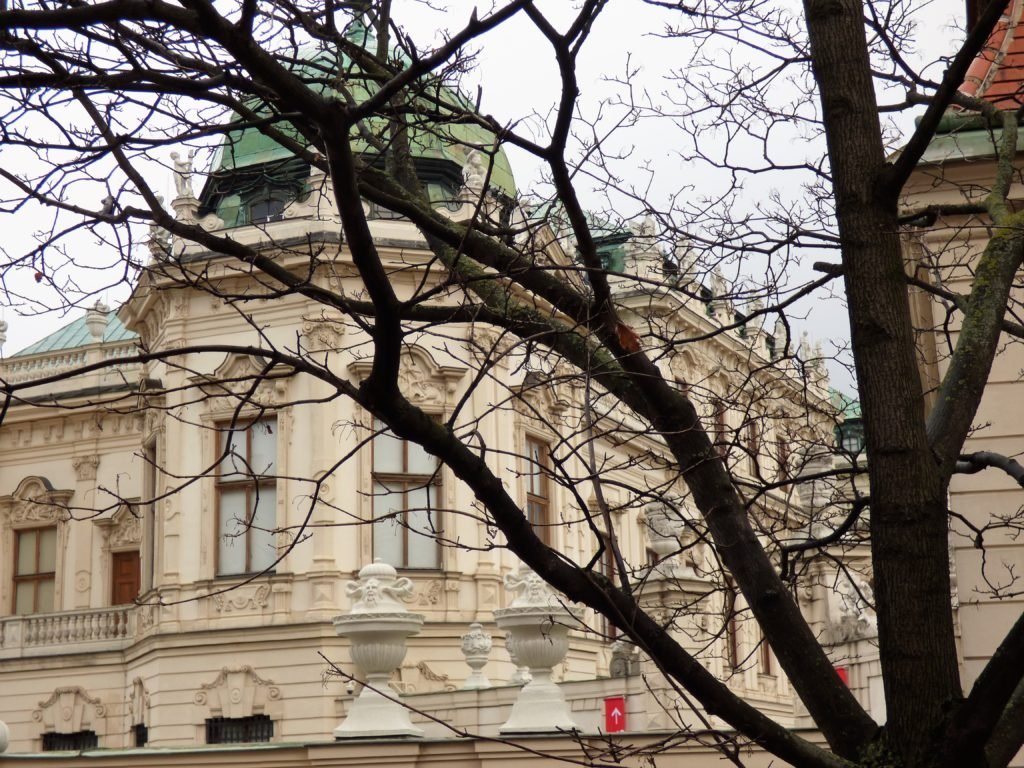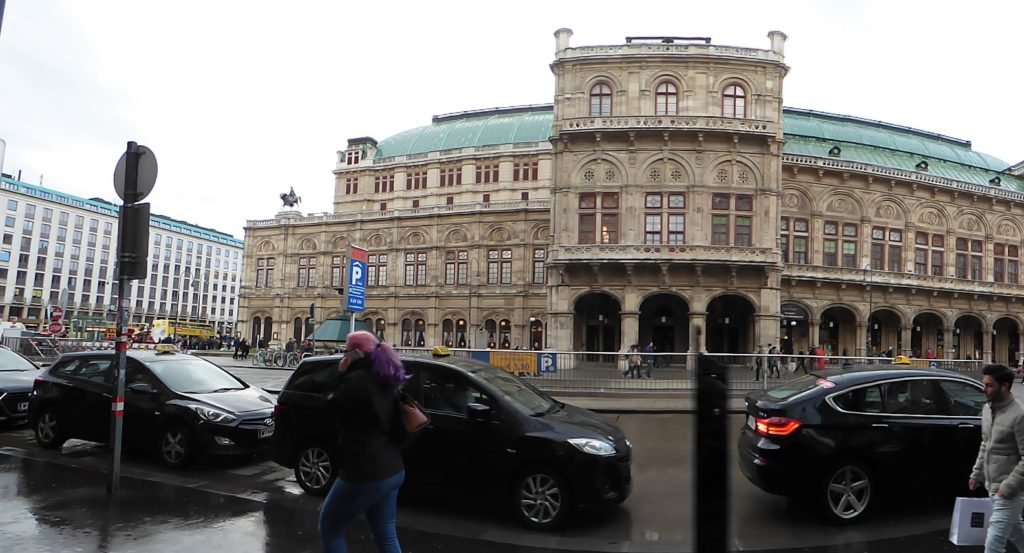 The food here has been wonderful…  This below is from an upscale Italian restaurant not far from the hotel – and these were the sweetest clams I think I have ever had!  The owner prepared a special dish for me – tossed in truffle oil…  YUM!
As I leave the hotel via the private entrance/exit, I smile every time I see this gorgeous door…
OK, back to St Joseph…
Street scene just around the corner from the hotel…
Of course – an Irish Pub in Vienna!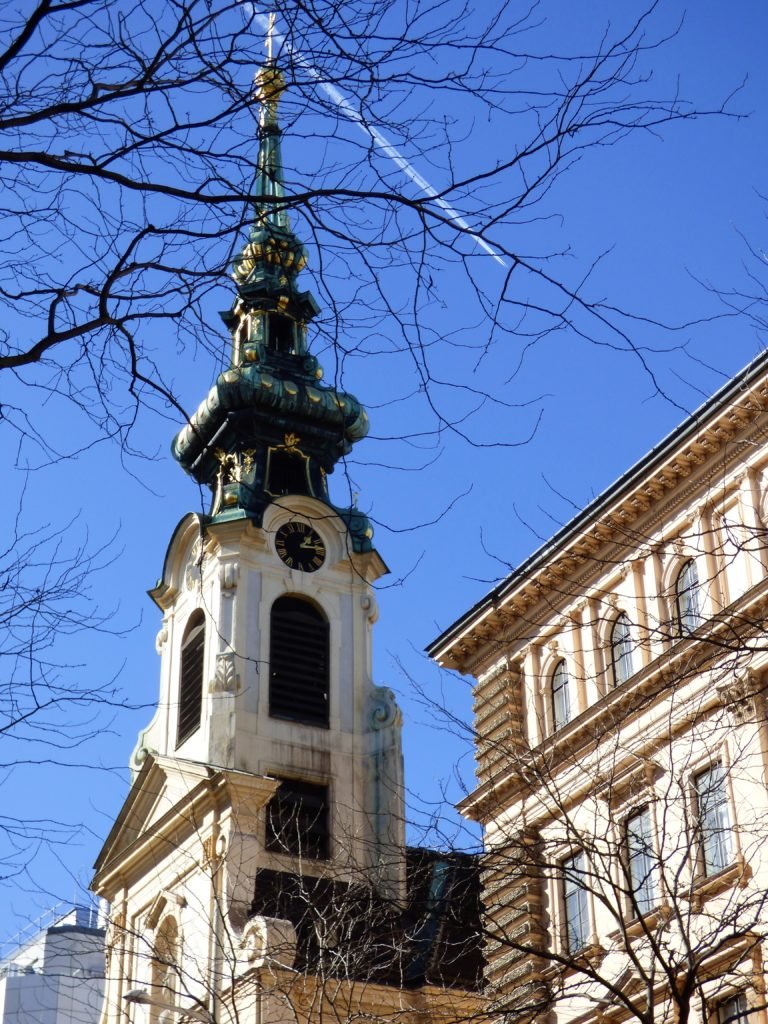 I don't know if you can make it out, but that is a stuffed rodent in the window!!!
One thing that did surprise me was that smoking is still permitted indoors (although thankfully not in the hotel in which I am staying).  There are remnants of the idealized notion of Viennese smoky cafes everywhere…
When I brought up the Google Earth image of where I am staying, since the wifi here is soooooo slow, I actually really liked the impressionist images it gave me…
One of my 'locals' – yes, it is an Asian restaurant but they have the fastest wifi I have found…
This below may be a chain, but they have the yummiest of icecreams!
No, these people are not crimson, it is just the outdoor heaters…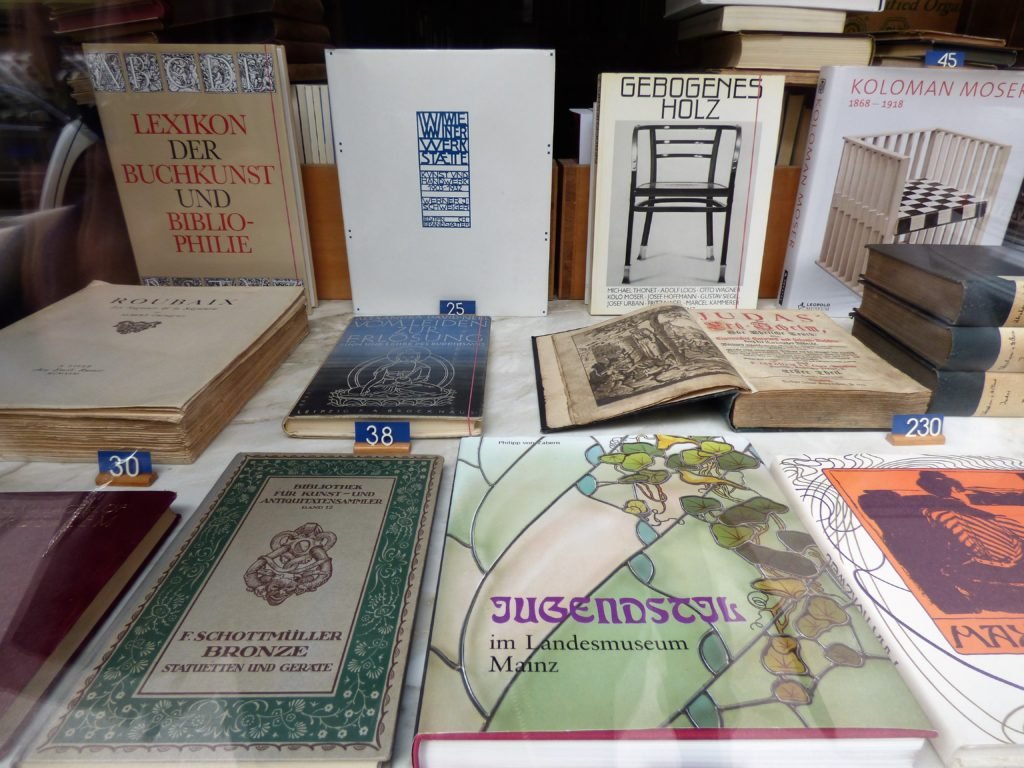 …even my minimal German can work out what this shop is!
OK, let's get into the subject of graffiti a little more…  While there are some examples of 'local art' like these below that are quirky, a little later you will see another side to this 'artistic endeavour' in Vienna.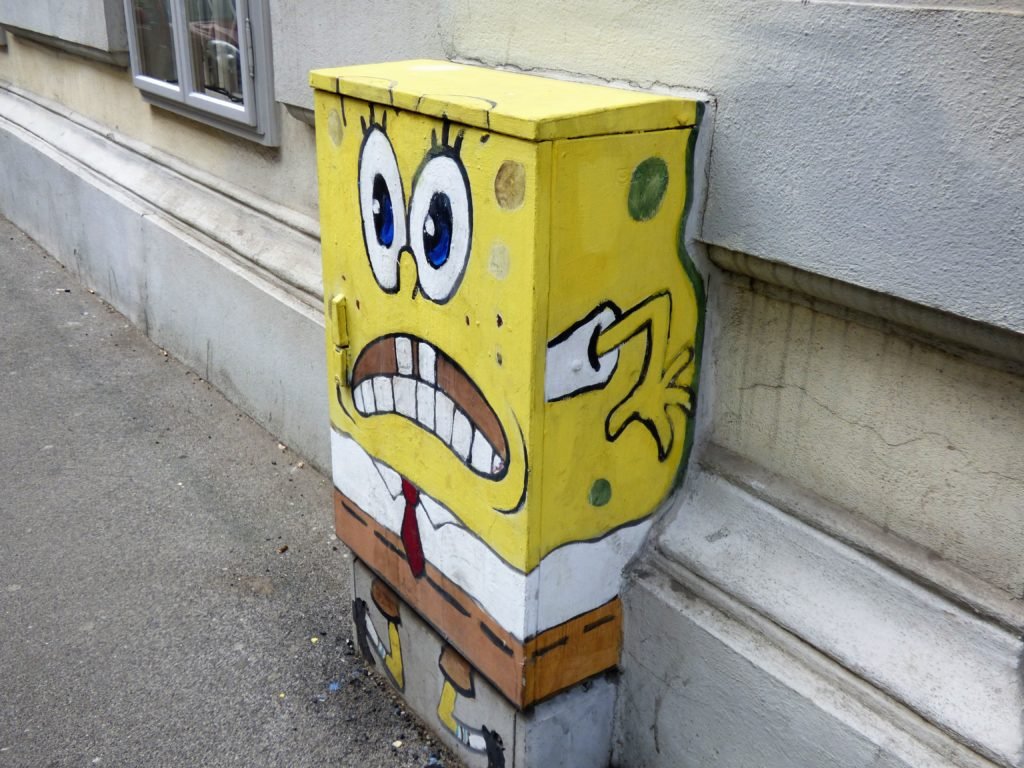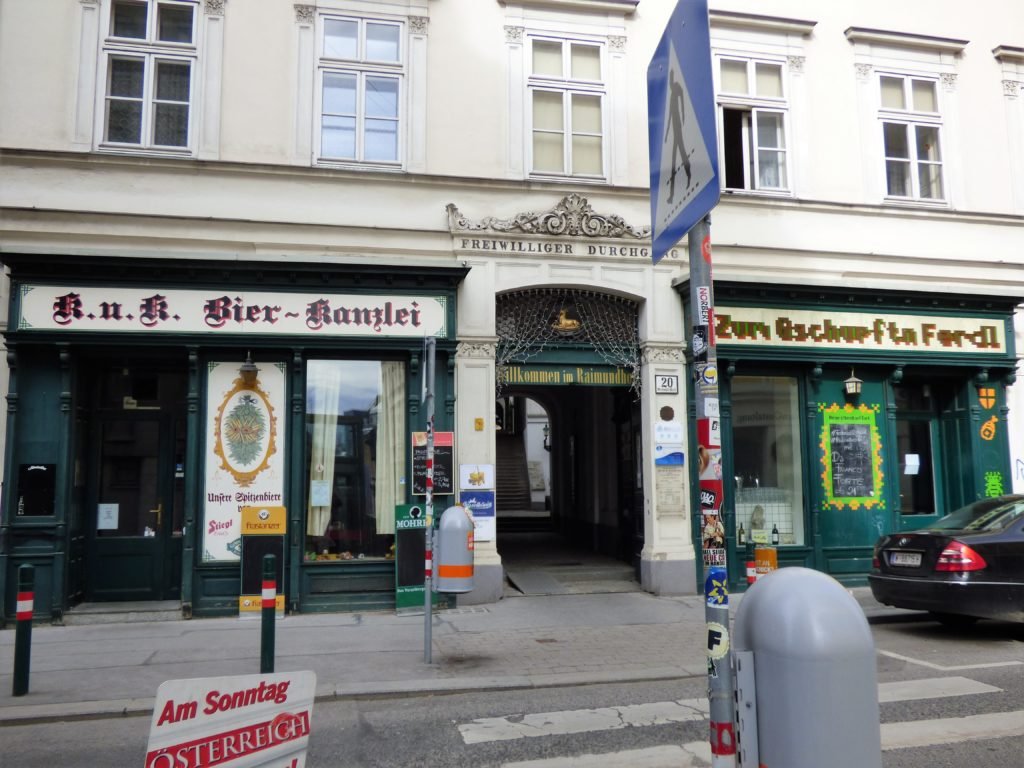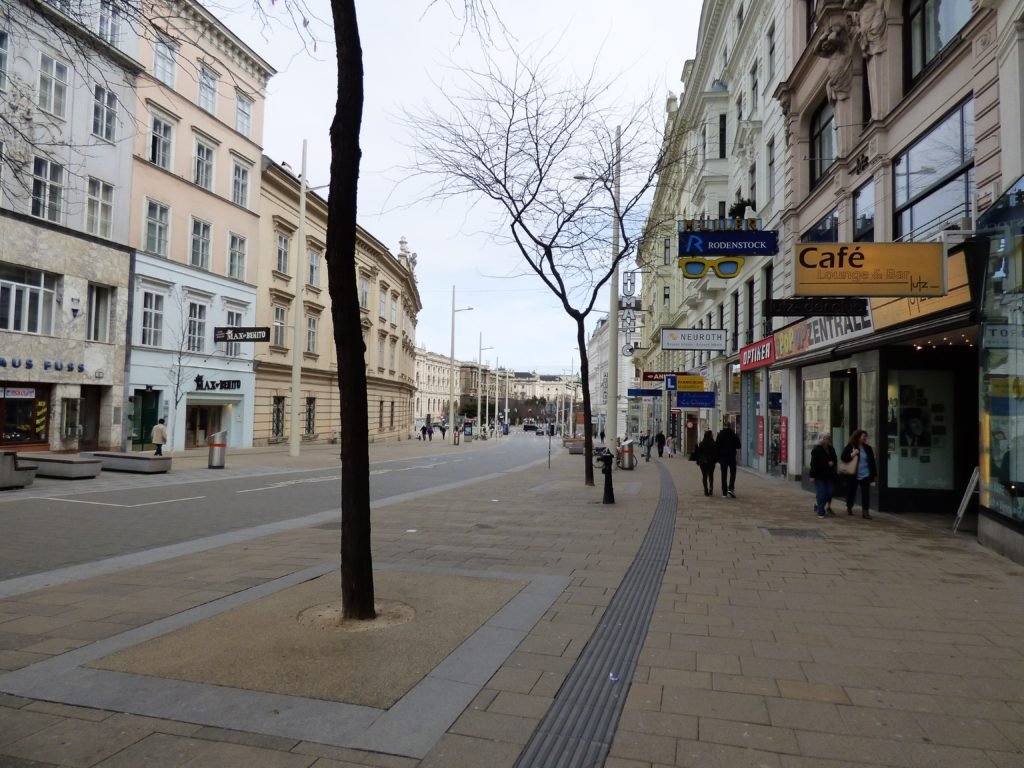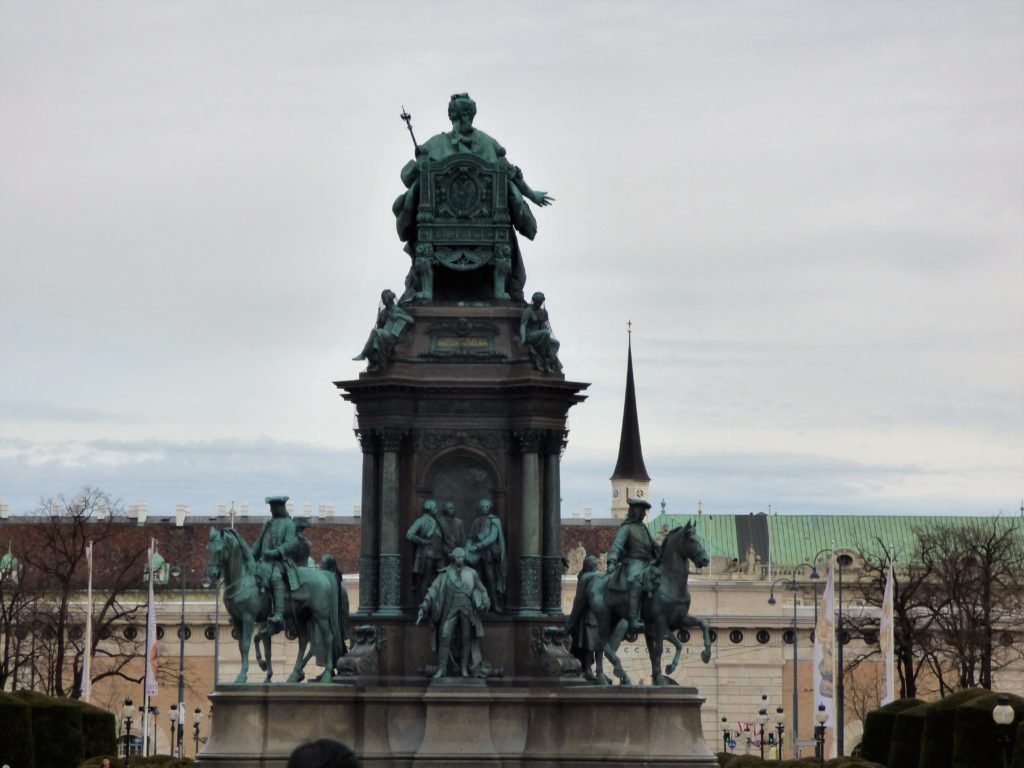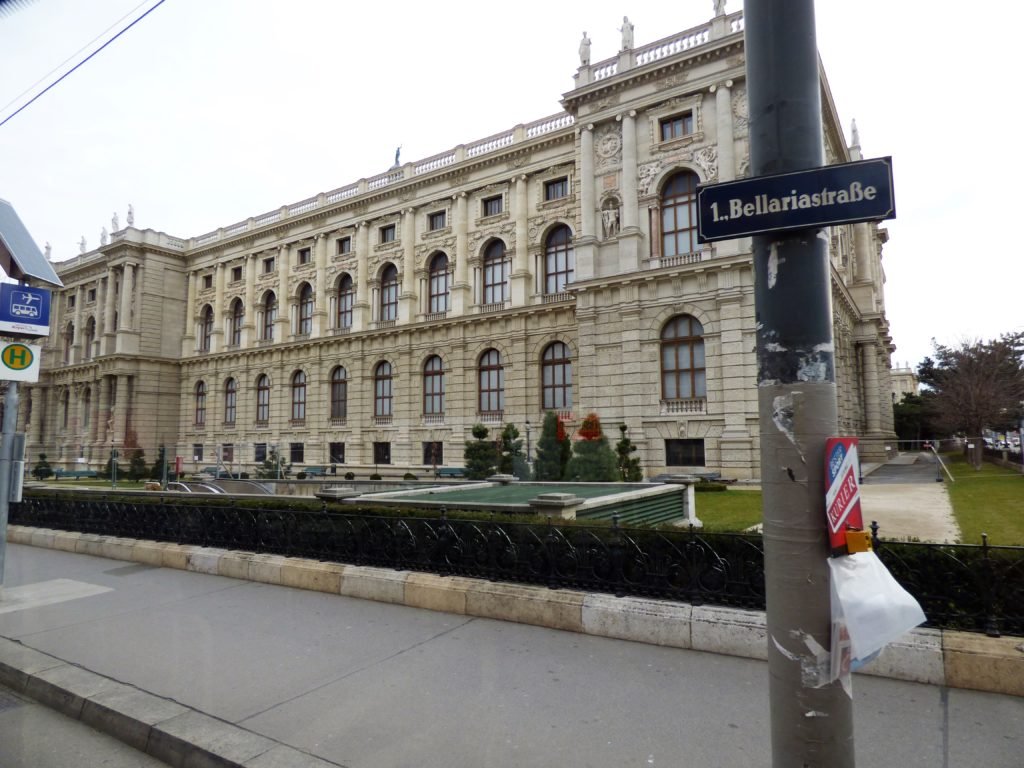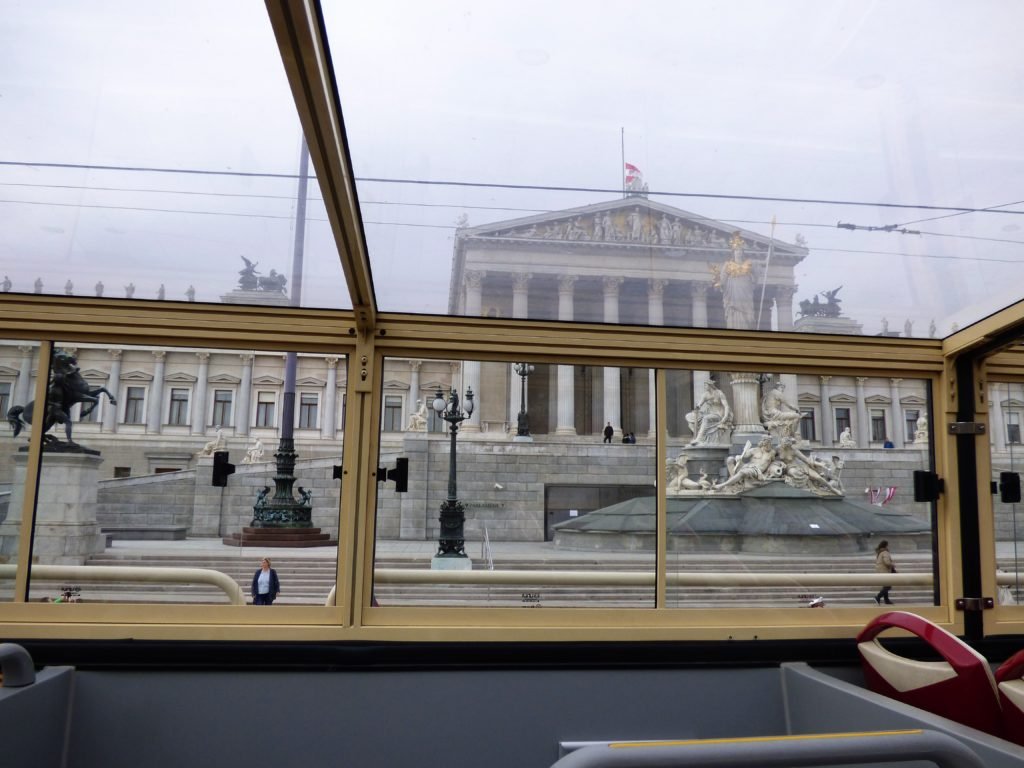 Love this outdoor ice-skating rink!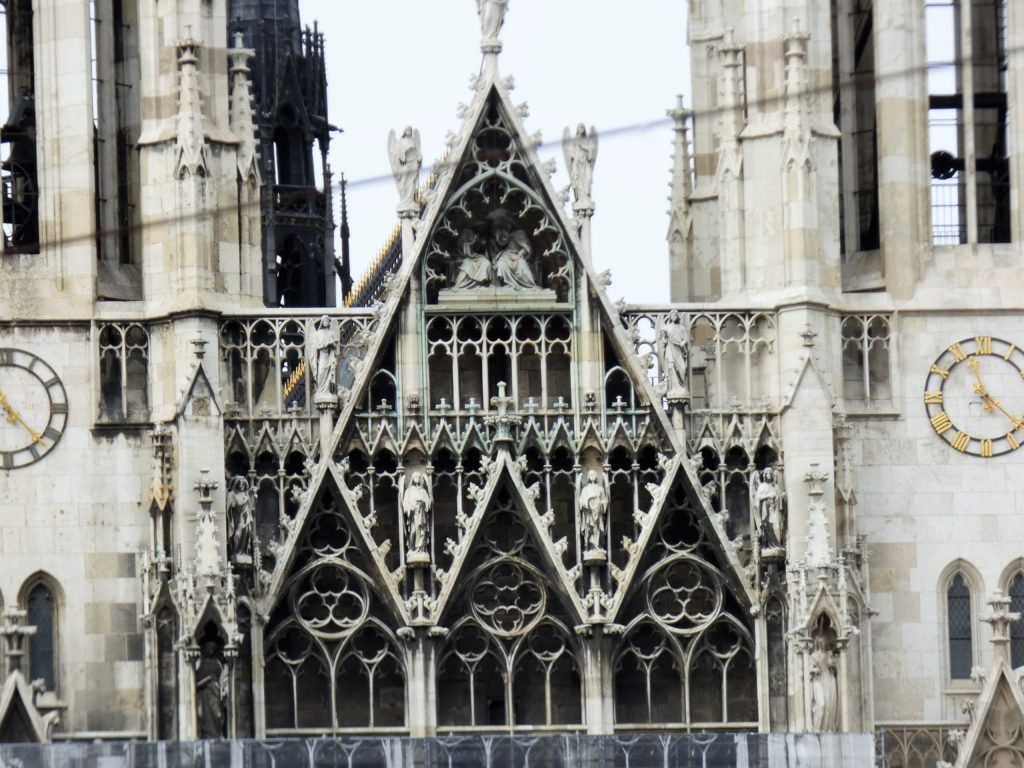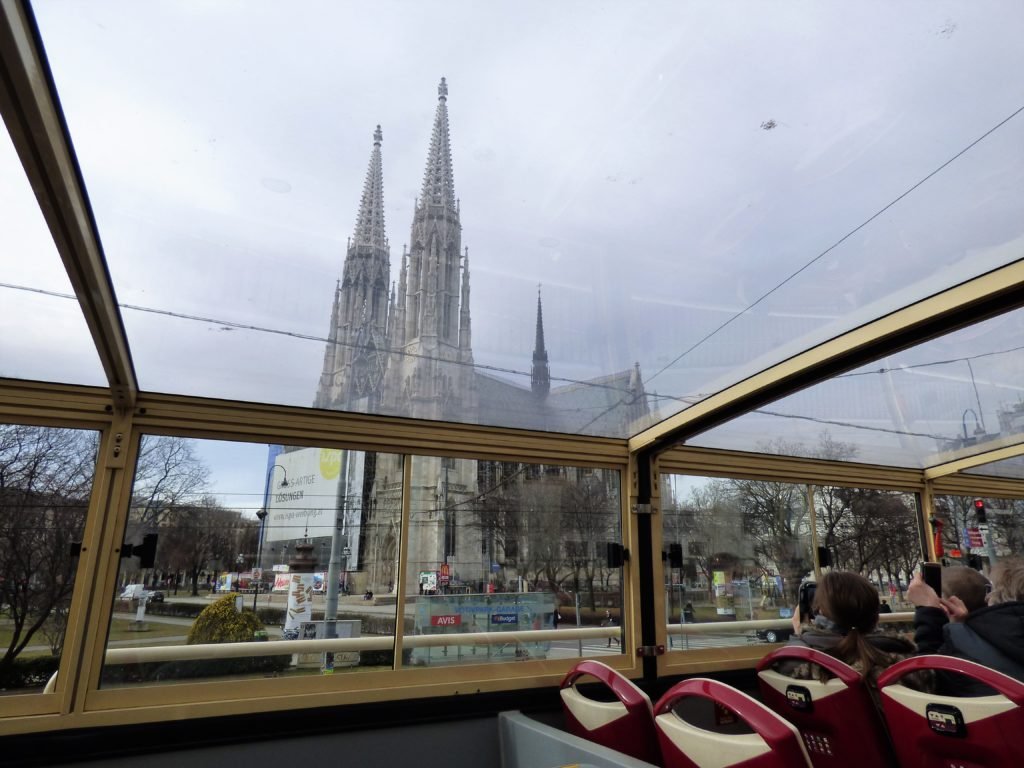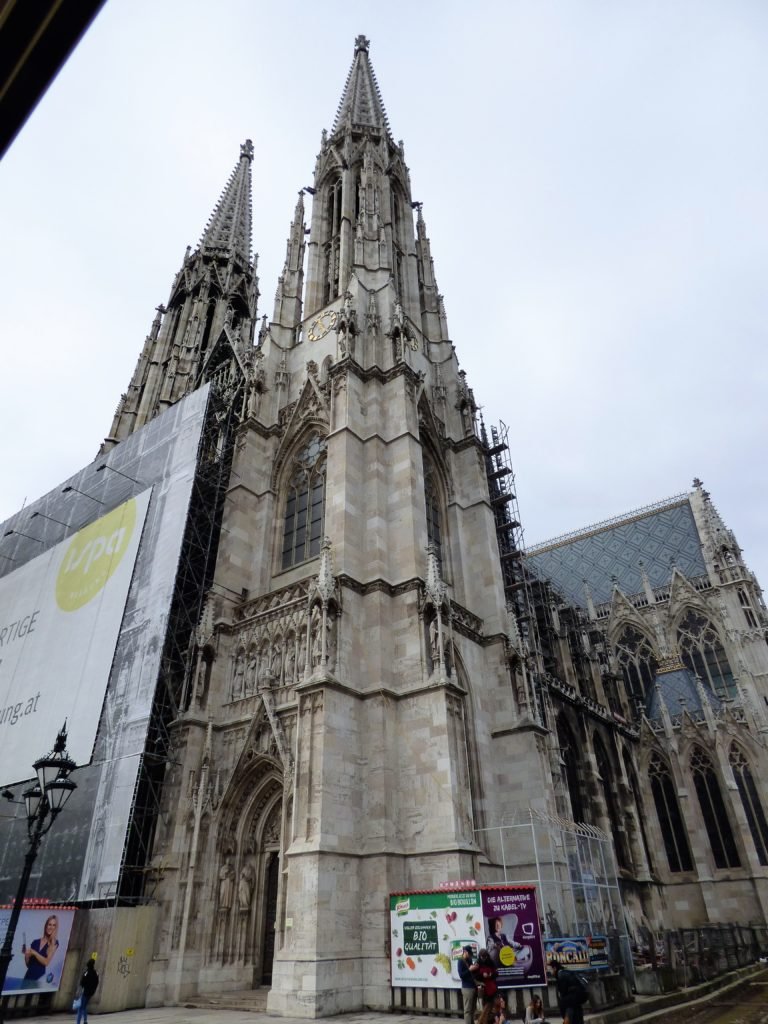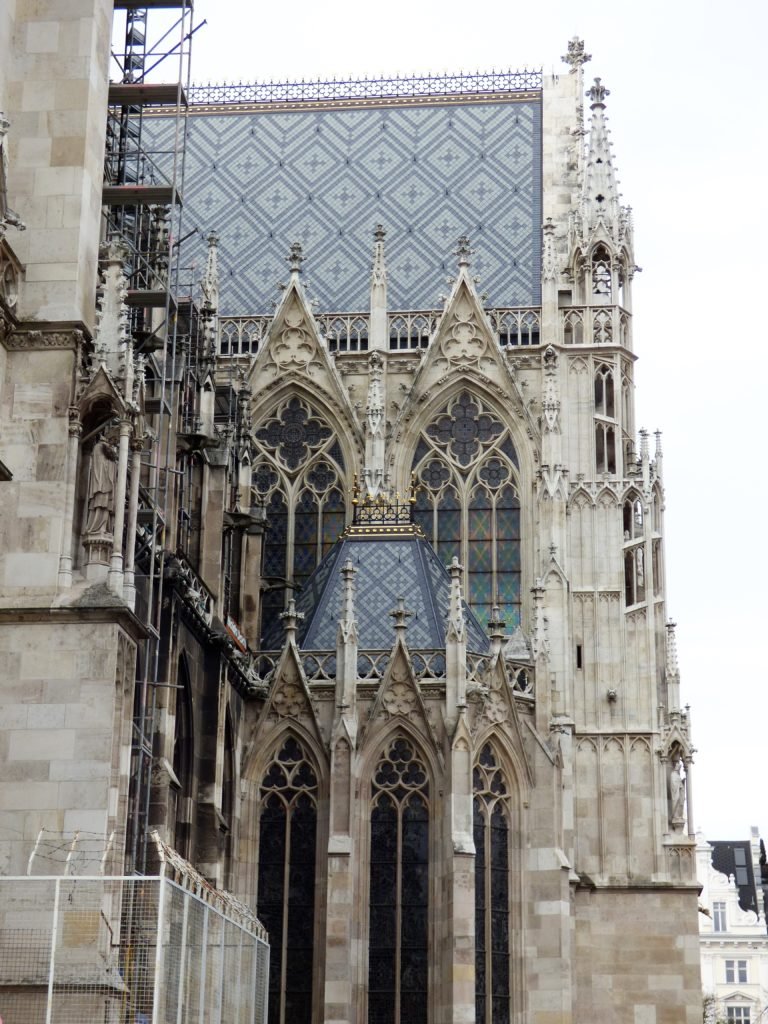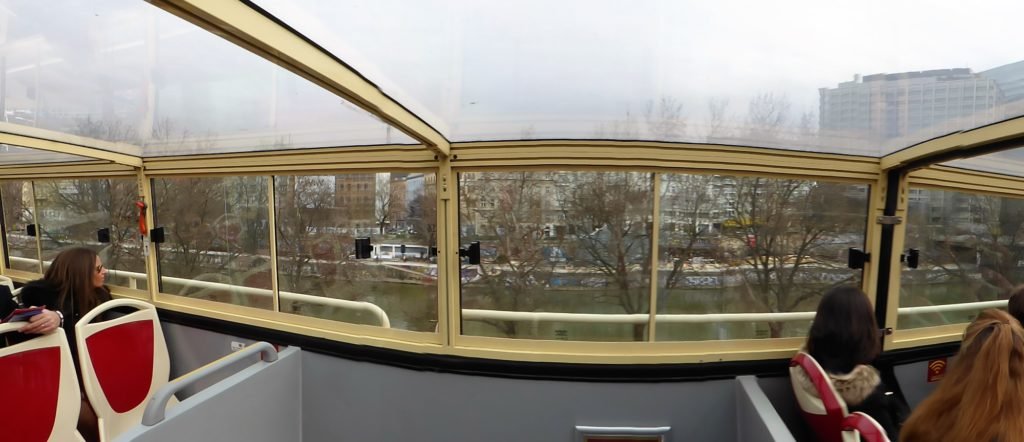 …and now for some more graffiti…
Here in Vienna, graffiti is considered a valid form of personal expression…  What I certainly didn't expect is to find the Danube lined with graffiti!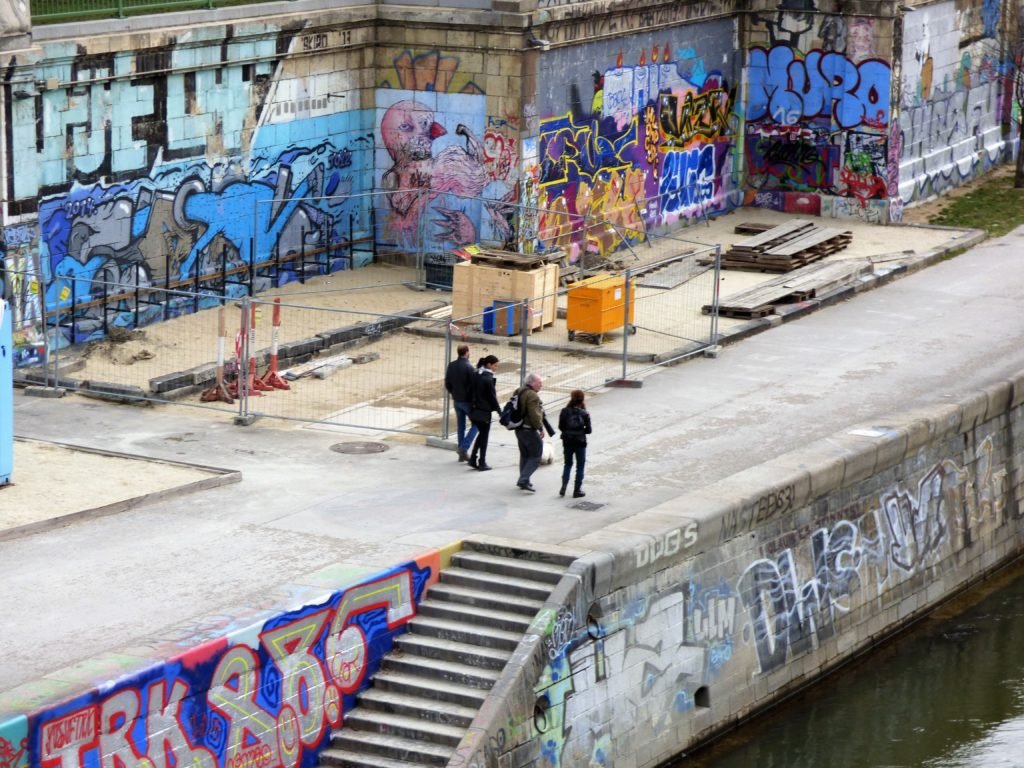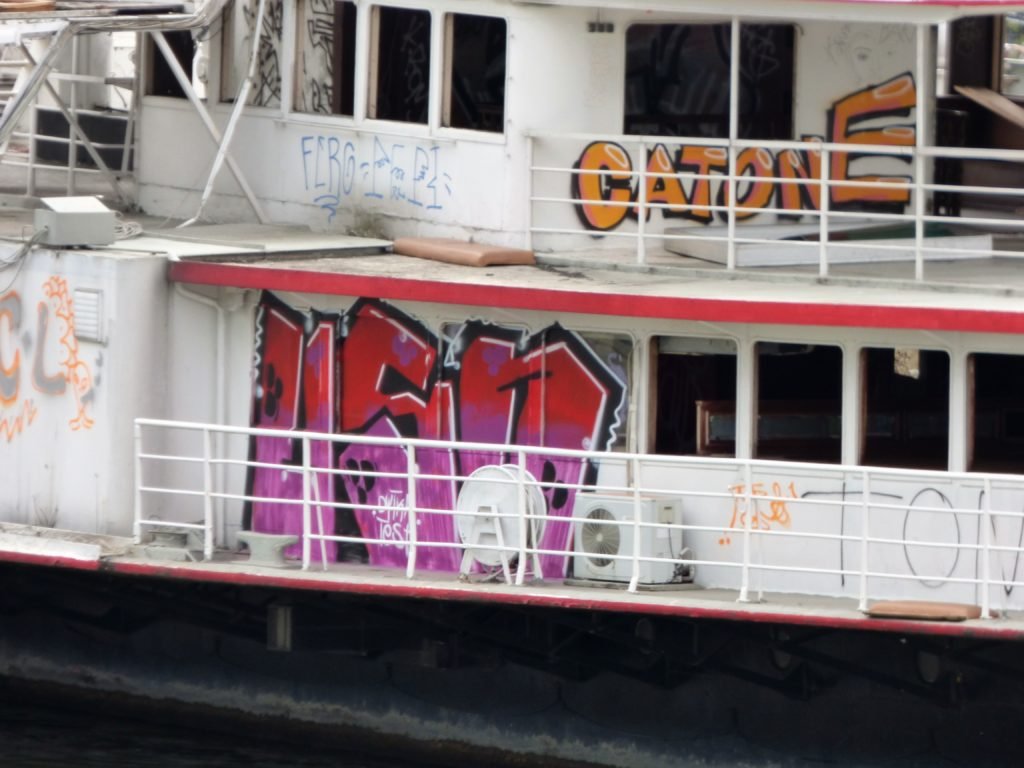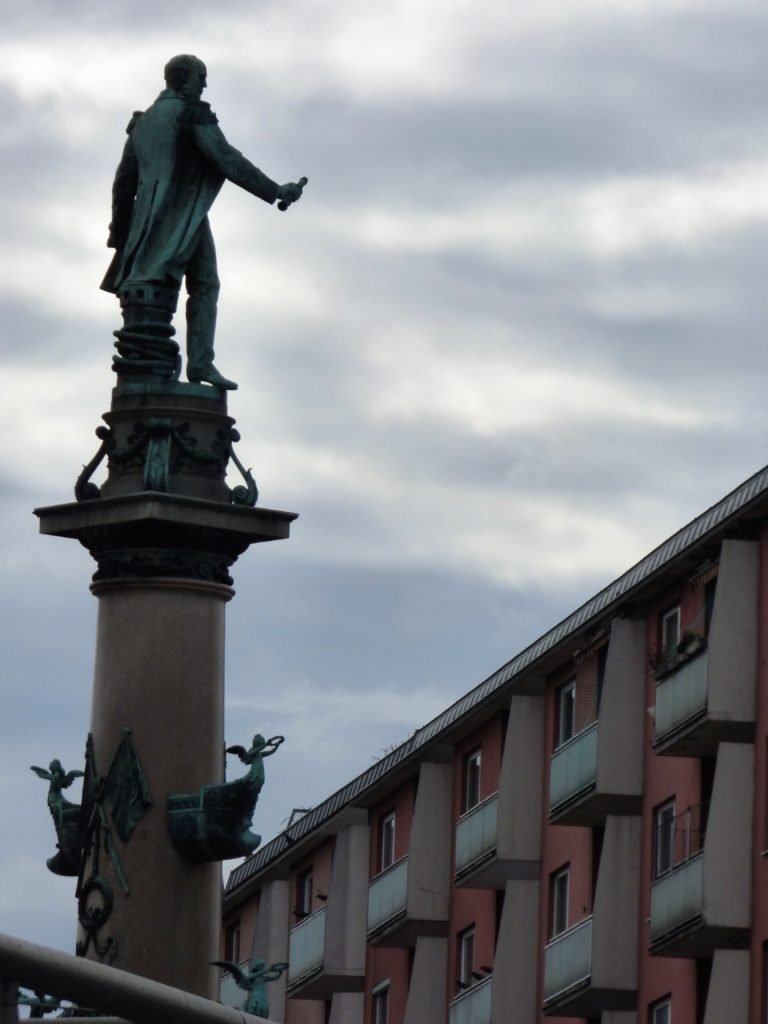 Back to das Prater (and apologies the photos are not in order)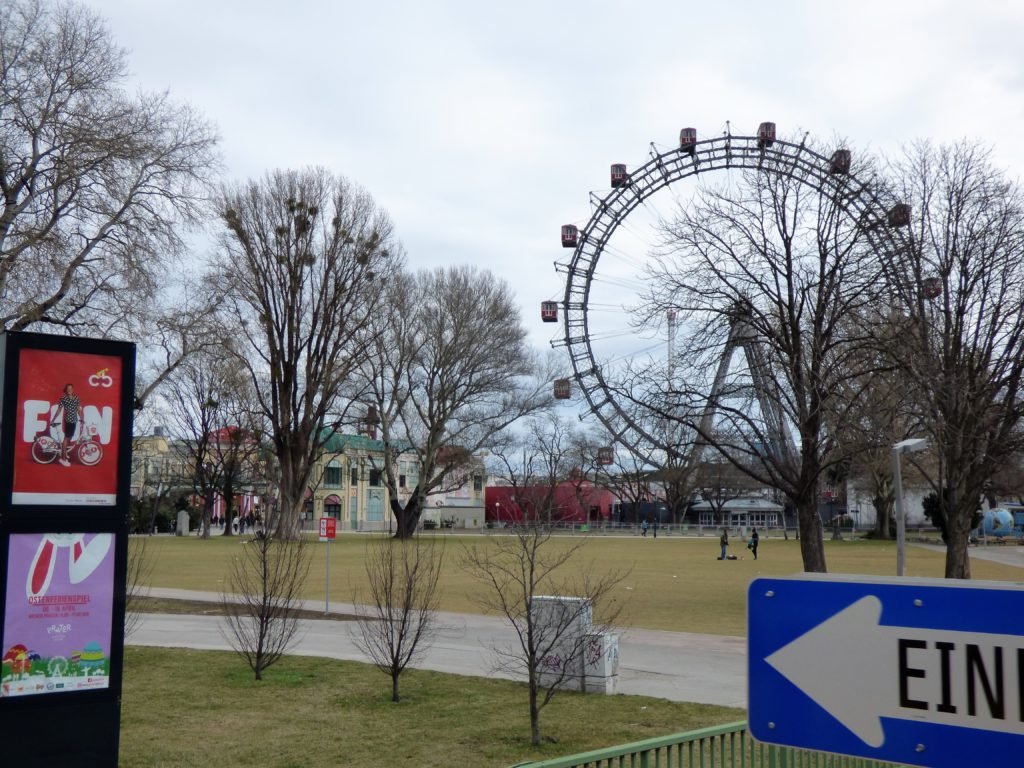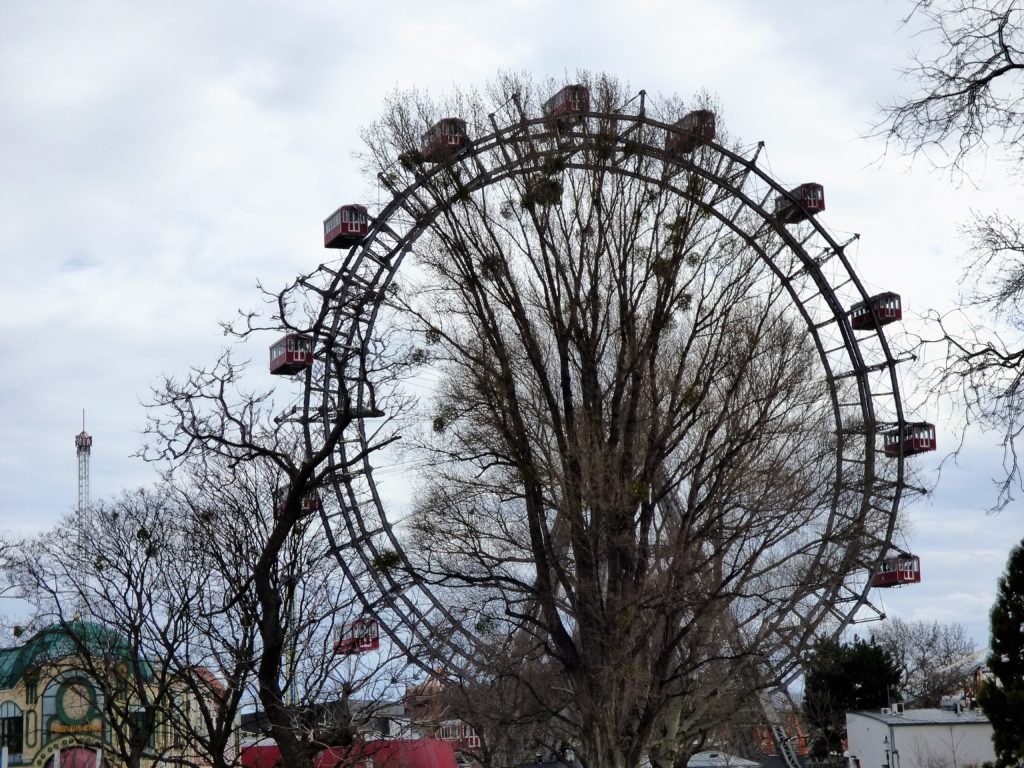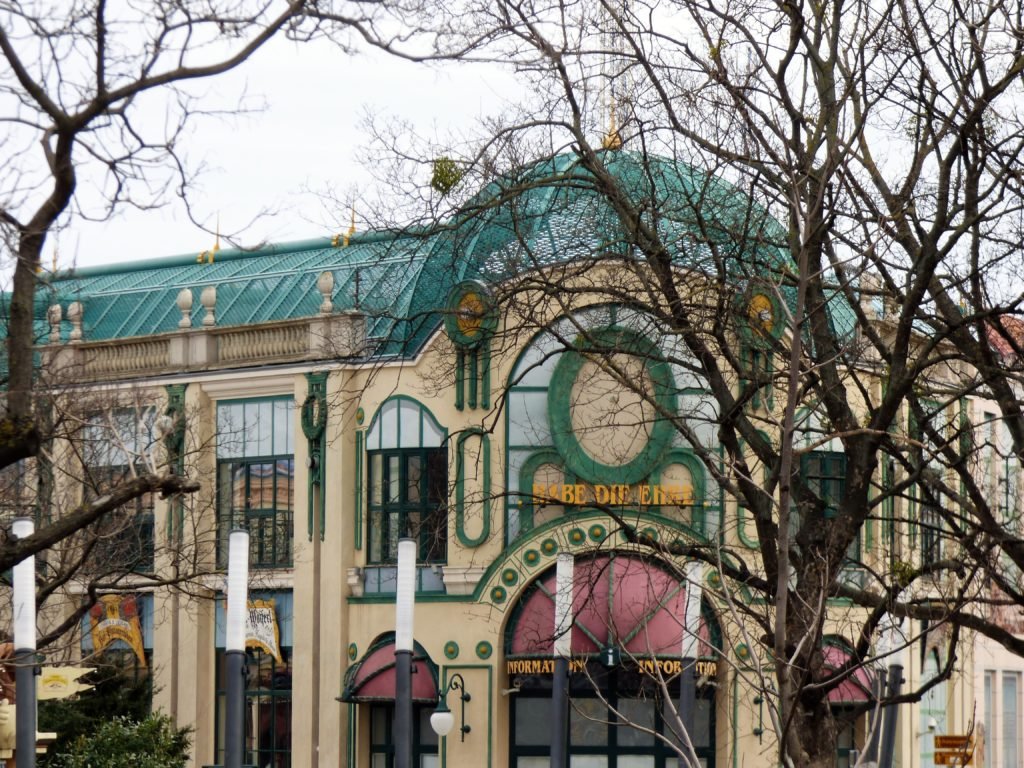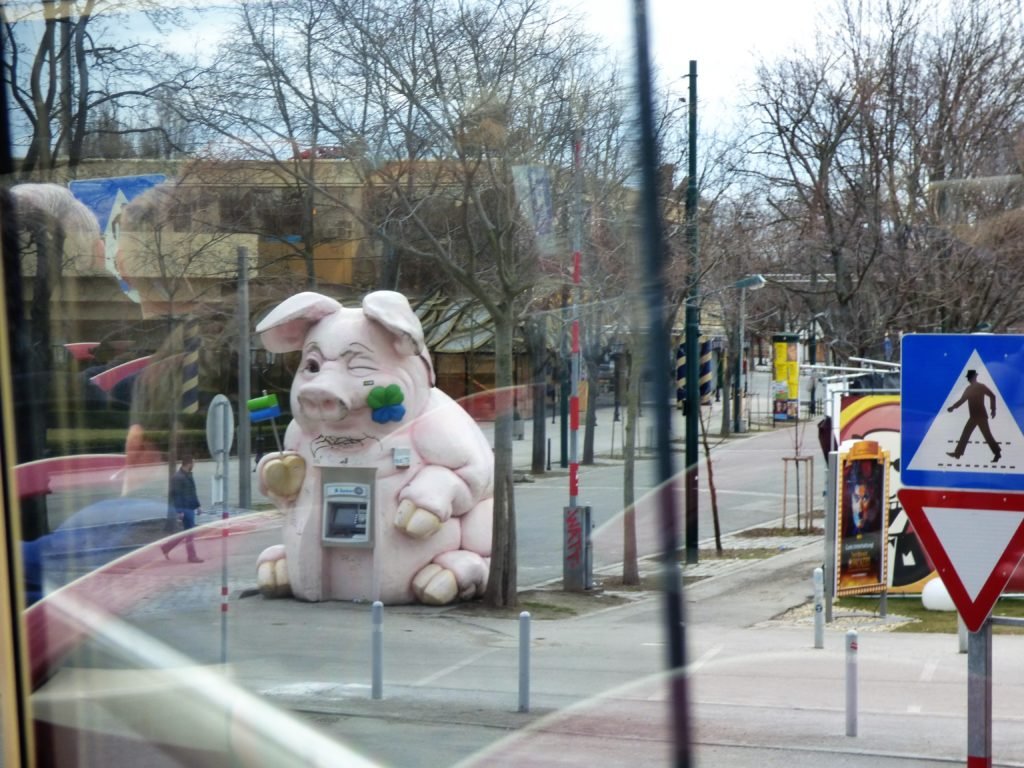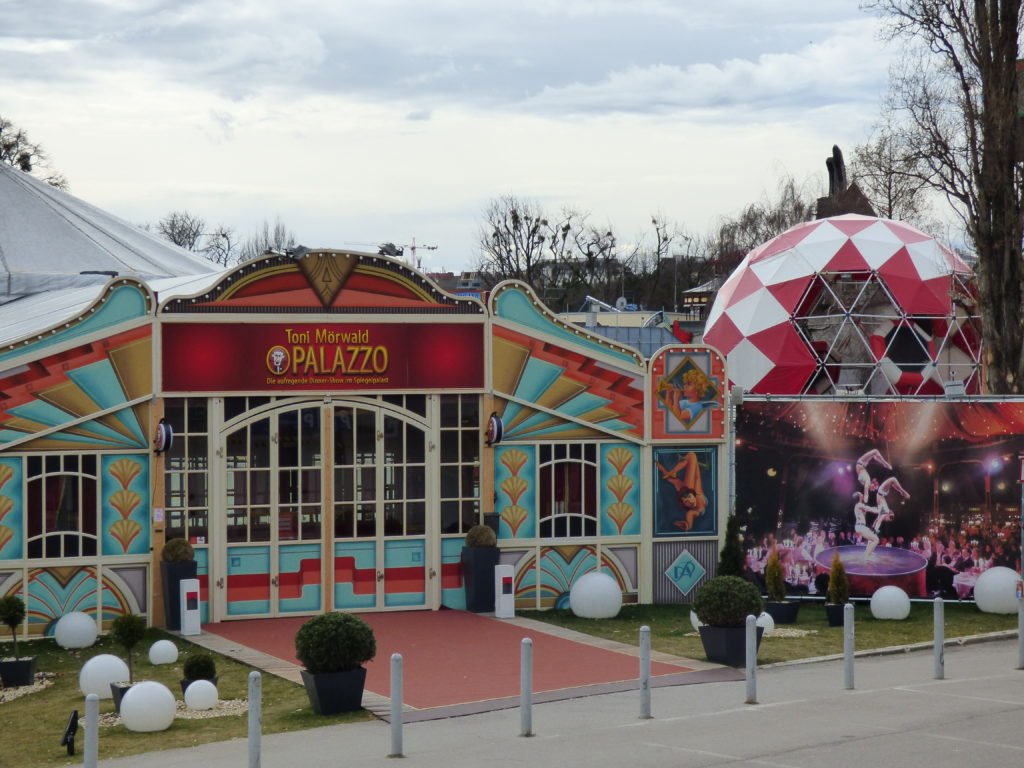 What everyone needs – a pink pig covered with graffiti dispensing cash…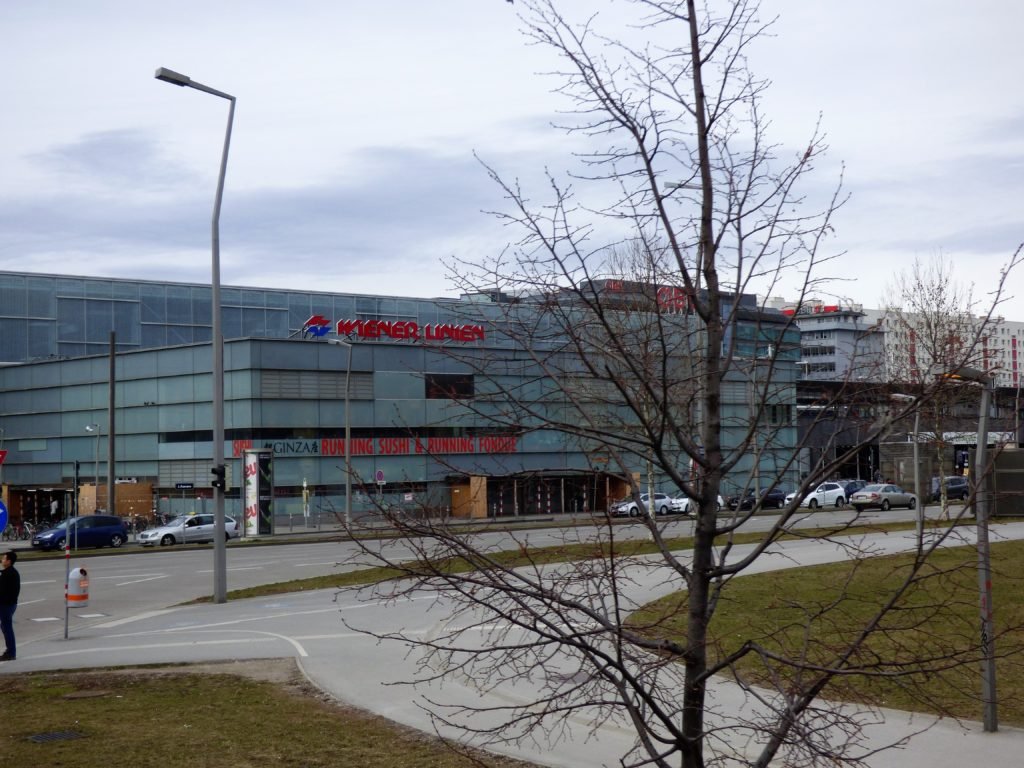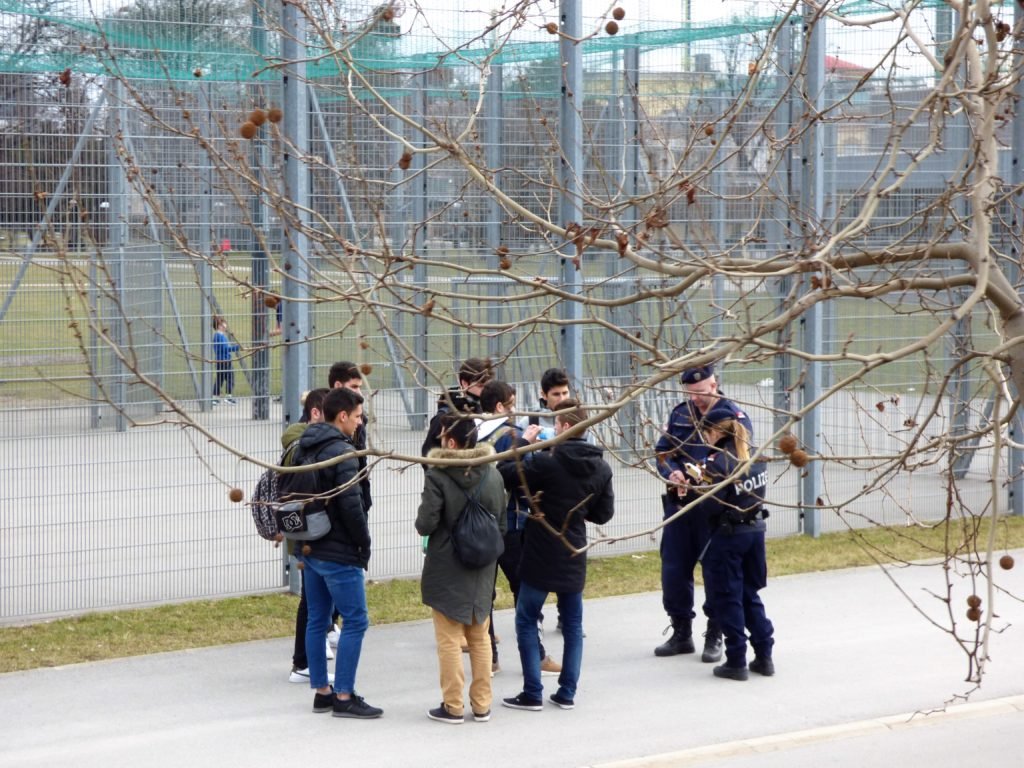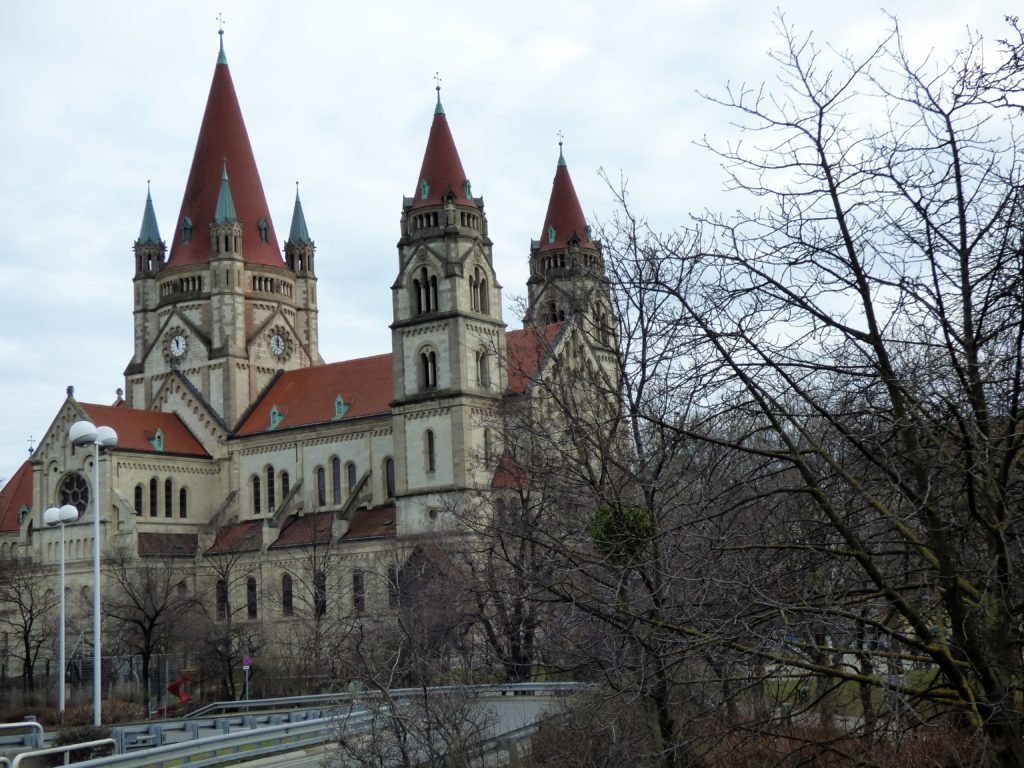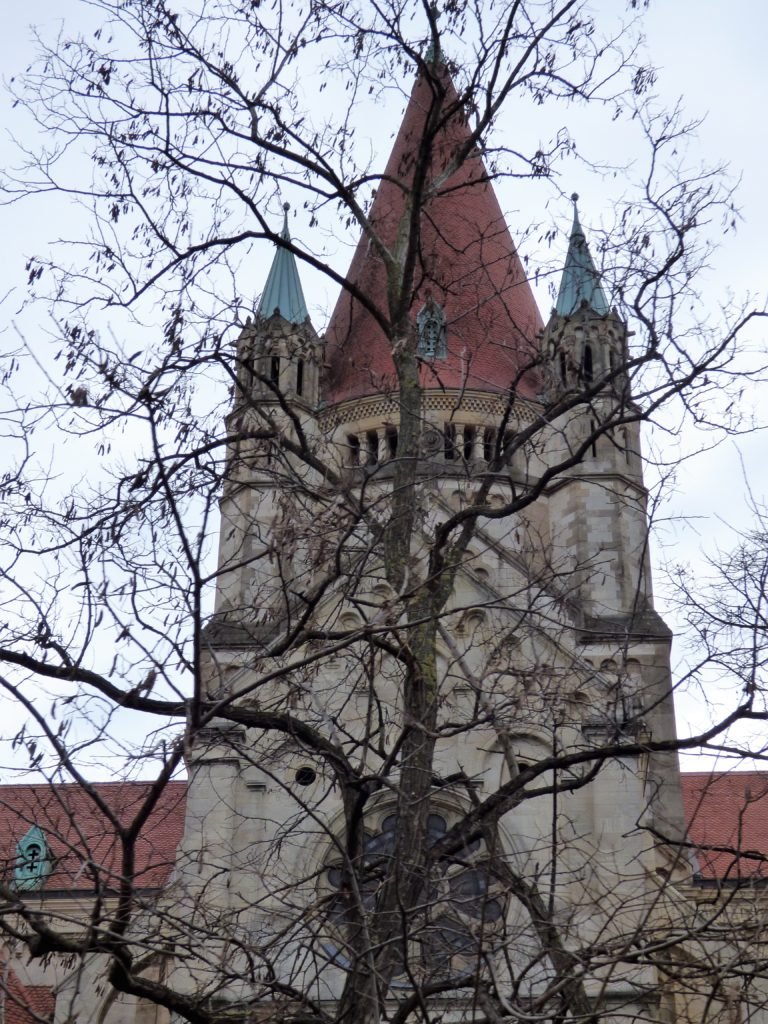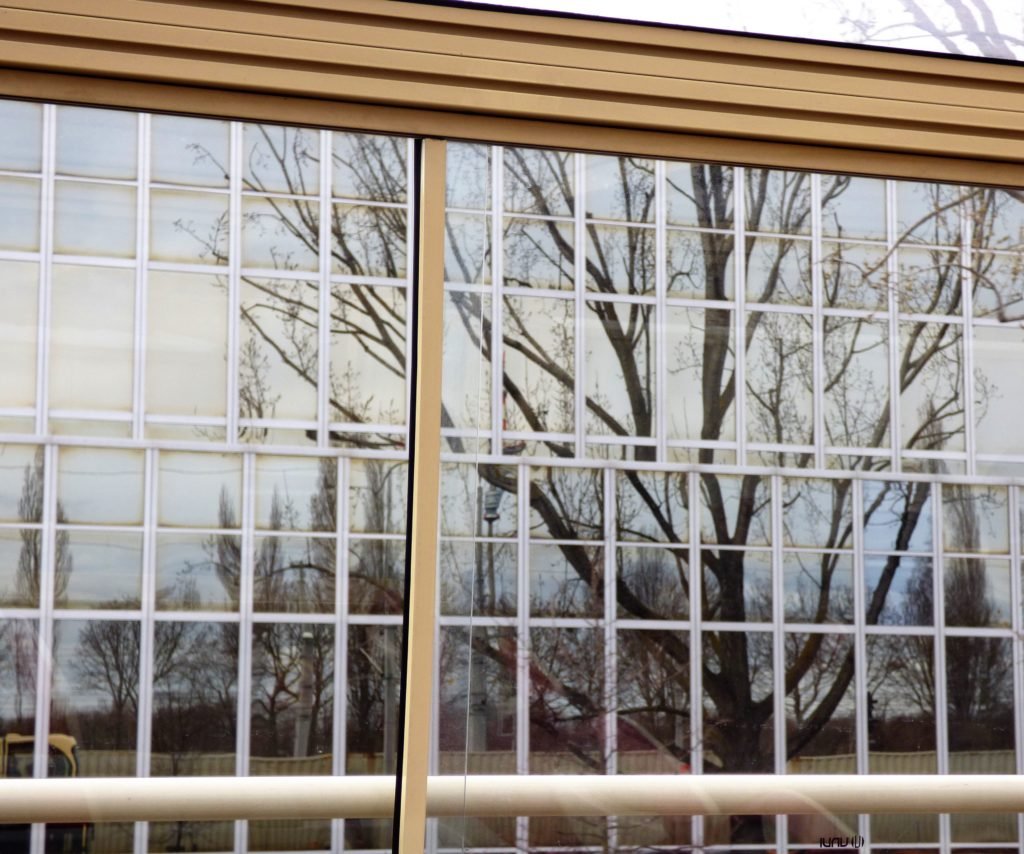 People actually bungy-jump from this tower!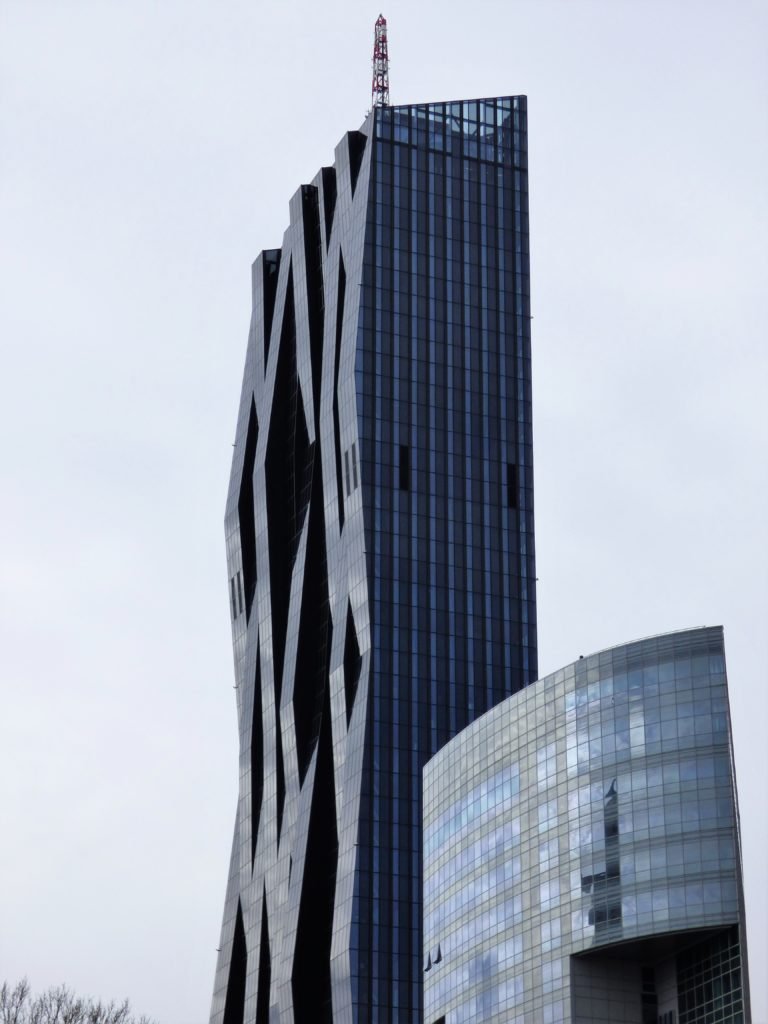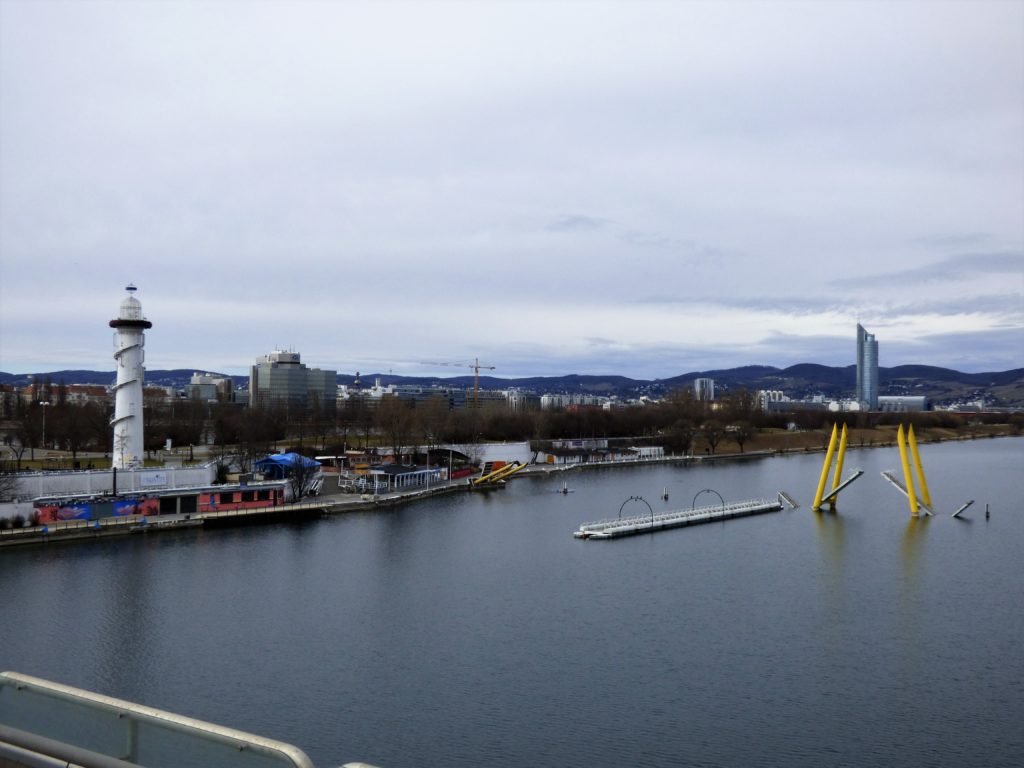 This (below) is a person on an exercise machine…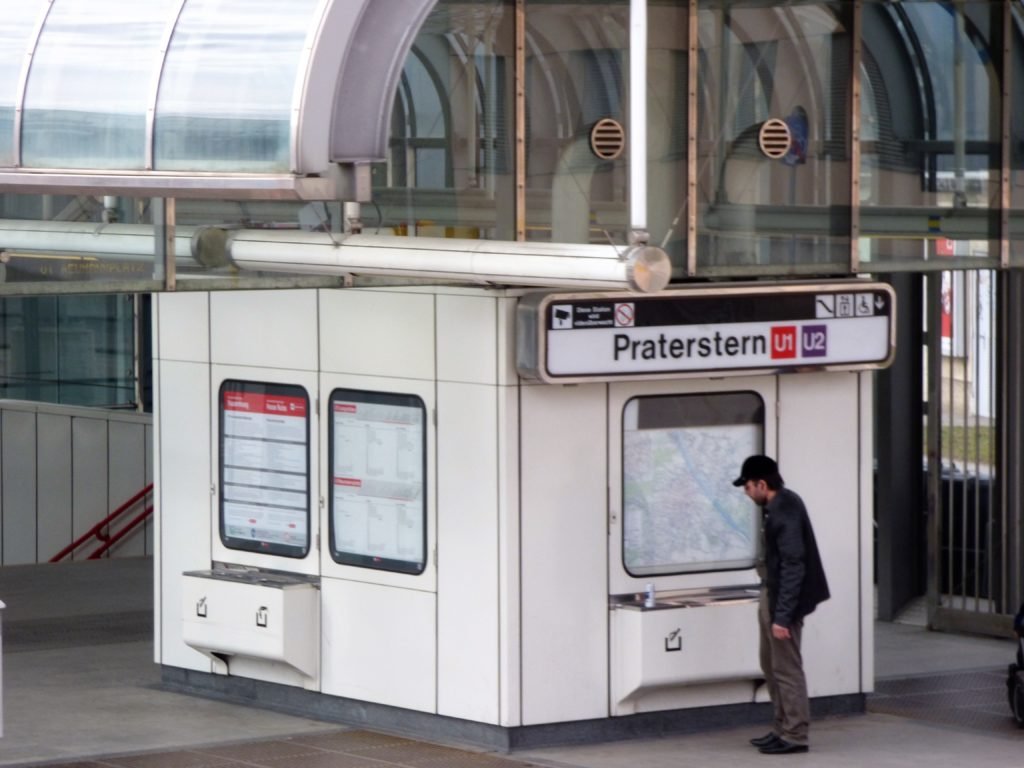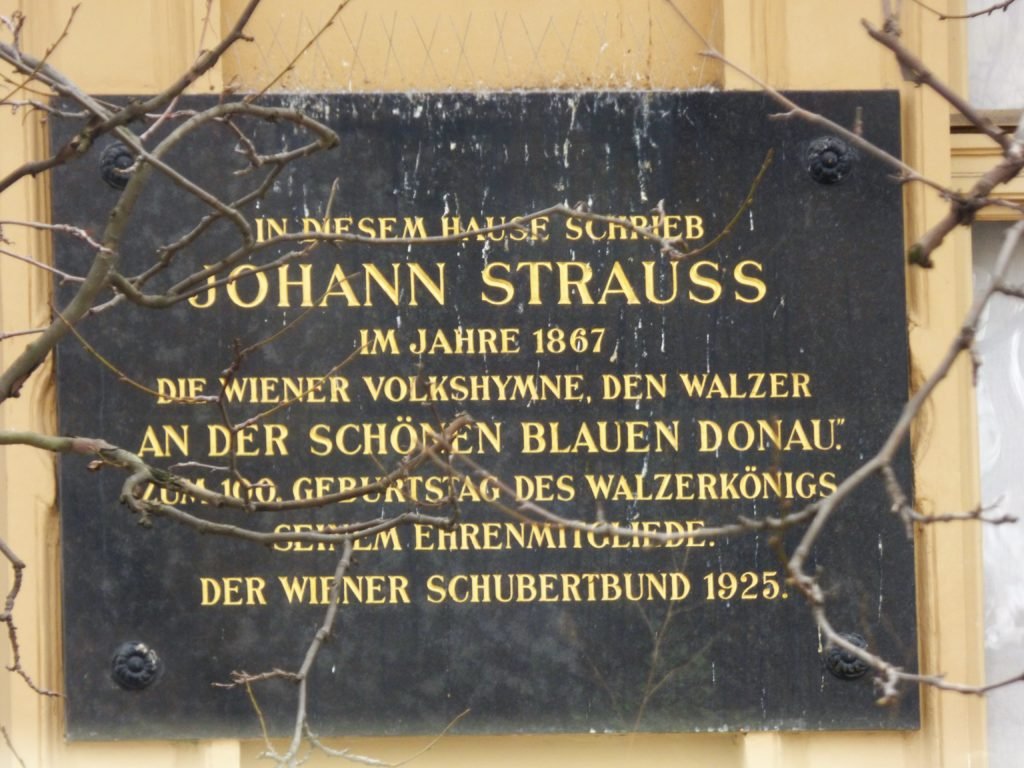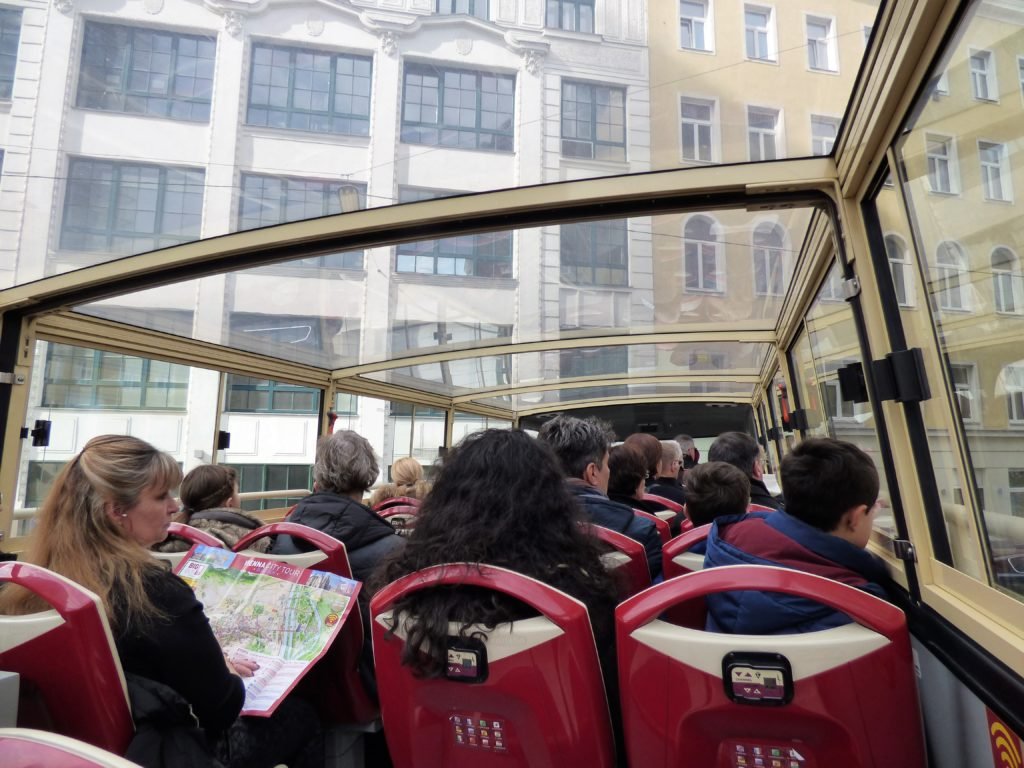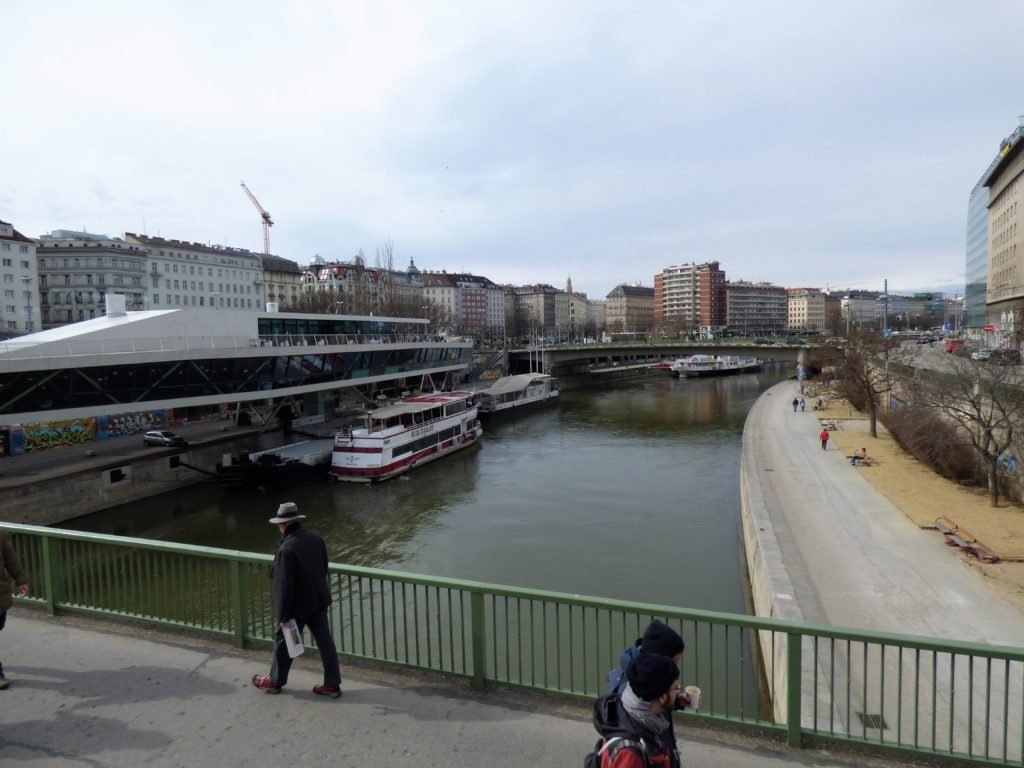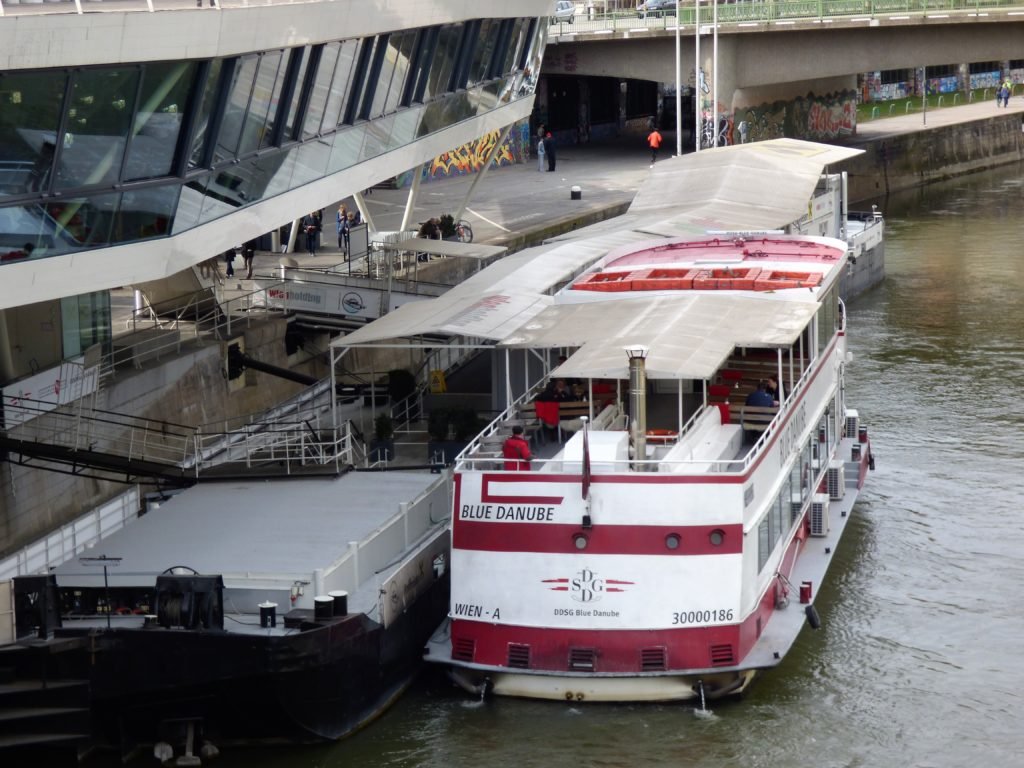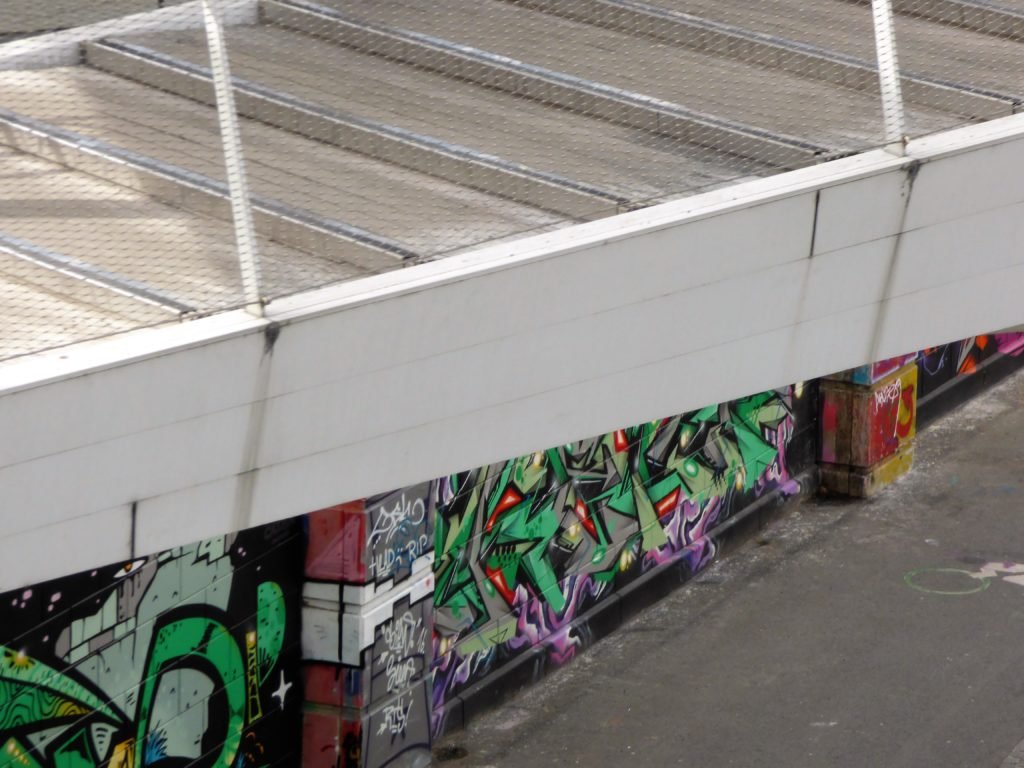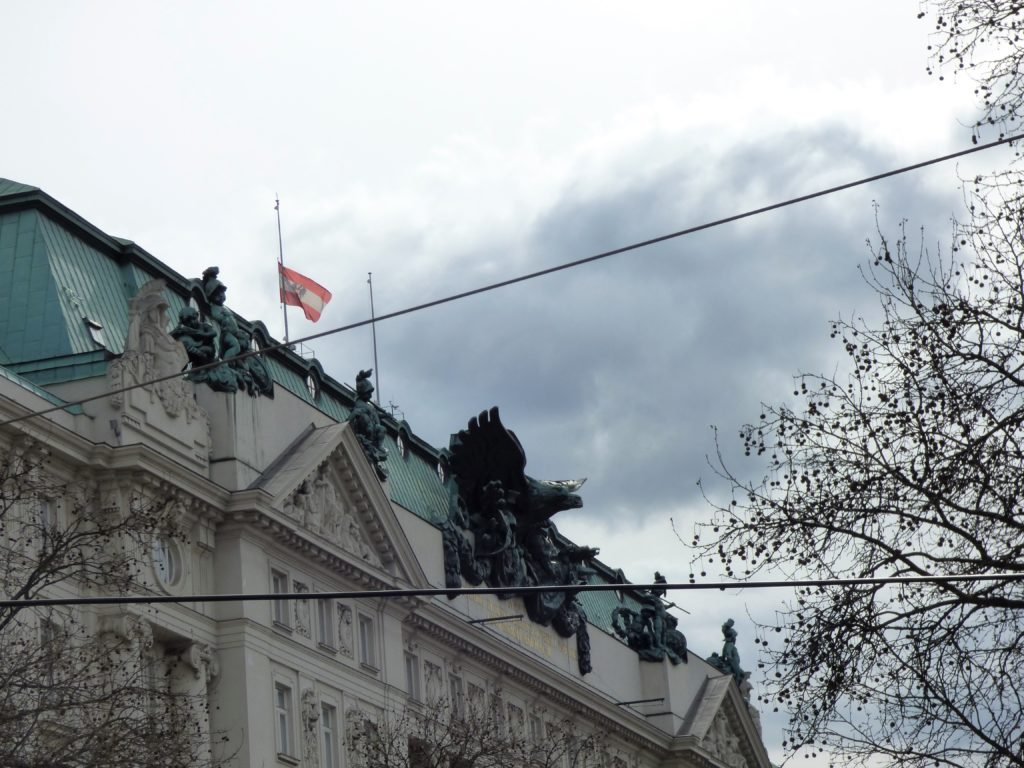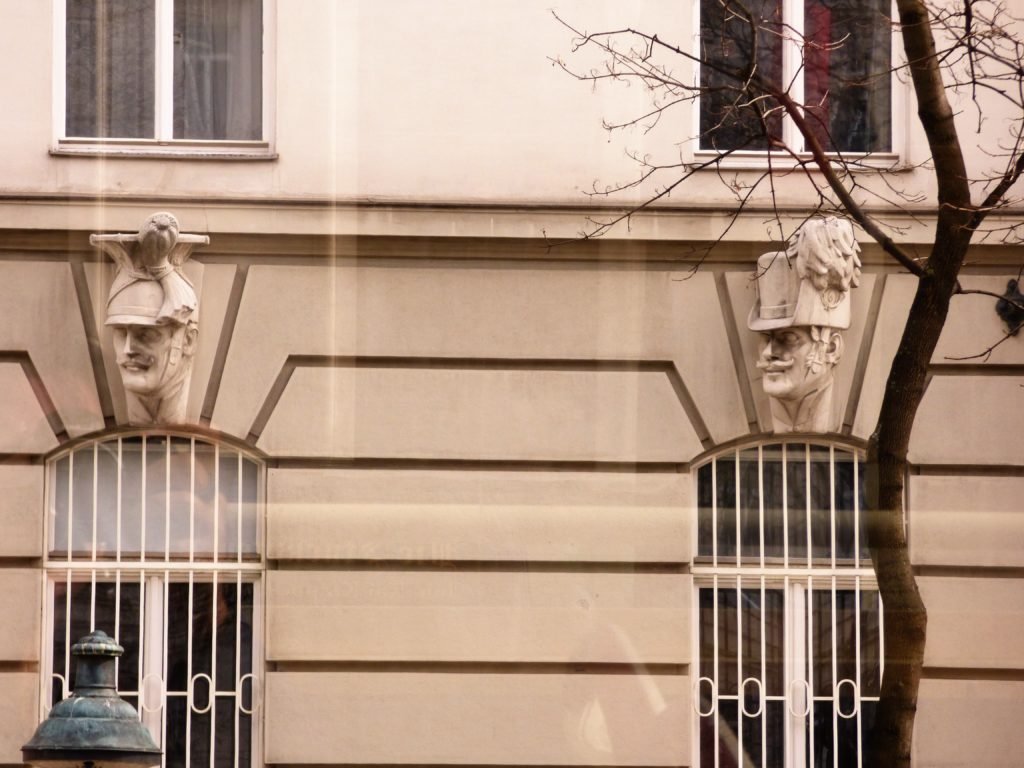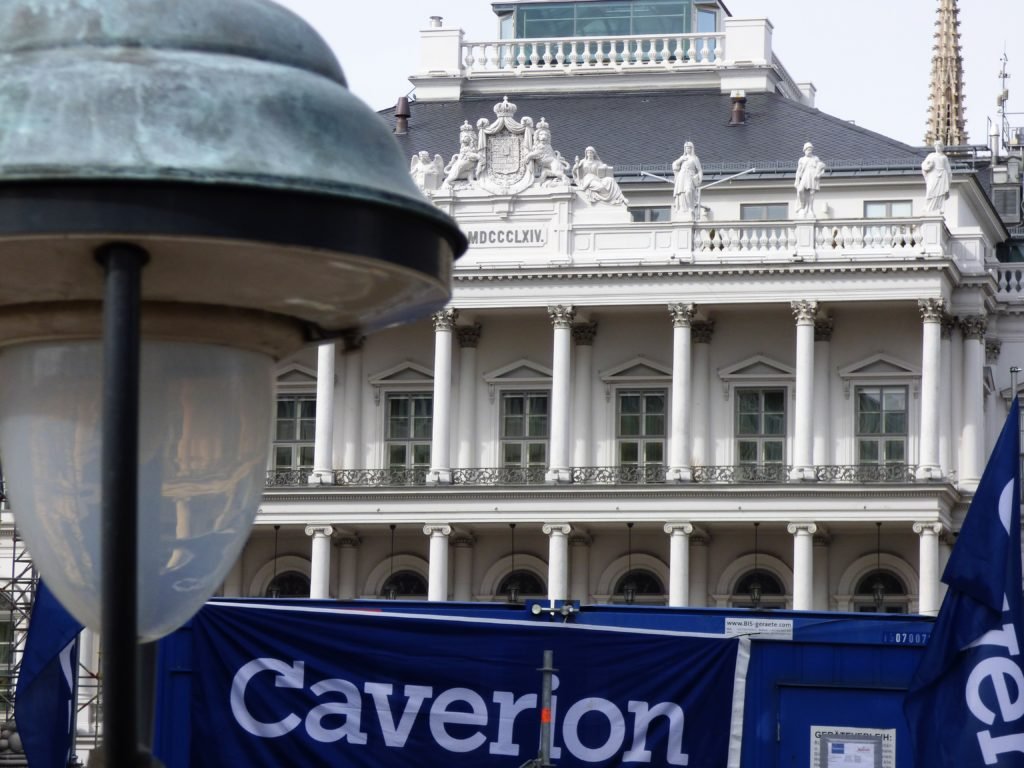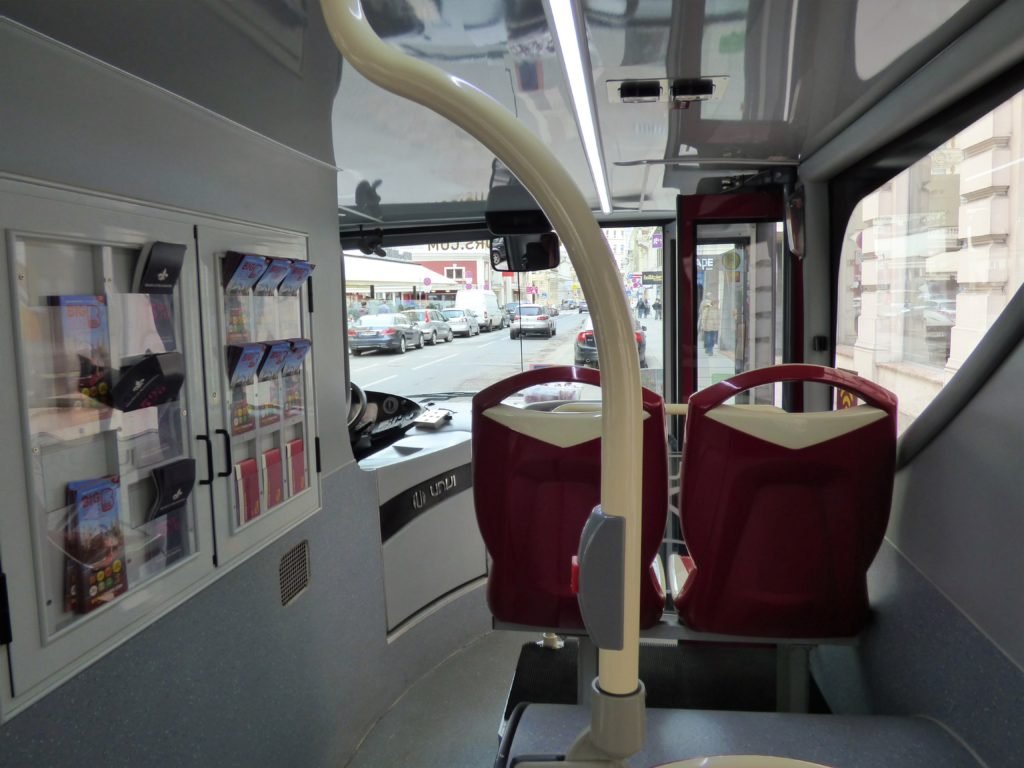 Suddenly I am back in France???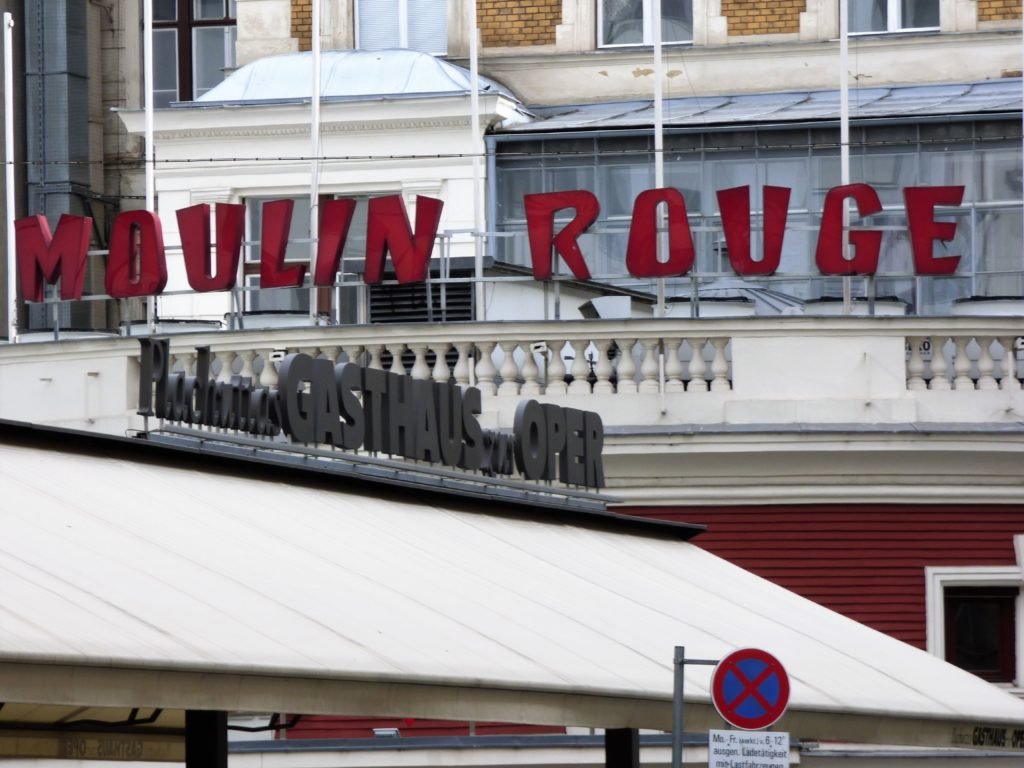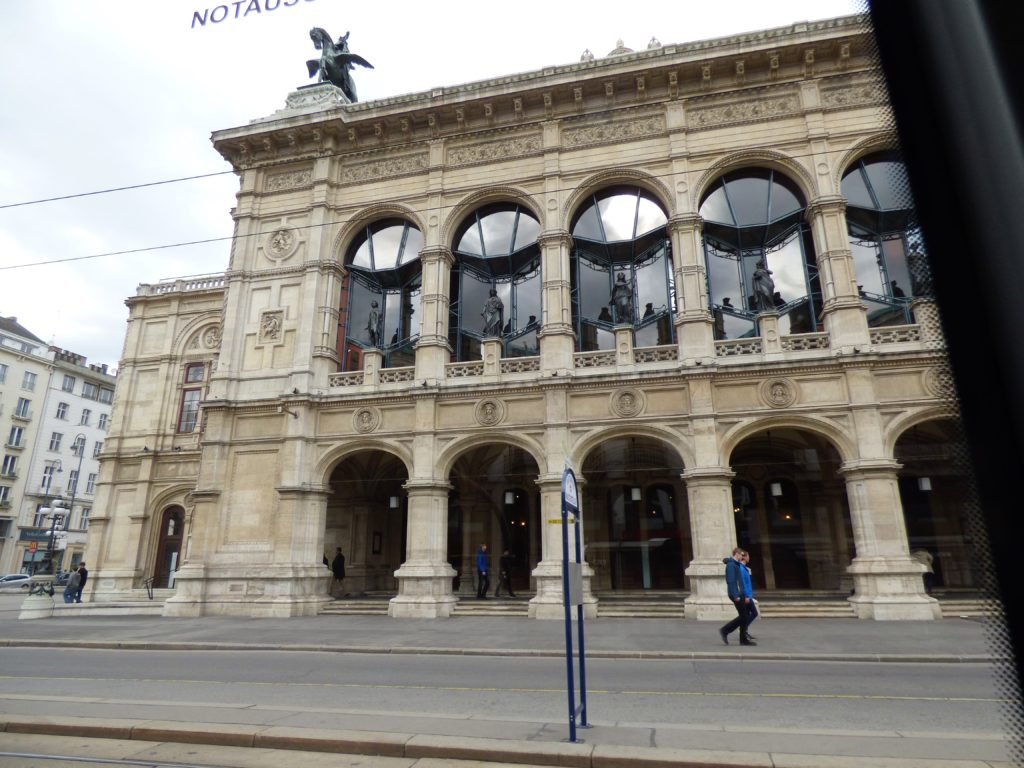 It is obscured, but this below is a suburb of Heaven…  The Steinway Haus…
Goethe looks like he has had one too many Rotwein und Wiener Schnitzels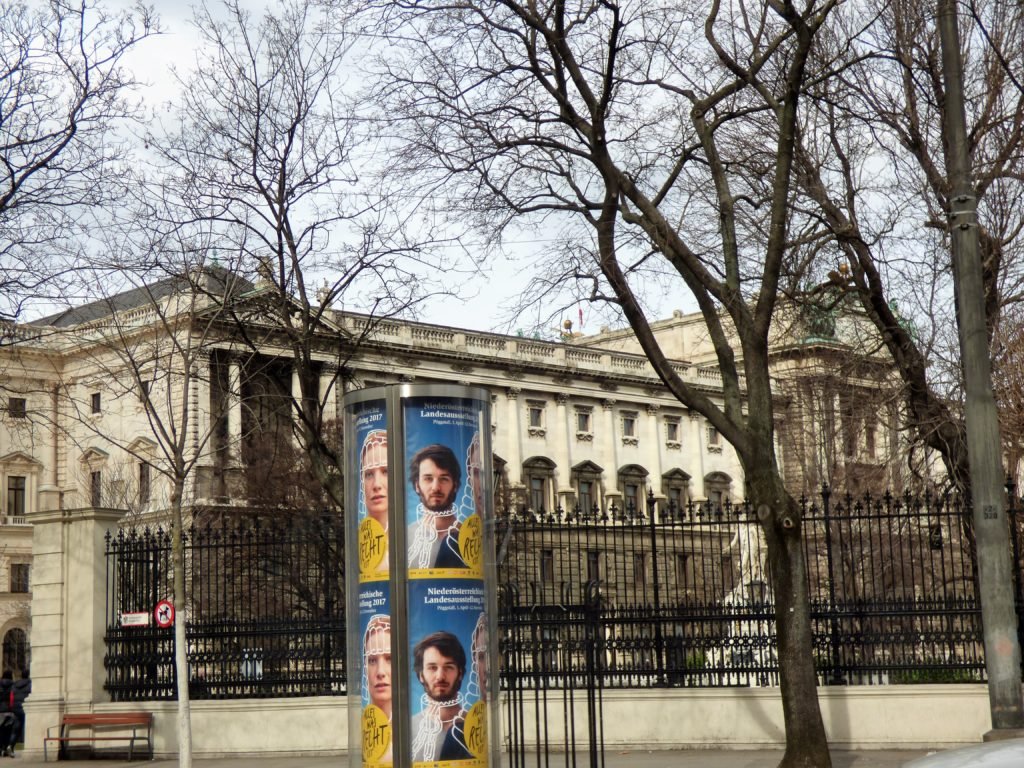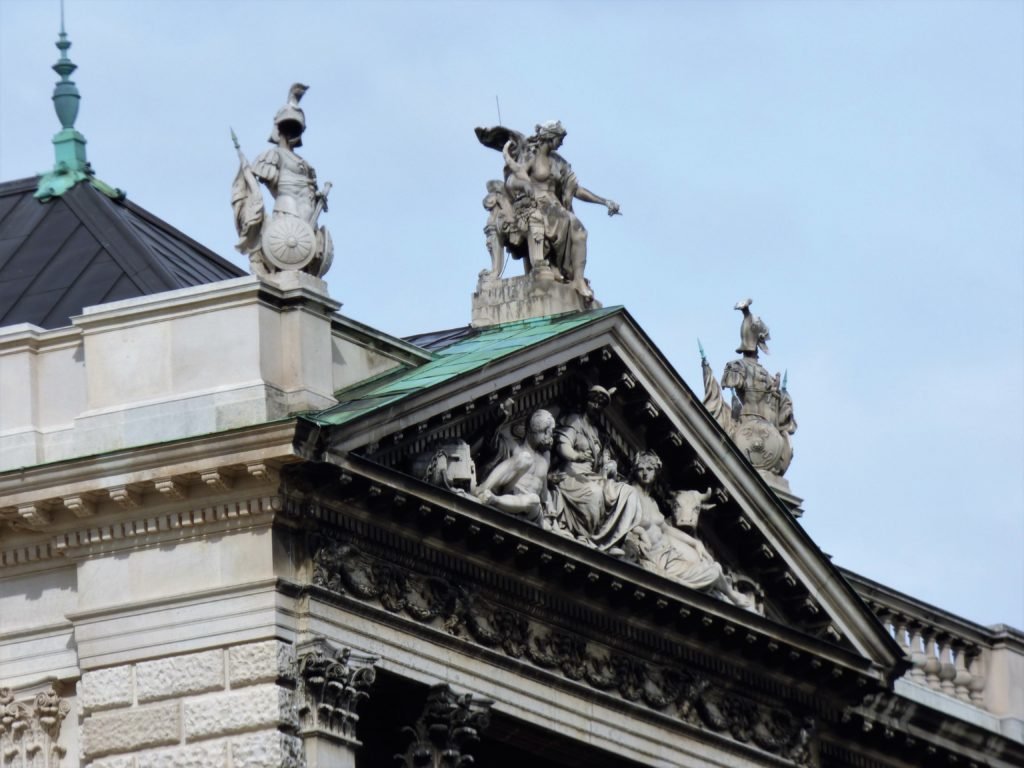 There is something that just doesn't sound right calling Alexander the Great, Alexander the Grosse…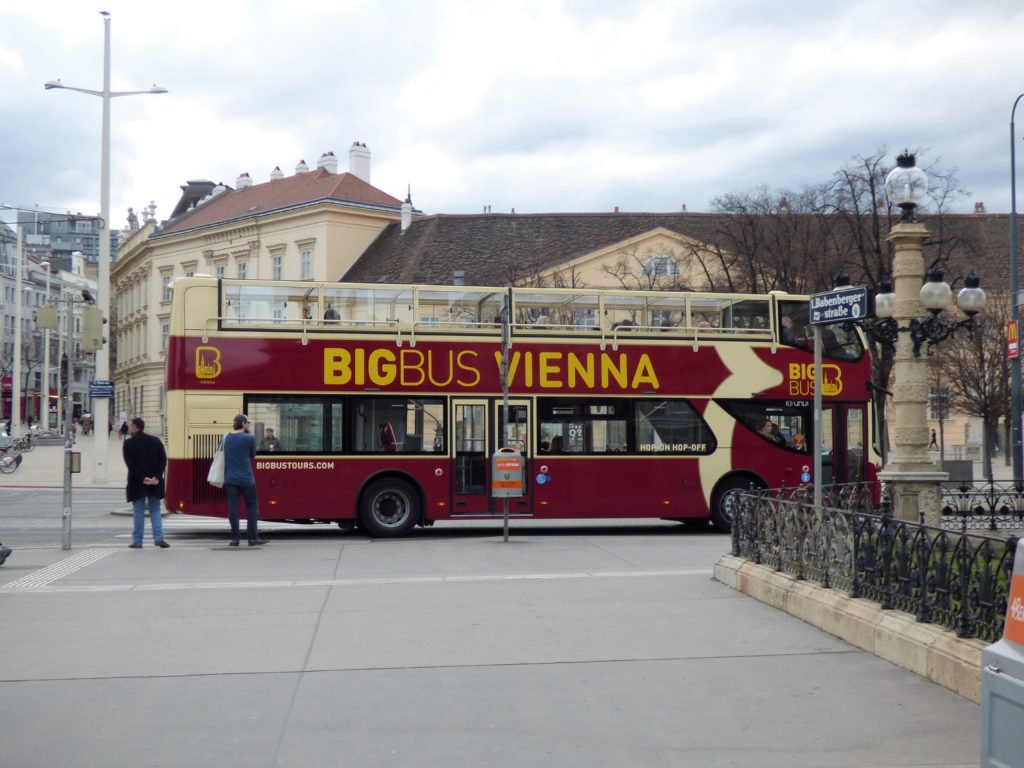 …and just when you thought you had seen it all – animals playing a Viennese waltz on piano accordion…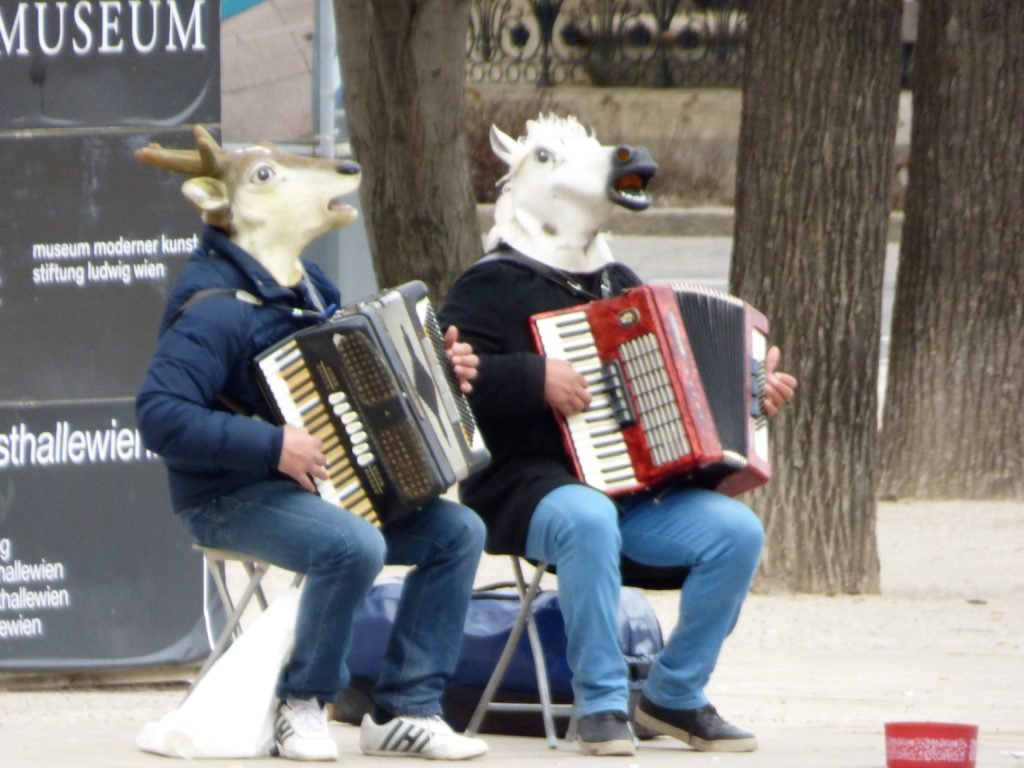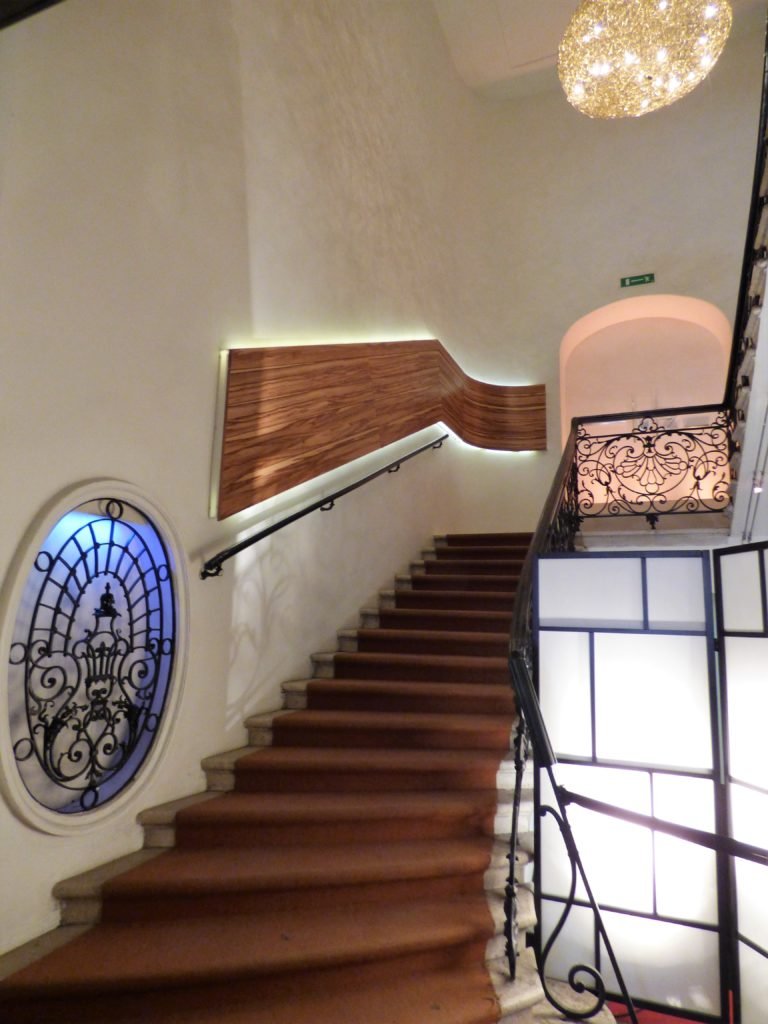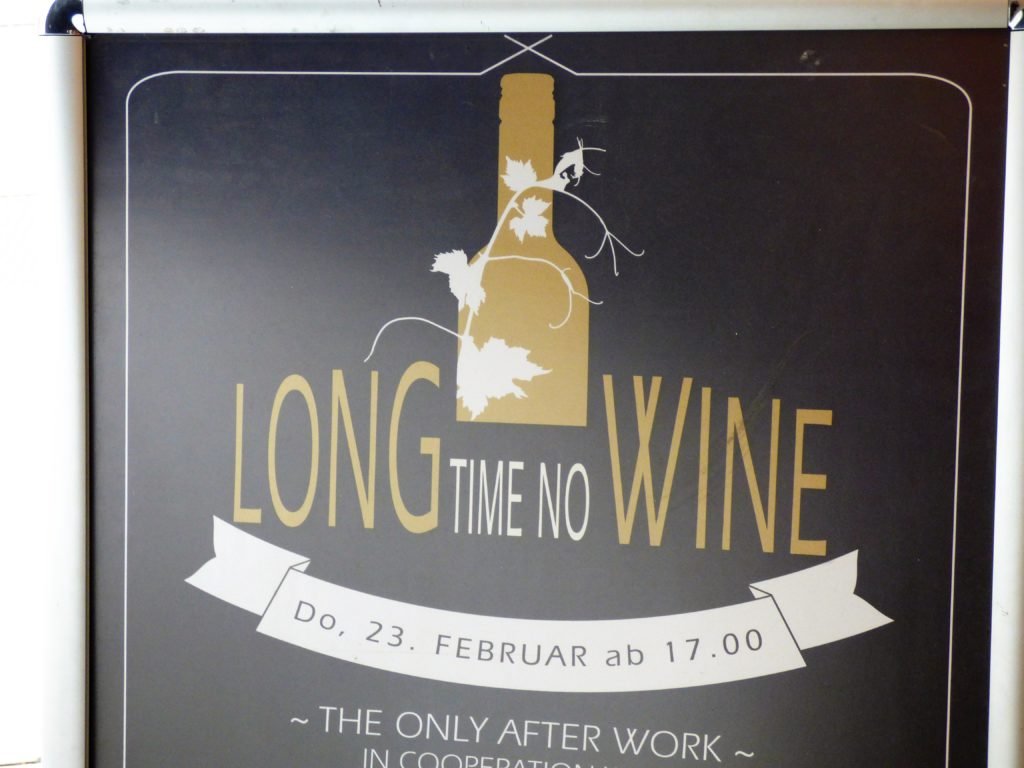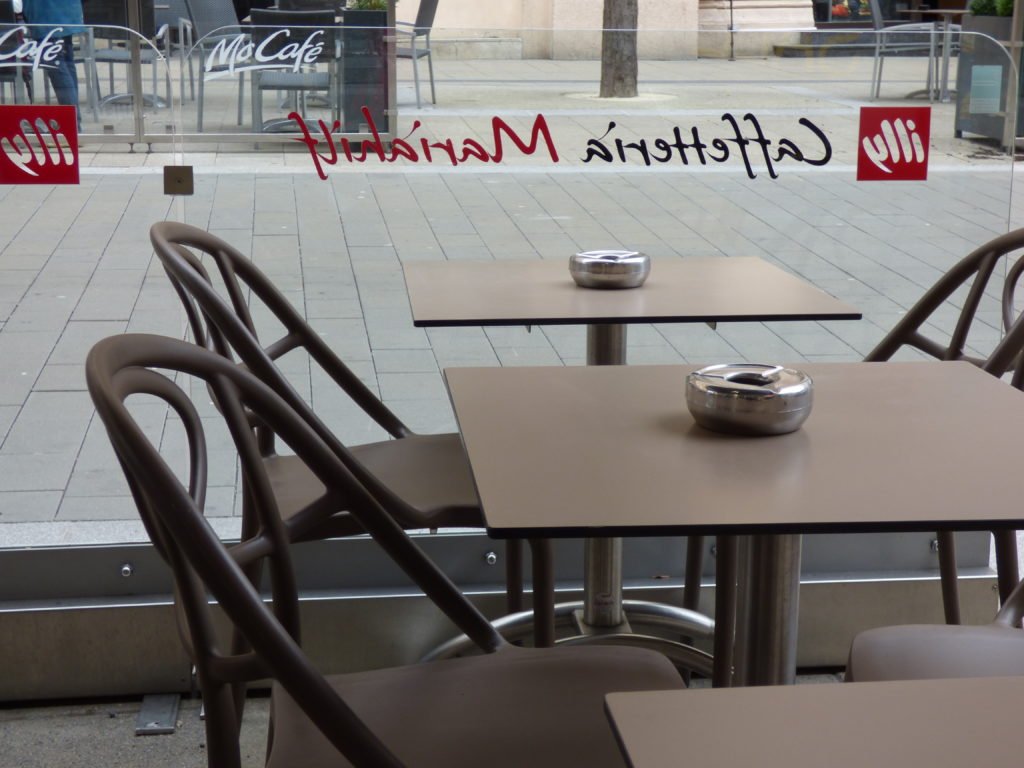 One cannot come to Vienna without having a Wiener Schnitzel!
This below is the little Italian restaurant I mentioned earlier…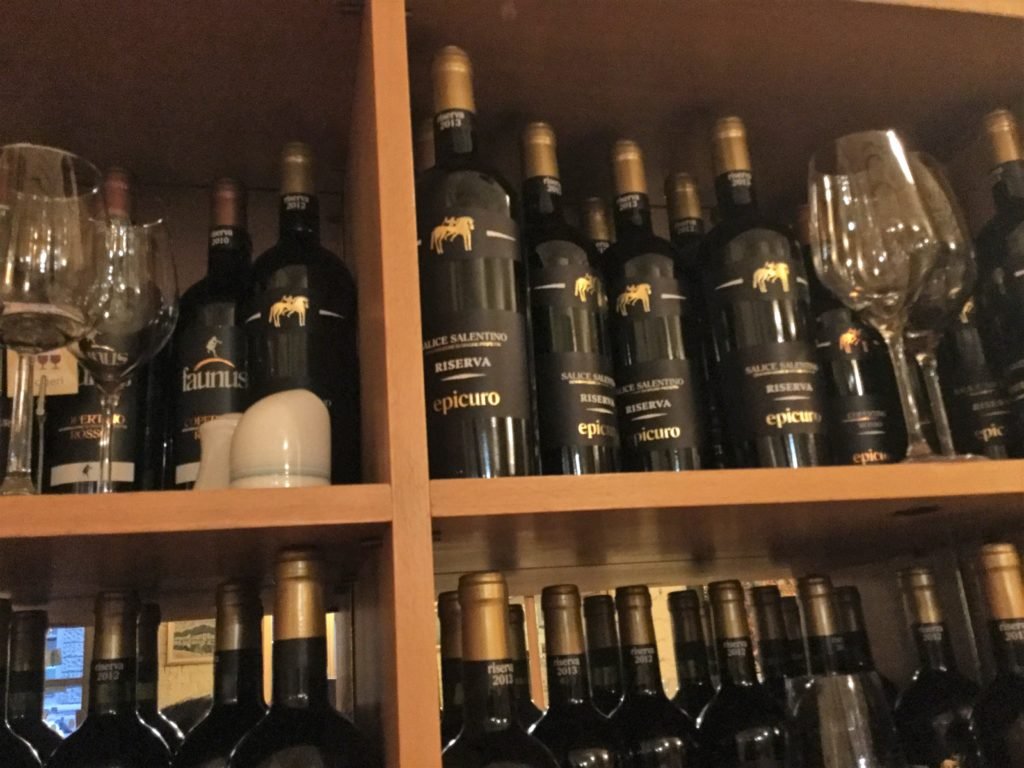 …and to finish off my day, a massage…  I love that the hotel has a spa – and that the floatation tank looks like it is smiling at me!
There is SO much to see and do here – in one week I have not even scratched the surface of the surface of the surface…
Tomorrow I need to curl up at the hotel and get a bunch of work done (and fit in yet another massage) – and it is supposed to rain all day, anyway – and then on Friday I head to Italy!!!
Danke, Vienna!  
~ Bella