The Winter Solstice marks the darkest day and shortest day of the year in the Northern Hemisphere due to the sun being at it's most southern position, directly above the Tropic of Capricorn.
Today, for the first time since 1664, the sun and Saturn actually line up – and this has resulted in many, many astrologers all over America stating this would be one of the worst days on record for just about anything that anyone wanted to do.  Obviously I didn't get that memo as my day has been delightful!
There is no parking near where the boat leaves, but it was just a short trek from where I could leave Prince, my trusty vehicular conveyance. 🙂
…back over the Caledonian Canal…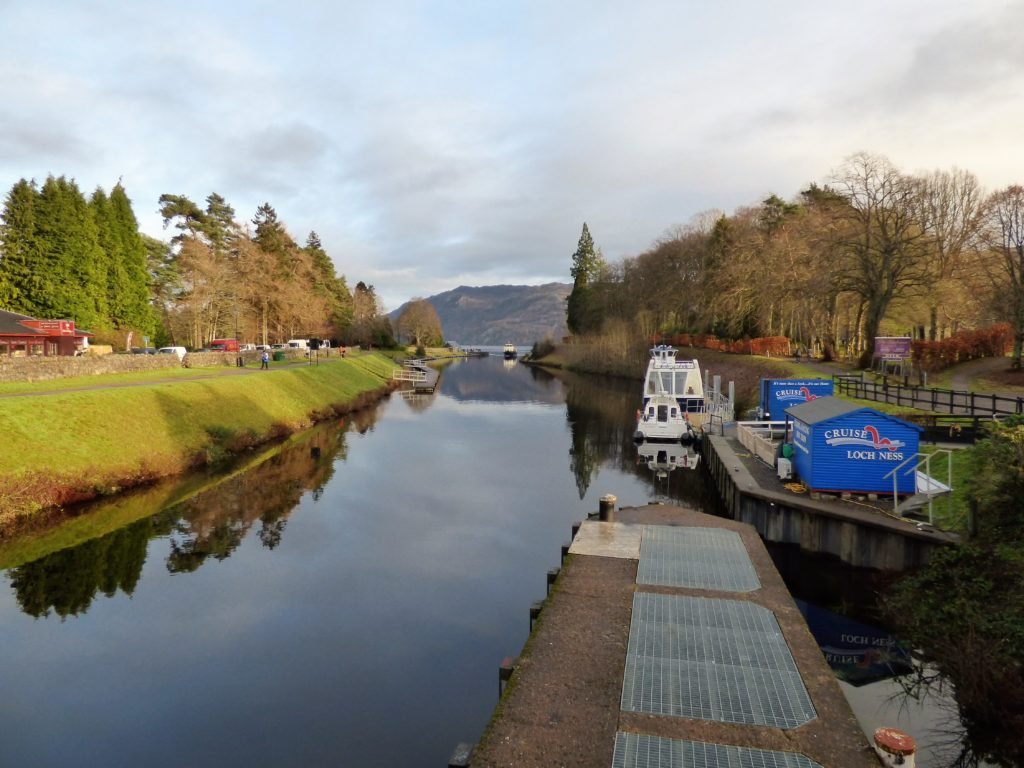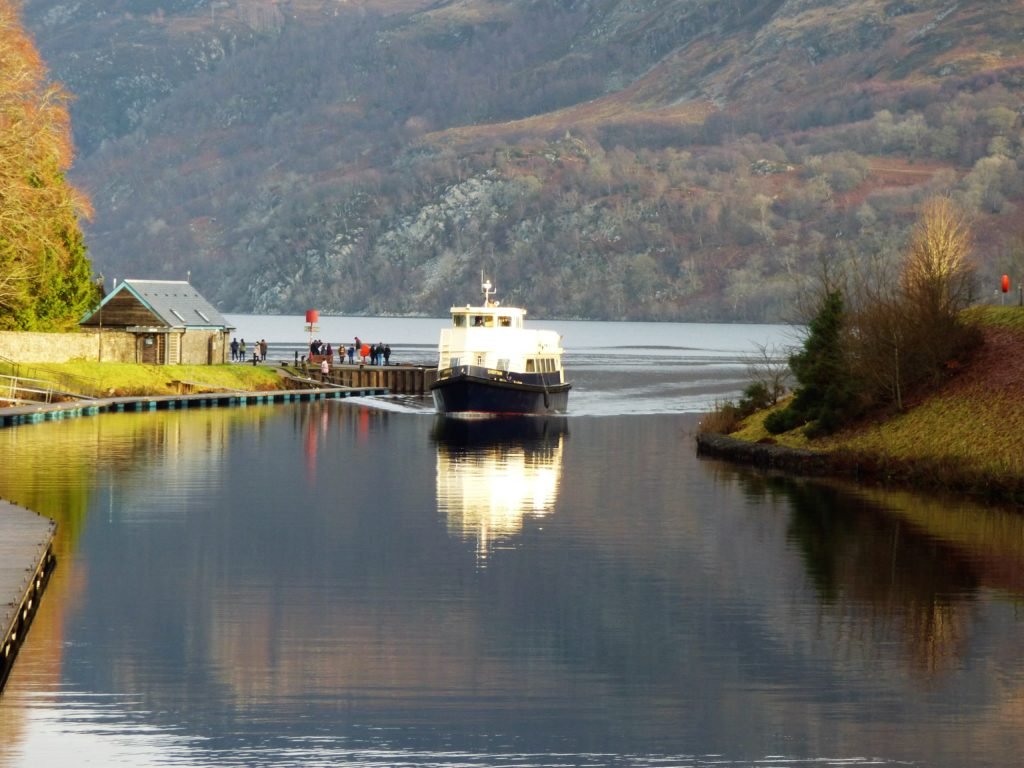 I was a little early so thought I would go to the Clansman Centre that is located in the old schoolhouse, but alas it was locked up – presumably for the season.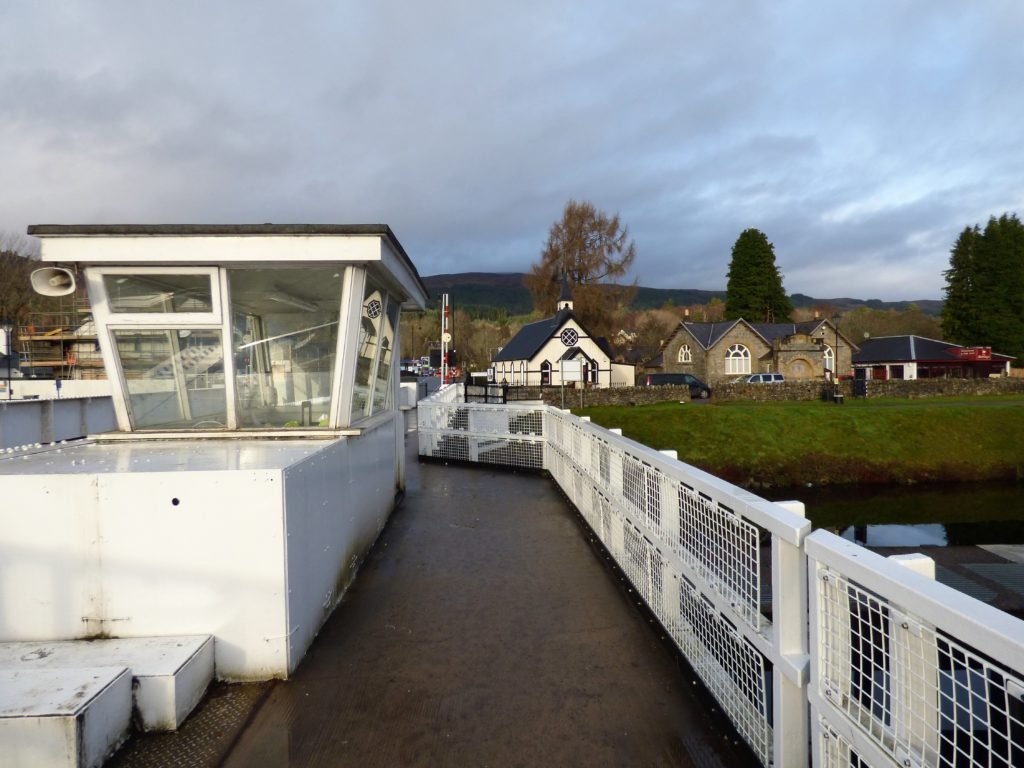 So instead I went for a short wander…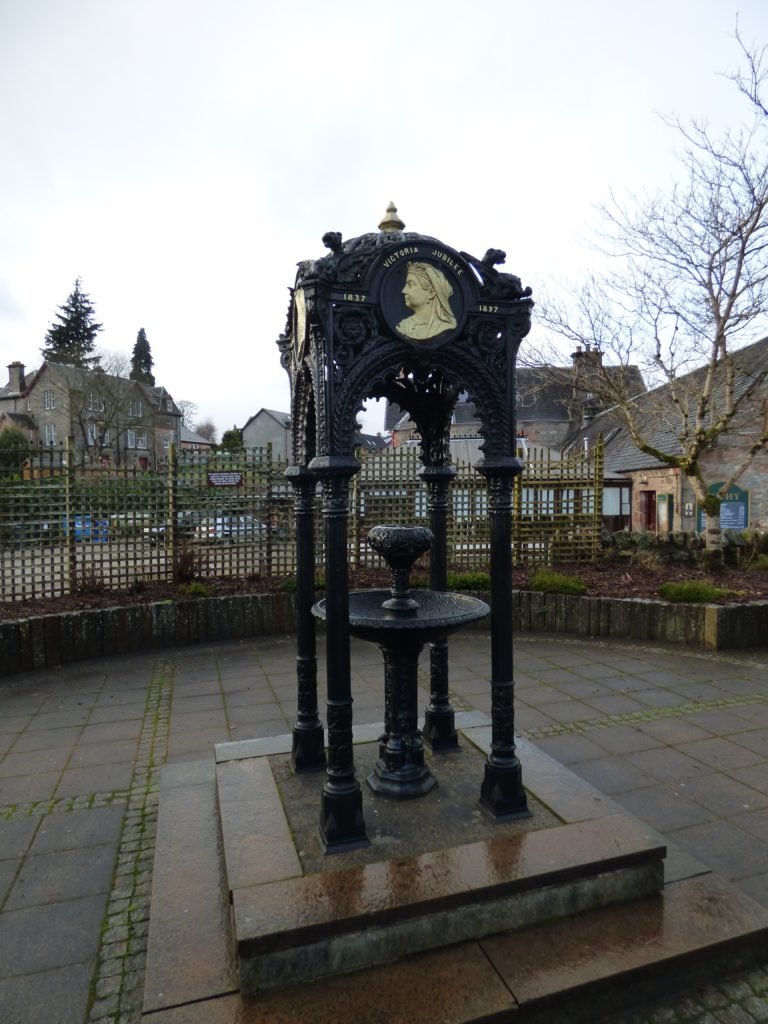 What I find refreshing is that this is the one and only place I have seen so far with tacky Nessie merchandise!  I am sure it is available elsewhere, but I have not seen any sign of it.
I came across this wonderful glass blowing shop and gallery…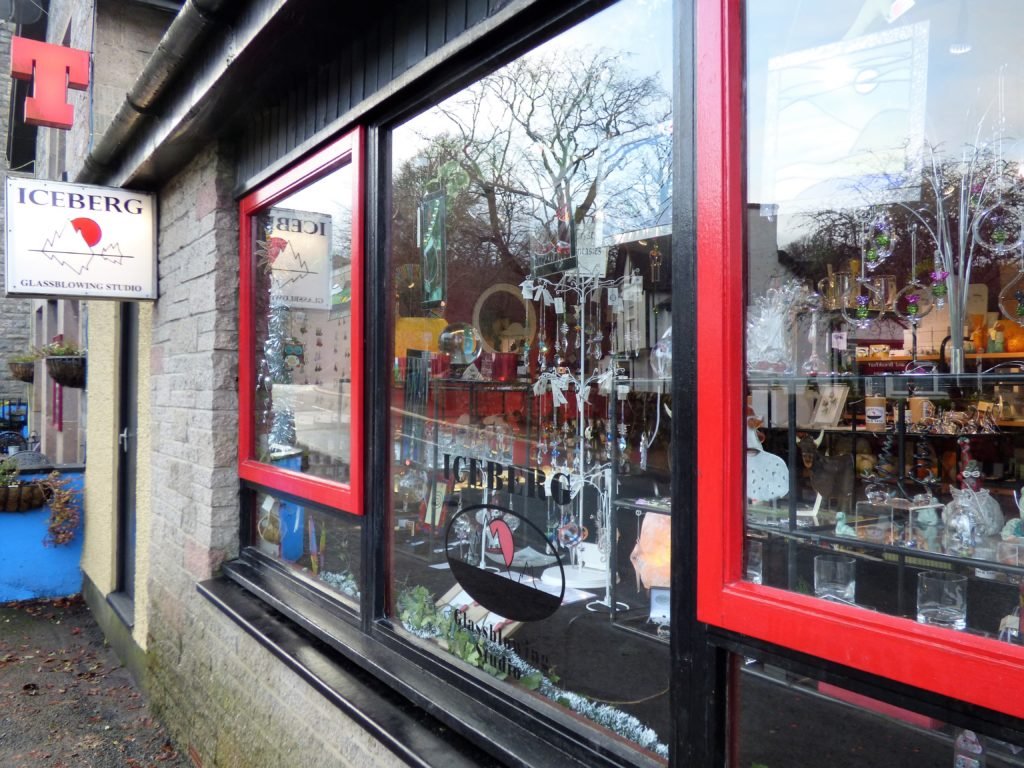 OK, time to set sail…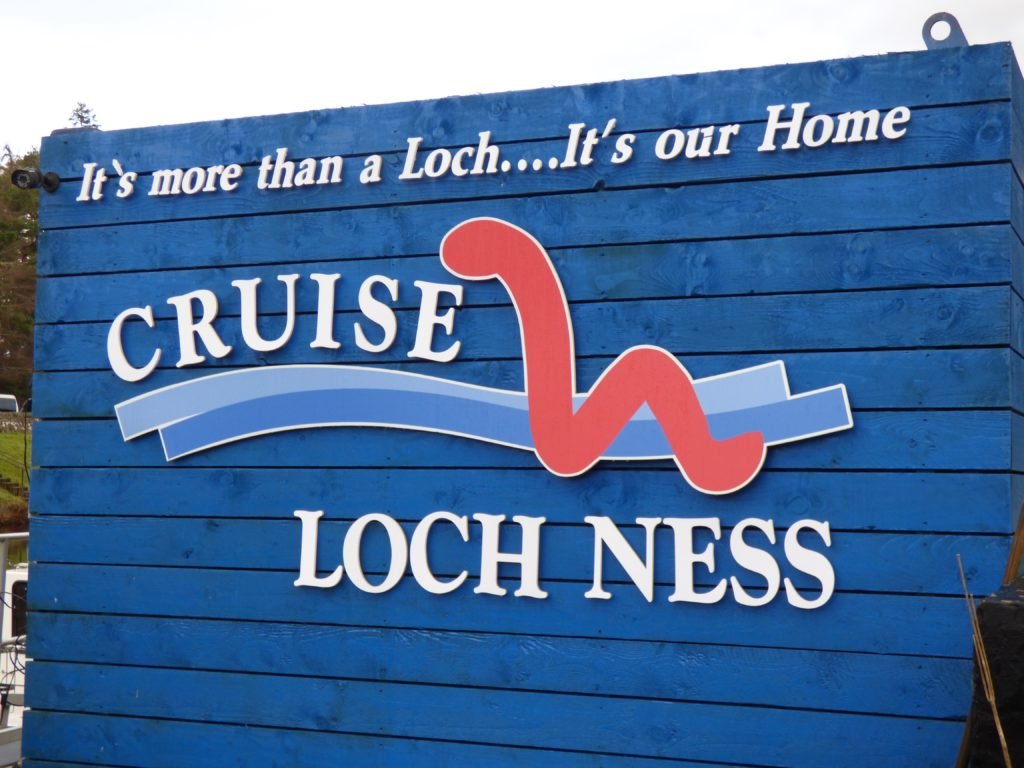 The crew let me on before the masses (it pays to be friendly), and when James, our guide asked me, "do you believe in the Loch Ness Monster?" I replied, "I don't believe she's a monster."  He smiled, "that's the first right answer I have heard."  He went on to say that hardly anyone says they believe a creature as described even exists…  I said, "there are so many things on this planet about which we have no knowledge – I believe she exists and I believe we should leave her in peace."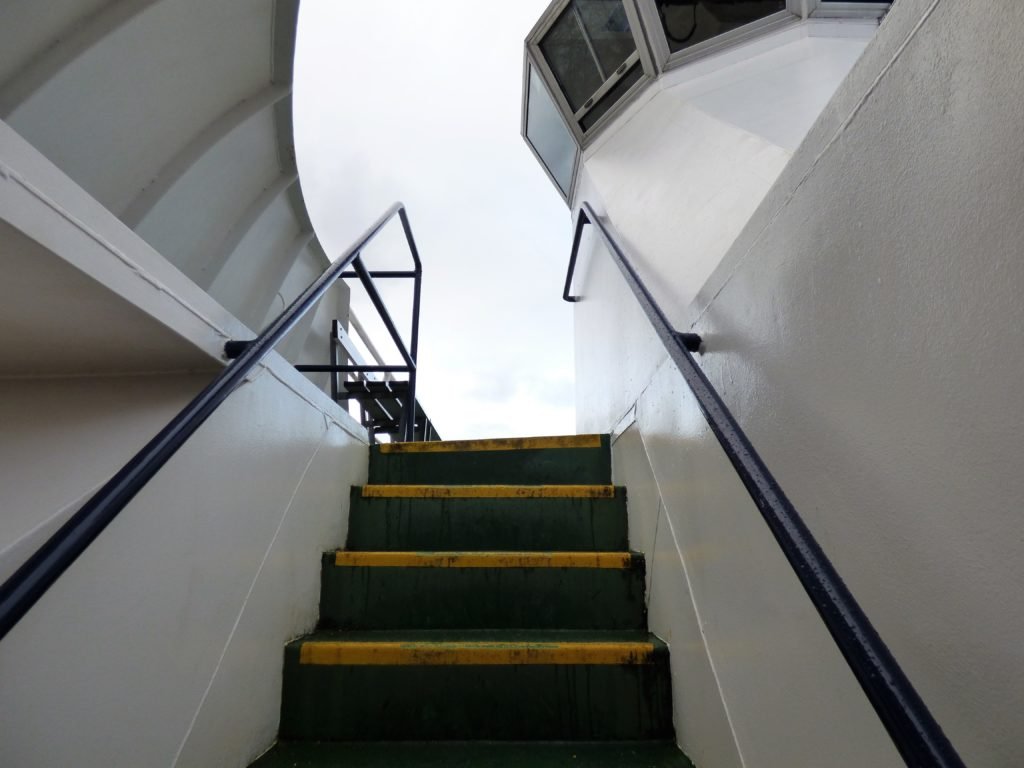 …with a gazillion Japanese tourists – who were obsessive about making certain there was not one speck of water on their seats…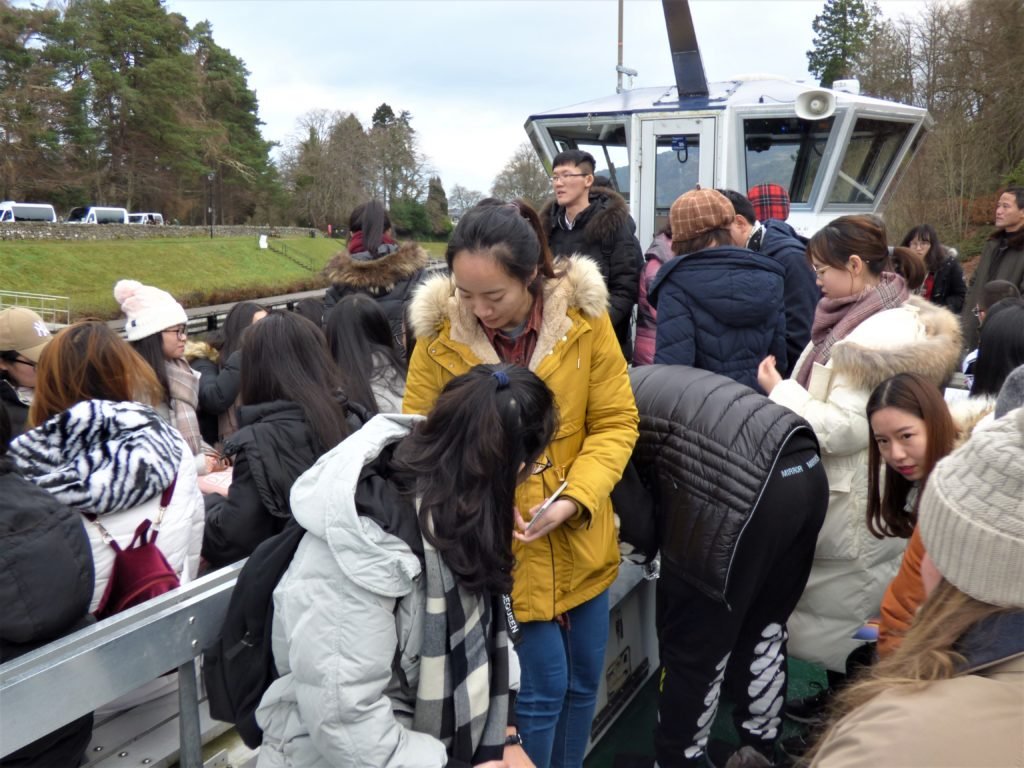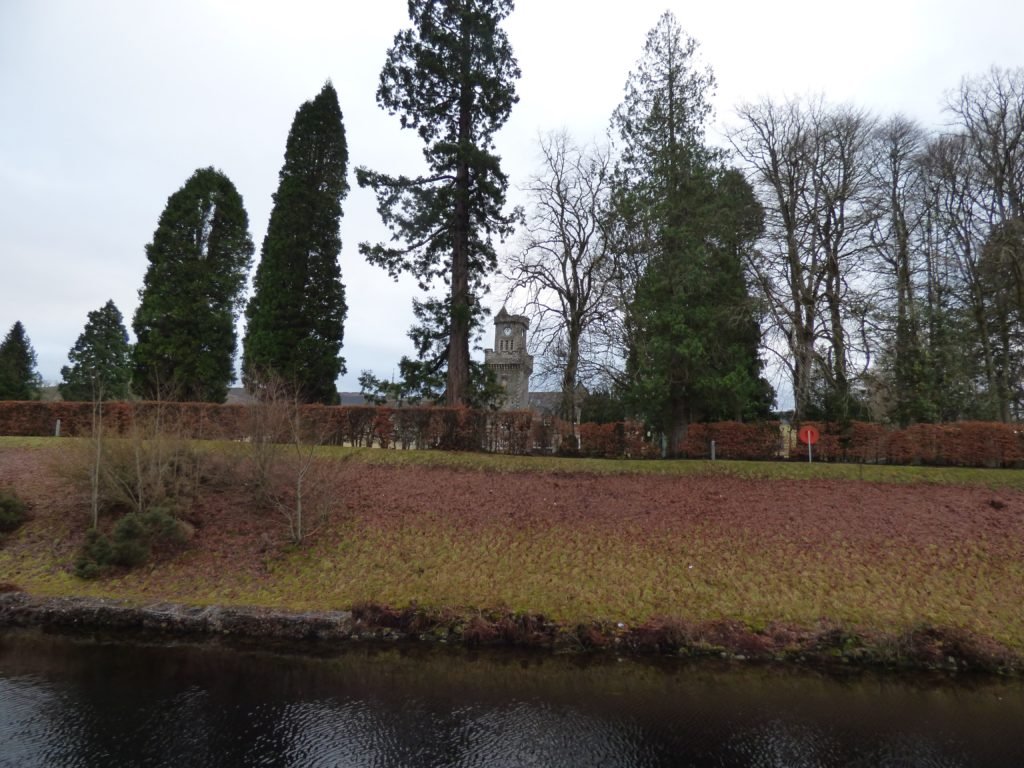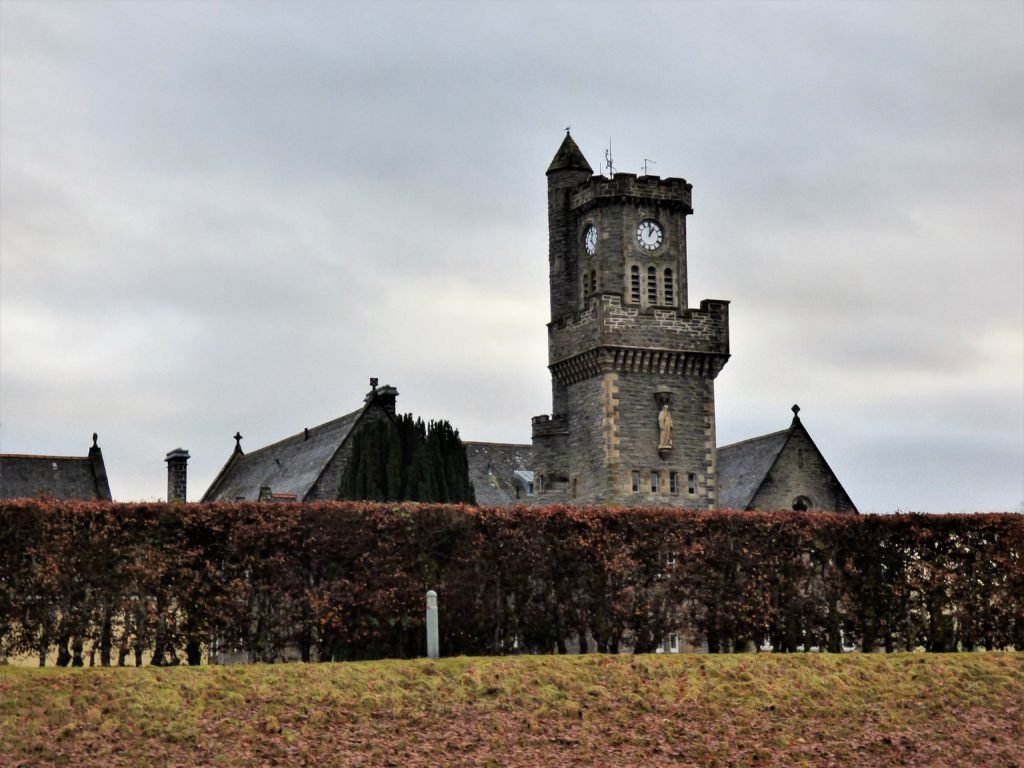 Out through the mouth of the canal and into Loch Ness…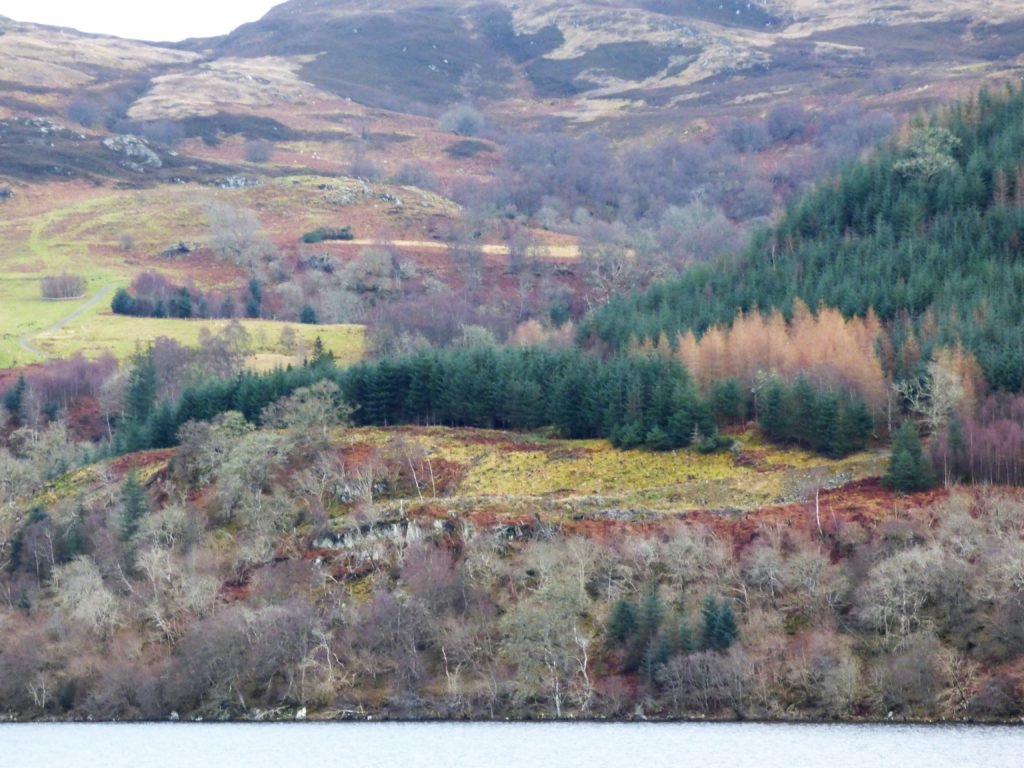 The water is so black because of the peat deposits the water seeps through on its way into the Loch.
Legend says this geological feature is where Nessie attempted to claw her way out of the Loch before sliding back in…
The Japanese visitors were terrified of this pooch…  He couldn't understand what all the fuss was about…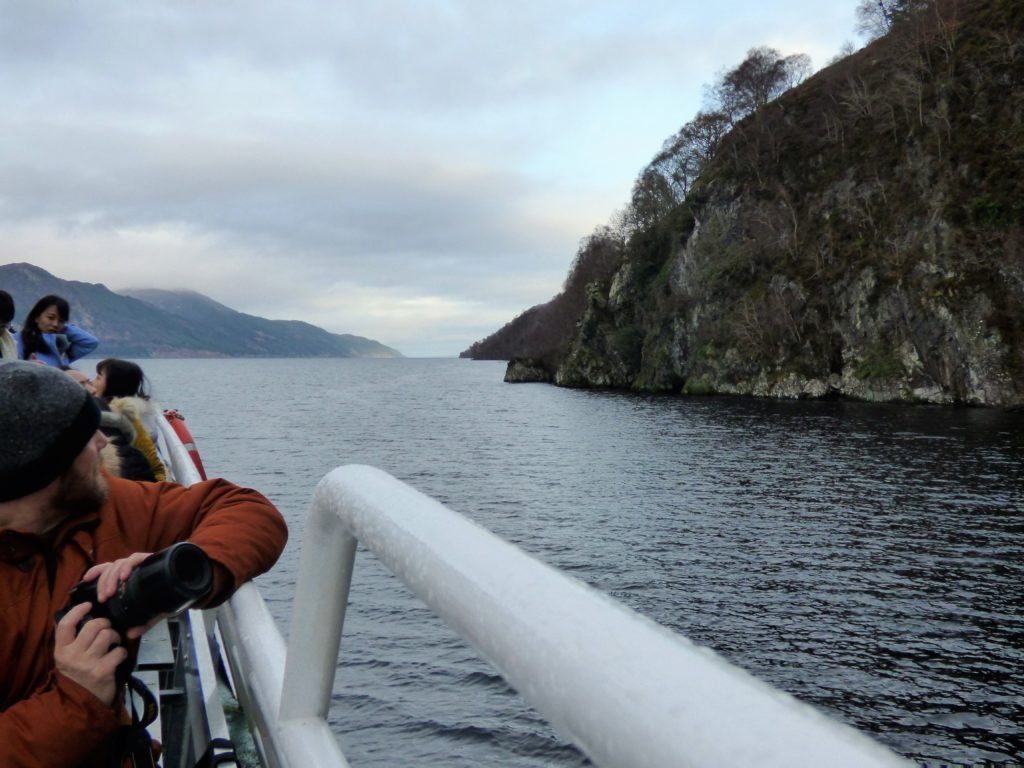 OK, see this goat in this zoomed close-up?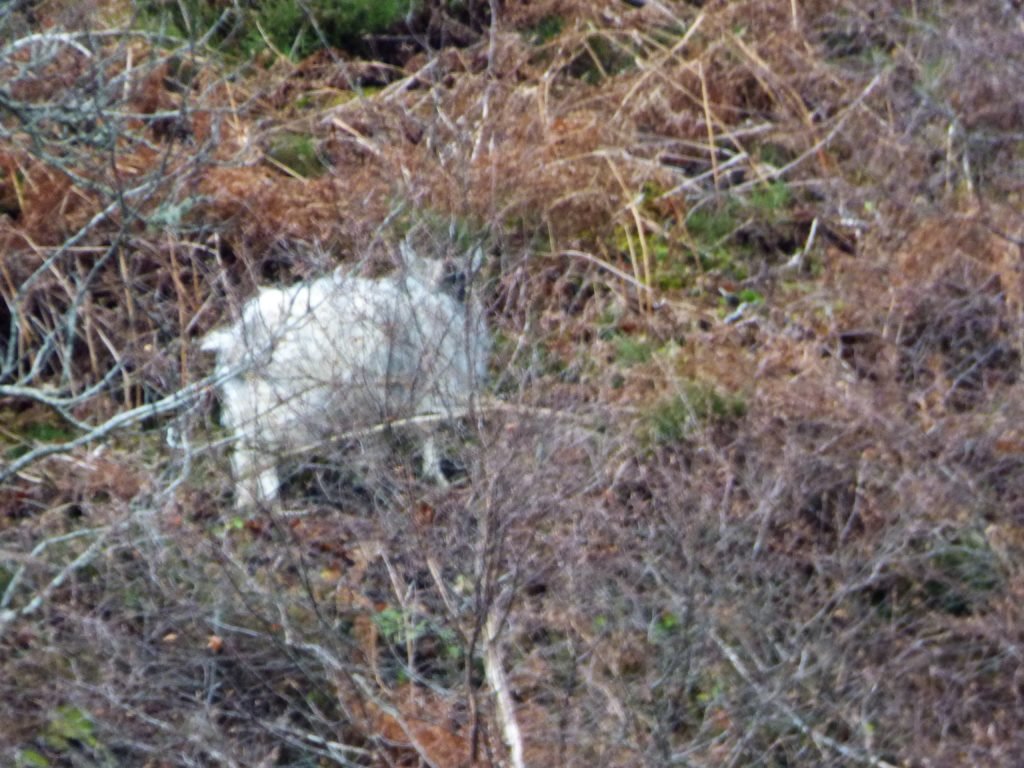 Now find him…!
Same with this one…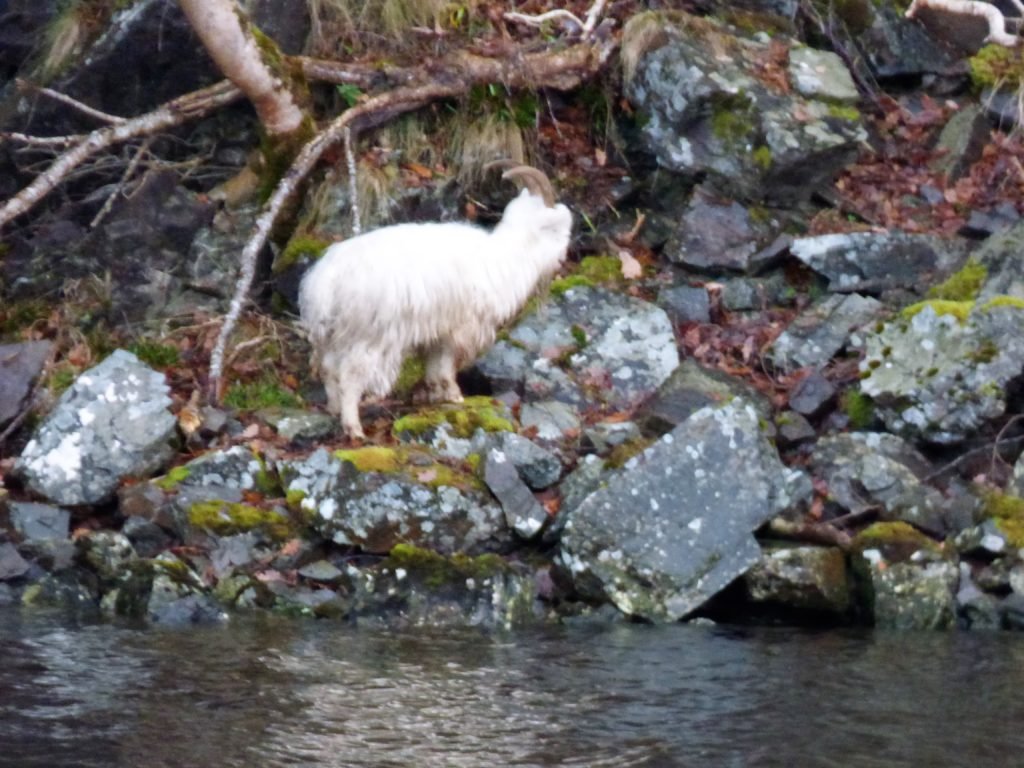 Can you find him now?
James our guide gave an excellent commentary on the use of the sonar and some fascinating facts about the Loch…
Its surface is 16 metres above sea level, over 35km long, with a depth in some places of around 225m / 750ft!
We did see something swimming below the boat that was about the size of a human, but no sign of Nessie… although James mentioned that twice the crew have seen something about the size of a car in the water below – all they can confirm is the depth and that it was a living, moving object.
I also like that James went on to say although people refer to Nessie as a 'monster', "if we humans found her, we would trap her, study her, most likely do something to result in her death and then chop her up and study her some more.  So who is the monster now?"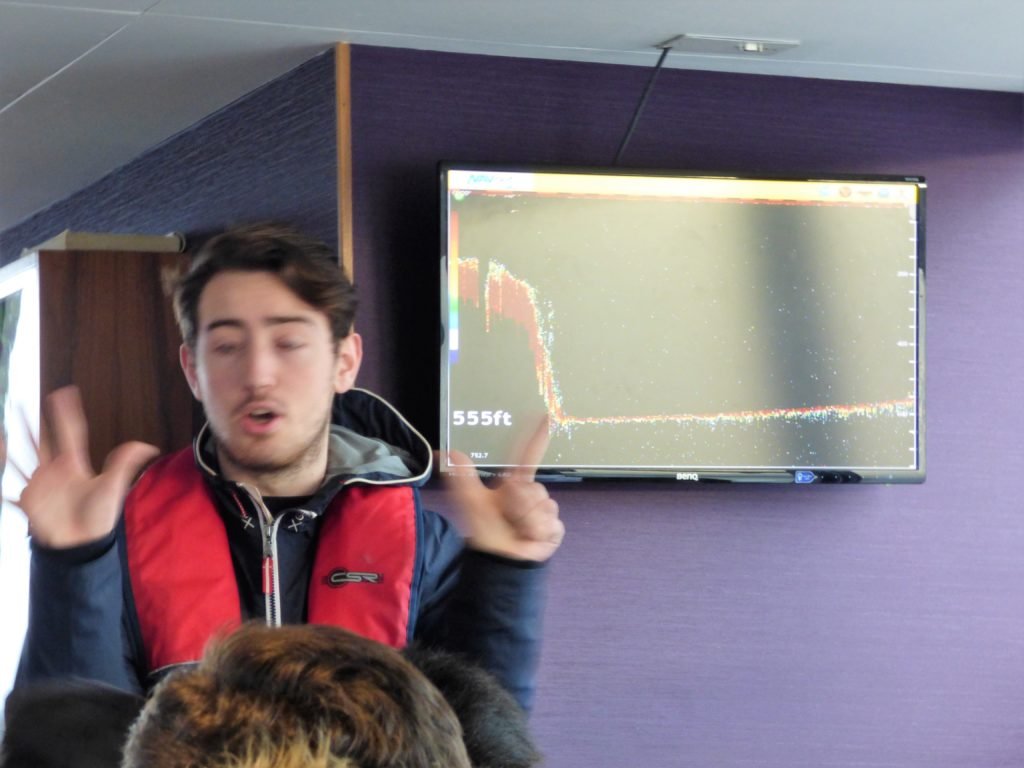 …but wait!!!  Is this Nessie?  🙂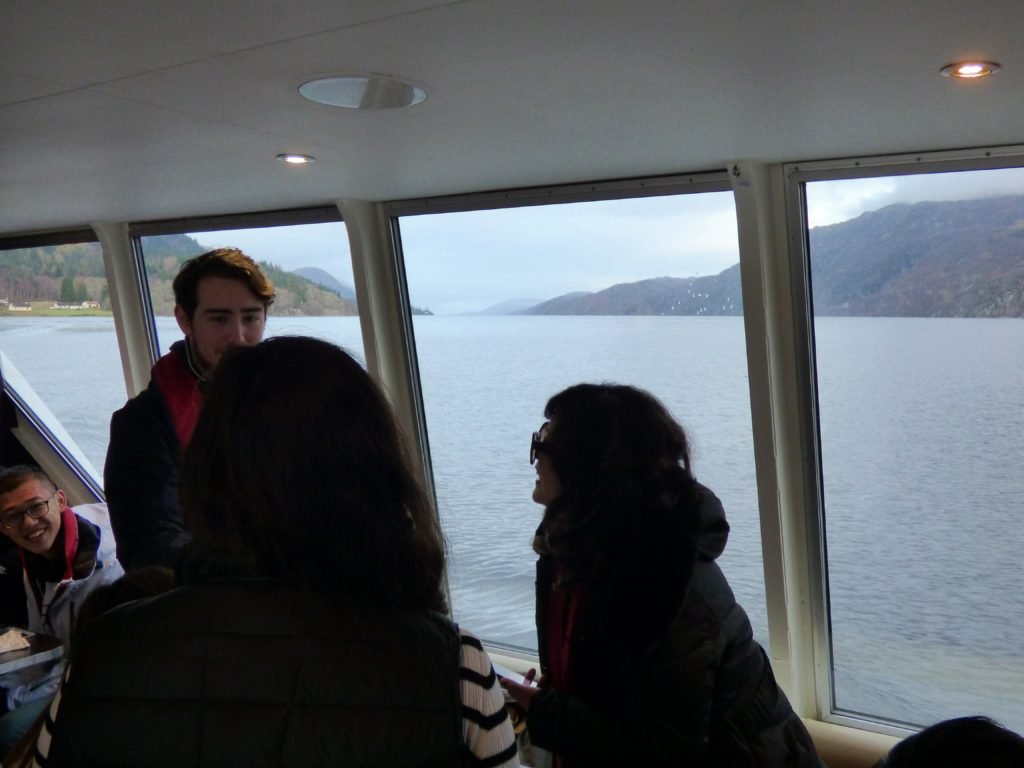 Remember the Mill Shop from yesterday's post?  I couldn't resist…
Locally-made pure cashmere scarf and incredible silvery jewellery made from Scottish heather!
From their website:  "Heathergems is a unique and imaginative range of Scottish jewellery and giftware, made in Pitlochry, Scotland from natural heather stems. We are the only manufacturers of this unique Scottish product anywhere in the world."
…and now I have seen everything – haggis-flavoured crisps!
~ Bella
Leaving beautiful Fort William this morning, I came across the WWII Commando Memorial. It's sad that so many memorial halls and monuments were erected after WWI when the nation felt that nothing on that scale could ever happen again...  and then... I could have happily seated myself beside the…
When I arrived in South Devon, I knew instantly I was "home"...  In over fifty years on this planet, I had never before known that feeling... (and discovering I had ancestors in South Devon going back to the late 1400s just confirmed the feeling)... ...and arriving in the Scottish Highlands,…